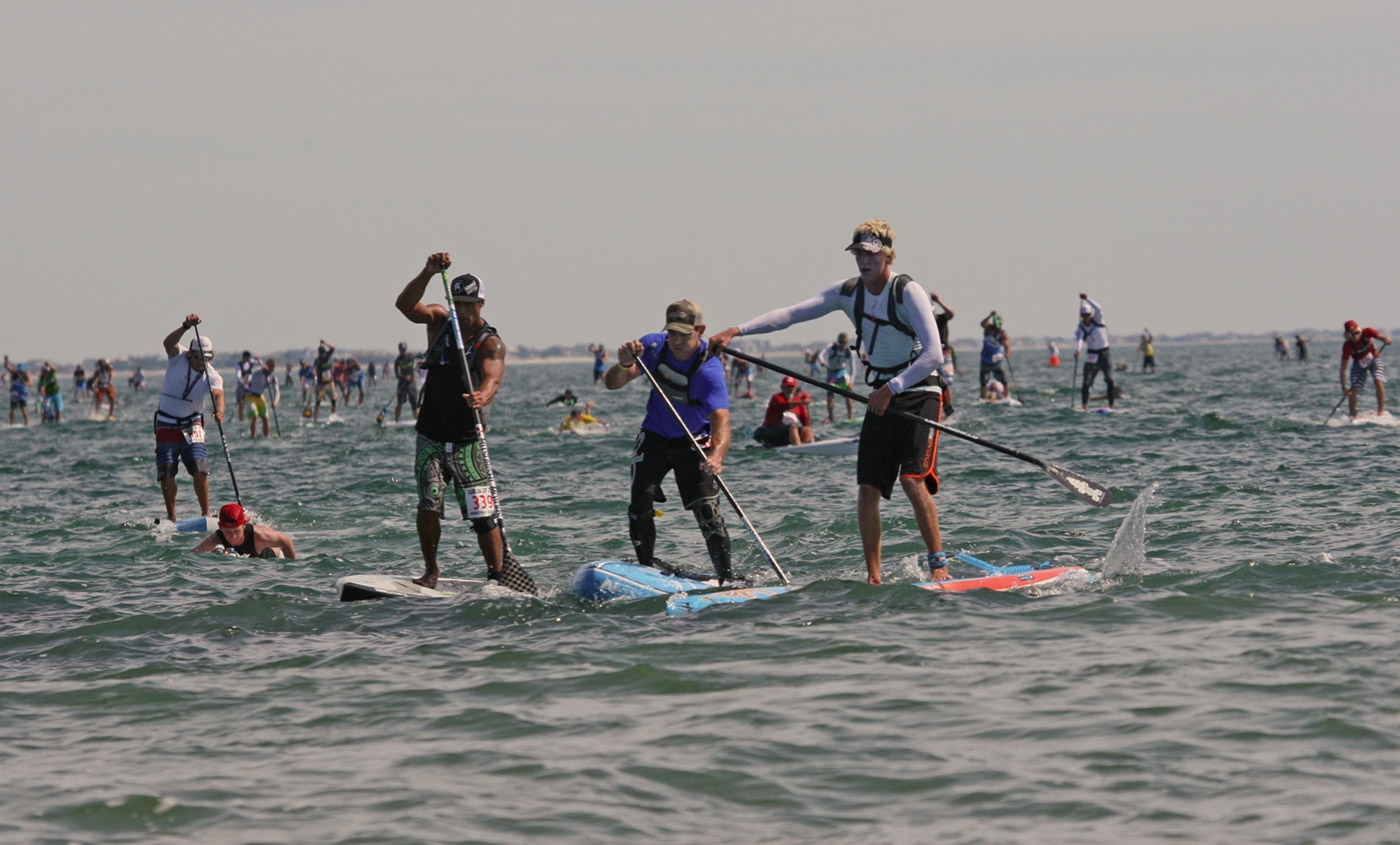 April 6, 2015
by Christopher Parker (@wheresbossman)
Who's Coming To The Carolina Cup? Short Answer: Everyone…
In a clear sign of just how significant the Carolina Cup has become, we've confirmed that 17 of the world's Top 20 guys and 7 of the Top 10 women are heading to the first major race of the season.
The 2015 Carolina Cup, set for Wrightsville Beach, North Carolina on April 25th, will play host to an elite lineup of talent never before seen outside the Battle of the Paddle, further cementing Carolina as the place to be.
Just some of the names battling it out include three-time defending champ Danny Ching, current world #1 Connor Baxter, Jake Jensen, Travis Grant, Georges Cronsteadt along with a virtual who's who of the paddling world. Women's world #1 Annabel Anderson will be looking for a third straight Carolina Cup title, however she'll have to outlast one of the strongest female fields ever assembled, with Lina Augaitis, Jenny Kalmbach, Fiona Wylde, Angie Jackson and Sonni Honscheid all confirmed for the showdown.
This huge lineup of elite talent means the Carolina Cup will play a starring role in the SUP Racer World Rankings, with priceless points on offer for paddlers hoping to make a move up the Top 100 Men/Top 50 Women leaderboards.
Though even more importantly, this elite crowd will be joined by hundreds of first timers and weekend warriors in what is set to be a massive festival of stand up paddling.
---
Who's Coming To Carolina?
Based on the current SUP Racer World Rankings
| World Ranking | Name | Carolina? |
| --- | --- | --- |
| 1 | Connor Baxter | YES |
| 2 | Kai Lenny | No |
| 3 | Danny Ching | YES |
| 4 | Jake Jensen | YES |
| 5 | Travis Grant | YES |
| 6 | Georges Cronsteadt | YES |
| 7 | Mo Freitas | YES |
| 8 | Casper Steinfath | YES |
| 9 | Beau O'Brian | YES |
| 10 | Eric Terrien | YES |
| 11 | Lincoln Dews | YES |
| 12 | Zane Schweitzer | YES |
| 13 | Chase Kosterlitz | YES |
| 14 | Titouan Puyo | YES |
| 15 | Riggs Napoleon | Injured |
| 16 | Kelly Margetts | YES |
| 17 | Slater Trout | YES |
| 18 | Fernando Stalla | No |
| 19 | Kody Kerbox | YES |
| 20 | Javier "Bicho" Jimenez | YES |
Out of the Top 20 men, only Kai Lenny, Riggs Napoleon and Fernando Stalla will be missing. Riggs is still recovering from shoulder surgery, while Fernando Stalla was keen to race but decided to remain at home in Sayulita and focus on the upcoming ISA Worlds.
The only Top 10 paddler missing is Kai Lenny, who will be in France for a Naish promo trip on the Carolina weekend. I chatted with Kai the other day and he explained: "I definitely want to get there in the future, I would love nothing more than to compete in one of the biggest races in America!"
Outside the Top 20, there's another seven highly ranked guys that'll be confident they can crack the Top 5 or Top 10 at Carolina:
#23 – Paul Jackson
#24 – Josh Riccio
#26 – Vinnicius Martins
#31 – Ryan Helm
#35 – Toby Cracknell
#37 – Jayden Jensen
#41 – Chuck Glynn
Jamie Mitchell, currently injured, and Dave Kalama will also be at the Carolina Cup but only for the clinics. There's also probably 5-10 other super strong paddlers that don't have a high world ranking but could easily cause an upset or two: Names to watch include Tommy Buday Jr, Larry Cain, Jim Terrell, Billy Miller and Kenny Kaneko.
So yeah, kind of a stacked field. Good luck making the Top 20 at this race, let alone the Top 10 or Top 5…
The women won't be overshadowed by the men, with Annabel Anderson looking for a three-peat and the first major victory for her new team, Lahui Kai. However the determined New Zealander will first have to overcome one of the most elite women's fields we've ever seen.
I haven't been able to get confirmation from all of the top women, however there will be at least seven of the world's Top 10 (actually, seven of the top eight) on show at Wrightsville in a couple of weeks.
| World Ranking | Name | Carolina? |
| --- | --- | --- |
| 1 | Annabel Anderson | YES |
| 2 | Candice Appleby | Maybe |
| 3 | Lina Augaitis | YES |
| 4 | Fiona Wylde | YES |
| 5 | Jenny Kalmbach | YES |
| 6 | Angie Jackson | YES |
| 7 | Sonni Hönscheid | YES |
| 8 | Shae Foudy | YES |
| 9 | Shakira Westdorp | Maybe |
| 10 | Talia Decoite | Maybe |
Just how elite will the Carolina Cup be this year? And how does it compare to other races?
According to our proprietary Race Index event ranking system, the 2014 Battle of the Paddle Elite Race was the most competitive race of all time. That fateful day at Salt Creek scored an unheard of 92% (men's race) and 77% (women's race) on our Race Index algorithm, which meant that almost every single top-ranked paddler was competing.
The world's top ranked paddlers (Top 50 for the men's Race Index and Top 30 for the Women's) add weighting to the Race Index score of each event. That means the more top ranked paddlers that show up to a race, the higher an event's Race Index will be. And the higher a paddler's current world ranking, the more of a weighting they add. So getting a lot of guys and girls in the Top 20 is key to having a highly-rated event.
But getting the world's top paddlers to all show up on the same start line is nearly impossible.
To highlight just how difficult it is: After the Battle of the Paddle, the second most competitive race of 2014 was the Ultimate SUP Showdown, which scored just 53.5% out of a possible 100. Carolina was the fourth biggest race last year, reaching 45% on the men's Race Index and 39% on the women's. However this year's race looks set to blow that mark out of the water…
I've gone right through the World Rankings and checked off who I know will be competing. If my calculations are correct, Carolina will be a 68.5% race on the men's side and somewhere in the 55-65% range on the women's. It may go slightly up or down depending on last minute entries/withdrawals.
This all means that Carolina 2015 will have a massive impact on the SUP Racer World Rankings.
The points on offer at each race are pegged to that event's Race Index score, so the more elite paddlers that show up, and therefore the harder a race is to win, the more world ranking points on offer.
If Carolina does become a 68.5% race on the men's side (which would easily make it the second most competitive race of all time), then the winner will receive 68.50 world ranking points. Each subsequent finishing place receives a set percentage of the winner's total, as dictated by our custom Base Points Table.
While the "Elite Graveyard" race is the main event, and the one where all the World Ranking points will be awarded, the Carolina Cup is so special because it caters to everyone from the first timer to the weekend warrior to the international superstar.
Along with dozens of clinics and endless demos, there are two massive amateur races: The 3.5 mile "Harbor Island" and 6.5 mile "Money Island" courses. But it's the Graveyard we're most excited about, because that's where all the big names will battle for the first major trophy of the season. And what a battle it will be…
The Graveyard demands paddlers complete a full loop around the long, narrow island that is Wrightsville Beach. This includes five miles in the open ocean, often with moderate winds creating plenty of tricky bumps, seven miles of flat water intercoastal, where the currents can play a big role, and another mile going in and out of the two inlet entrances, where the waves come into the mix.
All up the Graveyard course is 13.2 miles long. It's a grueling race around a brutal course, and now it's going to play host to one of the most competitive fields of paddling talent ever assembled.
The Countdown to Carolina is ON.
NEXT >> SUP Racer World Rankings: Top 100 Men | Top 50 Women