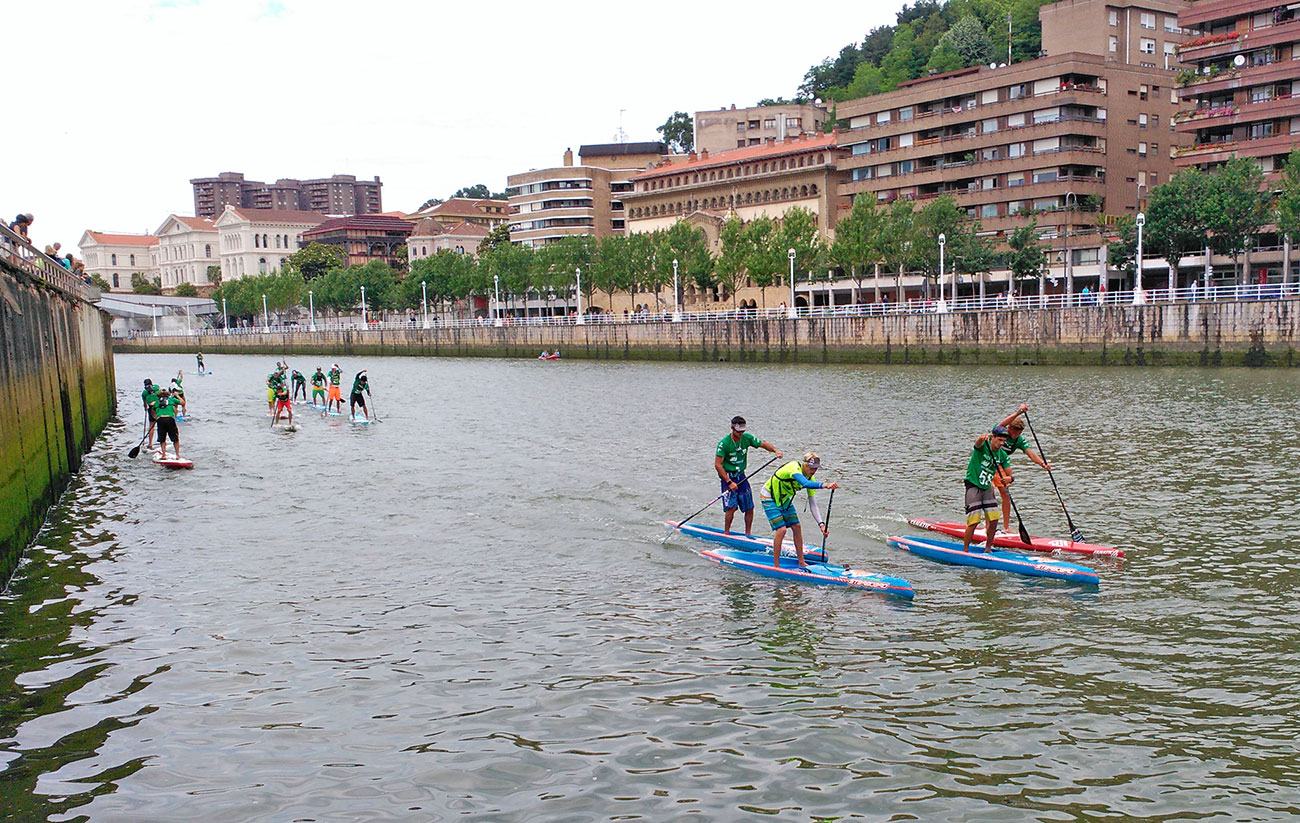 June 13, 2015
by Christopher Parker (@wheresbossman)
Euro Tour Week 4: Titouan Puyo, Lina Augaitis Victorious In Bilbao Following An Intense Weekend Of Racing
We've just wrapped up a very interesting weekend of racing here at the Bilbao World SUP Challenge in the Basque Country of Spain. Feels like I've just stepped off a rollercoaster, one that involved some amazing racing action but also a good dose of tension and intrigue.
First off I have to say what a well organised event this has been. The local organising group, B Waters, went above and beyond to make the paddlers feel at home. It was world class, from the professional event setup to the location to the entertainment. Awesome work by the local guys.
But how about the racing? That was definitely world class as well, though it came with more tension than we all anticipated.
After yesterday's knock-out sprint tournament, where Titouan Puyo and Lina Augaitis triumphed over an all-star field and Connor received a scratching (i.e. last place) for unsportsmanlike conduct, today it was the long distance event. With the uber-stunning Guggenheim Museum as a backdrop, 40 odd elites and another 80-90 amateurs set off at 11:30am for the 15km course.
The elite men went off first and immediately the draft trains began to form, with all the big names jockeying for position in the opening kilometre of this pure flat water course. Eventually the pack settled down and broke away from the peleton, with 13 guys taking control of the race.
Titouan Puyo was setting the early pace as he looked for the rare sprint/distance double, with his Starboard teammates Connor Baxter and Leonard Nika, along with Fanatic duo Arthur Arutkin and Jake Jensen following close behind. Paul Jackson, Bicho Jimenez, Fernando Stalla, Martin Letourneur, Chase Kosterlitz, Roman Frejo, Vincent Verhoeven, Tucker Ingalls and Jeremy Teulade all took their seats on the train as it wound its way through inner-city Bilbao.
This procession continued for the next 30-40 minutes, before a split occurred around the 10km mark. Draft trains of this size are a fragile thing, and inevitably a weak link or a mistake is going to cause a splinter. The unlucky culprit today was Jake Jensen, who got caught in a tangle at one of the buoys and allowed Leo, Connor, Titou and Arthur to break away. They never looked back.
So for the final 25 odd minutes it was a race of four, as the chase pack tried in vain to reattach their wagon to the train. Bathed in glorious Basque sunshine – yesterday was wet and cloudy but today the weather was amazing – the lead quartet continually upped the pace as they neared the finish. With hundreds of hardcore fans cheering loud and thousands of Sunday strollers lining the sides of the river, some perhaps wondering what on earth was happening out on the water, the Battle of Bilbao came to an exciting conclusion.
Around 800 metres before the end of the course paddlers had to pass the start/finish line and do one more 180 degree loop around a buoy. From that 800m mark the race turned into an all out sprint, quite impressive considering these guys had already been paddling at race pace for an hour and a half.
As they rounded the final buoy for the 400m drag race to the line, it became clear that Titou and Connor had the most fuel left in the tank. Connor surged first, however Titou put in an extraordinary effort, refusing to give up and pushing the world number one all the way to the line. In the final few metres the guys were literally neck and neck. They crossed the line together. Neither knew who had won…
In a true photo finish it later emerged that Connor had edged ahead by a hair's width, thus completing his rollercoaster weekend after officially receiving a last-place finish in yesterday's sprints.
Arthur crossed for third, with Leo Nika, who's been incredibly impressive in Europe this summer, taking 4th place.
A minute later the chase pack arrived, with the suitably-named Chase Kosterlitz on the front holding off Bicho and Jake in a sprint to the line. Paul Jackson was right behind in 8th, while Martin Letourneur and Fernando Stalla filled the top 10. Roman Frejo was close behind in 11th to finish as the highest-placed Spaniard. Coming home 12th was Tucker Ingalls, who put in a galant effort early on (leading in the first 500 metres) but hit the wall in the second half.
In the women's race it was a vintage performance from Canada's Lina Augaitis, who cruised to victory ahead of two very strong ladies in Sonni Honscheid and Angie Jackson.
Bilbao was Lina's second last race for the year, with the SIC team rider set to take time off after next week's Payette River Games to have her first child. Perhaps she wanted to go out with a bang, or perhaps she's just in really good form right now, either way Lina was very impressive in breaking Sonni and Angie early and then continually extending the gap over the next hour and a half.
Angie and Sonni had their own battle, quite an important one considering they're the two contenders for the Euro Tour crown (Lina skipped last week's Lost Mills distance race given her condition, which puts her out of the running). After yesterday's result, where Sonni finished 3rd and Angie 4th (young Shelby Taylor was 2nd on Saturday), Angie just had to finish in front of her German rival to claim the overall runner-up position and some valuable Euro Tour points.
The distance race was worth 2/3rds of the overall event points, or in other words: The distance counted for double.
But unfortunately for Angie she fell just short, losing out to Sonni in the 400 metre drag race to the finish line. Amazingly, Sonni's runner-up finish this weekend was her worst result of the Euro Tour so far, after having won in Mallorca, St. Maxime and the Lost Mills.
Crossing the line a couple of minutes later were local gal Ane Zulaika, who out-sprinted Shelby to the line, while Marie Buchanan from the UK wasn't far off the pace in sixth place. So even though the women's field was quite small compared to the men's, it was still quite a high level of competition standing on the podium.
At this point the event was officially finished, however things took an interesting turn from there…
The points system in this event is somewhat unique, with the distance counting for two-thirds and the sprints one-third. For this reason we used the SUP Racer World Rankings "Base Points Table" to calculate the overall weekend standings. Unfortunately this wasn't communicated clearly to the paddlers, which caused some confusion/tension at the conclusion of the event. As the official "Points Guy" of the Euro Tour this was 100% my responsibility, and I completely take the blame for causing drama among this fantastic group of paddlers.
I have a mountain of respect for these guys and count virtually all of them as my personal friends, so I was really bummed to have created the problem. But in the end the maths don't lie and the numbers were accurate, it's just that I should have put those numbers out there on Friday afternoon (or three months ago) so the paddlers could calculate the running results in their heads throughout the weekend. The numbers are out there – we use my Base Points Table system – I just didn't communicate it very well this weekend.
Anyway I don't want to drag on the issue or let it distract from what has been a great event organised at a world class standard. Let's just say that it took a couple of hours of heated debate post-race to find a resolution. There was disagreement but in the end there were also a lot of positives: The paddlers put forward some great ideas that could help improve all events around the world in the future.
All paddlers were unanimous in thanking the event organisers B Waters, who did a great job with this whole show. B Waters is a local group of surfers that are passionate about the sport of stand up paddling and know how to put on a great show (and a great party). The event setup was unreal, and the crowds, buoyed the the great weather today, were bigger than just about any other race I've ever seen. And I won't even get started on the after parties…
And an extra special thanks to Iberdrola, the energy company that funded this race and is also the headline sponsor of the Barcelona World Series event that's coming up in two weeks. Iberdrola has single-handedly funded a massive chunk of the sport in Europe this year.
And the host city. Bilbao. What an awesome place. The pintxos, the patxaran, the Guggenheim… If you haven't been here, get here.
But back to the podium: Titouan Puyo ran away with the overall event win, further cementing his meteoric rise through the ranks (is there any stopping this guy?), with Connor Baxter's win today elevating him to runner-up and Leonard Nika finishing third to continue his impressive form this summer. That created an all-Starboard podium for the second time in two weeks, after Connor/Titou/Trevor went top three at the Lost Mills.
On the women's side it was a clean sweep for Lina Augaitis, with Sonni taking second (giving SIC the one-two), Angie third, Shelby in fourth, Ane in fifth and Marie sixth.
Now it's 7:30pm Sunday night and we have another after-party to get to. At 5am tomorrow morning Fernando Stalla, Chase Kosterlitz and myself will catch a taxi to the airport and start our long trek to Idaho for next weekend's Payette River Games. That's gonna be a painful flight…
It seems the SUP racing world tour never ends these days, and the frequent flyer miles keep adding up. But despite the occasional drama and stress, I'd never trade this job with anyone. I'm extremely grateful that I somehow ended up in the position of traveling the world with this crazy bunch of amazing paddlers.
Until next time, Bilbao… Thanks for the fun.
Here are a few great highlight reels from the weekend.
---
2015 Bilbao World SUP Challenge
Men's Overall
1st: Titouan Puyo (New Caledonia, Starboard); 250 points
2nd: Connor Baxter (Hawaii, Starboard); 200 points
3rd: Leonard Nika (Italy, Starboard); 175 points
4th: Arthur Arutkin (France, Fanatic); 145 points
5th: Bicho Jimenez; 120 points
=6th: Paul Jackson; 110 points
=6th: Chase Kosterlitz; 110 points
8th: Jake Jensen; 102.5 points
9th: Roman Frejo; 71 points
10th: Tucker Ingalls; 51 points
… full results coming soon
Women's Overall
1st: Lina Augaitis (Canada, SIC); 300 points
2nd: Sonni Honscheid (Germany, SIC); 200 points
3rd: Angie Jackson (Australia, One SUP); 170 points
4th: Shelby Taylor (USA, Riviera); 160 points
5th: Ane Zulaika (Spain, BIC); 142.5 points
6th: Marie Buchanan (UK, Starboard) 112.5 points
Men's Distance Race
1st: Connor Baxter (1:23:48.5); 200 points
2nd: Titouan Puyo (1:23:48.6); 150
3rd: Arthur Arutkin (1:23:58.2); 120
4th: Leonard Nika (1:24:03,9); 100
5th: Chase Kosterlitz (1:25:16,1); 85
6th: Bicho Jimenez (1:25:17,3; 70
7th: Jake Jensen (1:25:18,6); 60
8th: Paul Jackson (1:25:21,3); 50
9th: Martin Letourneur (1:25:24,8); 45
10th: Fernando Stalla (1:25:30,5); 40
11th: Roman Frejo (1:25:42,4); 36
12th: Tucker Iggalls (1:27:17,1); 32
… full results coming soon
Women's Distance Race
1st: Lina Augaitis
2nd: Sonni Honscheid
3rd: Angie Jackson
4th: Ane Zulaika
5th: Shelby Taylor
6th: Marie Buchanan
Men's Sprints
1st: Titouan Puyo; 100 points
2nd: Leonard Nika; 75
3rd: Paul Jackson; 60
4th: Bicho Jimenez; 50
5th: Jake Jensen; 42.5
… full results coming soon
Women's Sprints
1st: Lina Augaitis; 100 points
2nd: Shelby Taylor; 75
3rd: Sonni Honscheid; 60
4th: Angie Jackson; 50
=5th: Ane Zulaika; 42.5
=5th: Marie Buchanan; 42.5
Full results coming soon. View the "Base Points Table" that the overall event standings were based on.
---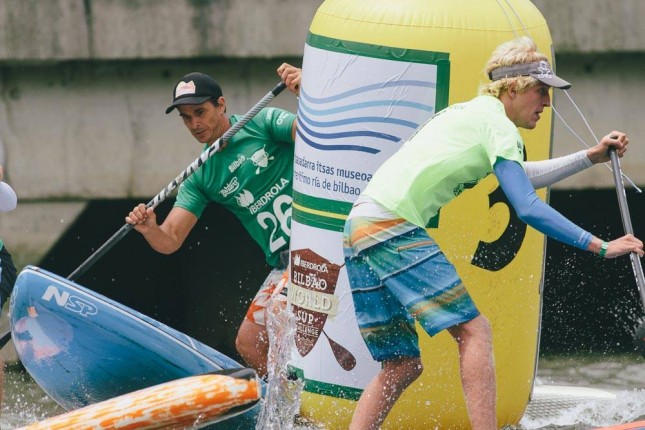 Saturday Update: Titou And Lina Firing In The Sprints; Connor Rubbed Out For Unsportsmanlike Conduct
Euro Tour, Week 4: Titouan Puyo and Lina Augaitis have drawn first blood here in the Basque city of Bilbao, claiming today's knock-out sprint tournament after a long and at times very tense day of racing.
After a heat by heat format that seemed to drag on forever, including a pair of super-stacked semi-final showdowns, the men's field was reduced to the final six: The Starboard trio of Titou, Connor Baxter and Leonard Nika, Rogue star Bicho Jimenez, Fanatic boy Jake Jensen and free agent/One SUP founder Paul Jackson.
You can watch a full replay of the final with this basic Facebook video I captured from the sidelines, but it kinda went like this:
After a super fast start, Connor, Bicho and Leo went for the buoy on the right, while Titou, Jacko and Jake headed to the left. Connor and Titou got the best of the starts and rounded their respective buoys in first. The split packs were neck and neck at the halfway mark, however Connor's group got held up slightly at the buoy, which gave Titou half a board length lead for the sprint back home.
Connor surged with around 50 metres to go, however Titou showed impressive strength and speed to hold on for a victory that many would call a real surprise. Titou is known as one of the world's best distance paddlers, but sprinting was never his thing, so to win this super short, sharp race, against an all-star field is massive.
Connor held on for the runner-up spot, with his Starboard team mate Leo right behind. Jacko bagged 4th just in front of Bicho, while Jake shook his head as he crossed the line in last place.
The race didn't end there though: Moments after they crossed the line, Connor and Leo became caught up in what looked to be a very heated argument. Words were said and then Connor slapped Leo's cap straight off his head, which ultimately led to Connor being DQ'd from the sprint part of the event for unsportsmanlike conduct. As per SUPAA rules, Connor receives a last place for the day.
Nobody wanted to see the world number one DQ'd, not the organisers, not the fans, not even his rival paddlers. However his actions were fairly blatant, and they were made worse because it all happened in front of the finish line, where a solid crowd of paddlers and spectators had gathered to watch.
In Connor's defense, Leo was being very aggressive out on the course, as he is known to be. He charged into Connor at the buoy, which held up Connor and hurt his chances of matching Titou on the final straight. But the general consensus is that while Leo was aggressive with his tactics, that's simply part of racing. Connor let his emotions get the best of him and stepped across the line by slapping Leo at the finish.
It was a bizarre end to the day, but hats off to the Bilbao event organisers and the Euro Tour crew for taking a firm stand and following the rules (which clearly state that "unsportsmanlike conduct" equals an automatic DQ). Some big events have handled these kinds of incidents very poorly in the past (see: Handlegate), so while I was as bummed as anyone to see Connor DQ'd (I've been traveling and staying with the guy every day for the past four weeks), it's hard to disagree with the conclusion.
But let's not take away from Titou's victory.
Titouan proved that he's paddling repertoire is now virtually complete; the New Caledonian has enjoyed a meteoric rise through the ranks over the past 18 months, winning several big downwind and long distance races. However sprinting was always Titou's Achilles heel, so his win today must be a scary proposition for the other top guys.
The elite women's field here in Bilbao was significantly smaller that the men's, which was disappointing to see. Fortunately the women that did lineup were world class athletes, so it did make for a quality final.
Lina Augaitis, who recently announced that she's pregnant and will put her racing career on hold after next week's Payette River Games, showed why the paddling world is going to miss her over the next year or so. The Canadian, currently sitting number three in the world, proved she can win over any distance, hammering to the first buoy to all but end the contest at the halfway mark.
To make matters even more concrete, the other two big pre-race contenders, Sonni Honscheid and Angie Jackson, accidentally clashed boards and lost valuable seconds. In these super short sprint races, half a board length here or a second there can easily end your race.
That opened the door for Shelby Taylor to claim an impressive runner-up finish and put herself in a strong position going into Day 2's distance race. Shelby has been looking strong all through the Euro Tour, particularly in these sprint races. The Riviera team rider won the sprints way back in Week 1 and last week climbed inside the world's Top 20 for the first time.
The sprint course here in Bilbao was a Y Race format, which gave paddlers the option of rounding either the left or right buoy. The course was around 250 metres, 125 down to the buoys and 125 back, going through a pair of buoys that formed a gate at the 50 metre mark and created the "Y" shape. In most heats the field would split evenly between the two buoys, with the goofy footers opting to turn on their favoured right shoulder, and the natural footers opting to go the other way.
It definitely made the racing more interesting than having a single buoy, however it wasn't the silver bullet that will magically make SUP racing more entertaining for the masses. In the past, one buoy sprint races have become a "race to the first buoy", as the contest is virtually decided at the halfway turning can. Paddlers universally despise that sort of racing. With the two split buoys it was much less predictable, but I think we still have a lot of work to do to make racing more exciting.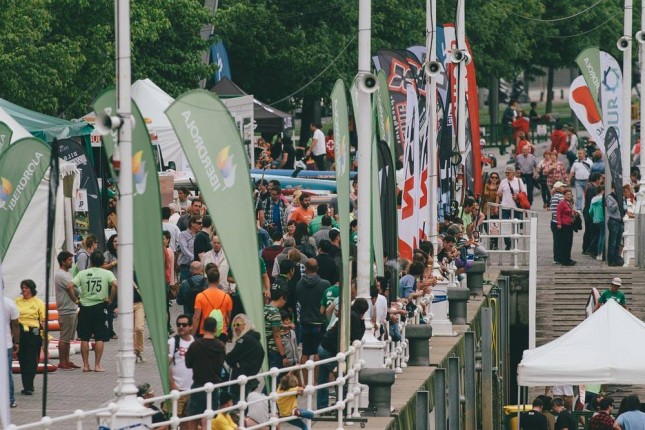 The evening finished with a great concert put on by the organisers, though with the big distance race coming up on Sunday most paddlers opted for an early night. I chatted with the crew behind this first-class event and they admitted the big racing should all happen on Saturday and Sunday should just be fun races, which would allow the paddlers to get all the hard work done in one day and let their hair down on Saturday night.
So anyway that was Day 1 of what has been an entertaining and very professionally run event. It was really cool to see big crowds on the side of the river here in downtown Bilbao cheering on the paddlers. Expect to see even bigger crowds tomorrow as paddlers loop their way through the city for the 14km distance race. The start will down in front of the iconic Guggenheim Museum, which always makes for some cool photos. Here's how it looked 12 months ago: