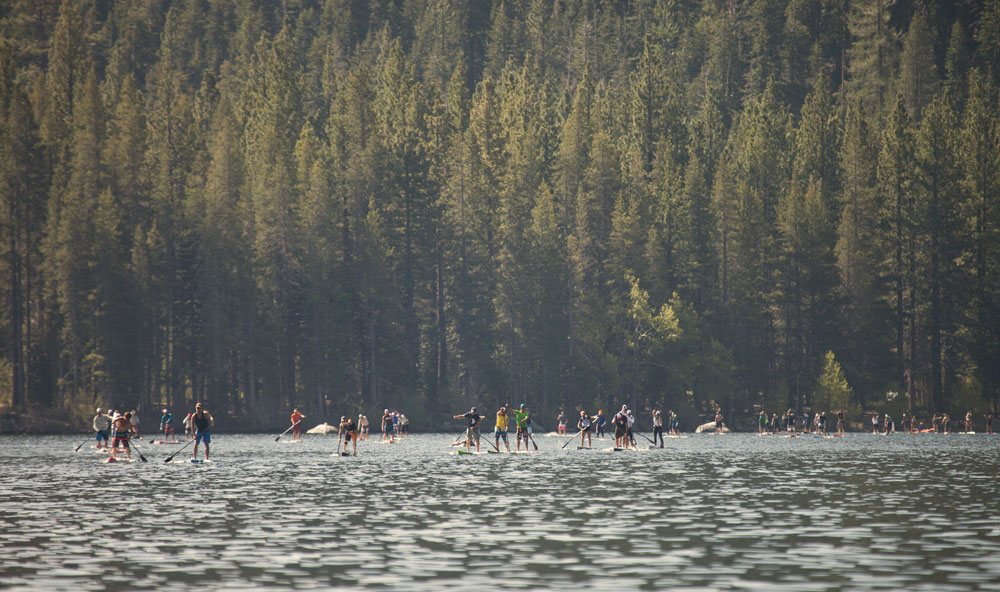 May 27, 2014
by Christopher Parker (@wheresbossman)
Another Big Race Up At Tahoe…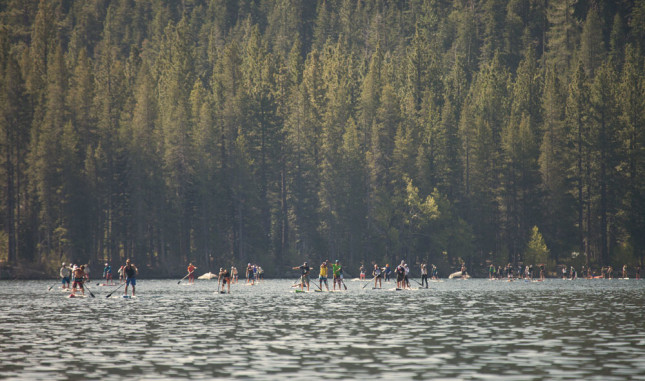 No matter how many times I post about a race in Lake Tahoe that attracted hundreds of competitors, I'm always surprised to see just how many paddlers this region supports. Maybe because it's miles from the ocean, maybe because it's way up in the sky, maybe because you've probably never heard of the place unless you live in the States (or really love skiing). I'm not really sure why, but for some bizarre reason I'm always surprised. In a good way. Because no matter how you look at it, Lake Tahoe truly is a paddling mecca…
The Lake showed its true colours again on the weekend, when over 150 paddlers hit Donner Lake (technically not Lake Tahoe, but close enough) for the unofficial season opener, the O'Neill Tahoe Cup Donner Lake race. On a perfect day for paddling – warm weather, sunny skies and a windless, glassy lake – racers hit the water at 9am for the start of the 5 miler (8 kms).
Just under 40 minutes later, Rob Rojas crossed the line on his unlimited to claim line honours. A few minutes later Brennan Rose made it a double win for the Riviera boys, taking out the 14′ class ahead of local Jay Wild. Jay's wife almost went one spot better in the women's, though eventually settled for the runner-up spot as well, just 4 seconds behind the winner Jen Fuller.
Also great to see 20 juniors in the race – click the "Age" column on the results below and you'll see that the age of competitors went all the way down to 6-years-old.
Anyway there's a full recap over on the official site. Sounds like it was a great day and a great race. Nice way to start the Tahoe summer season…
FULL RESULTS BELOW
2014 Tahoe Cup: Donner Lake Results
Click "M/F" to switch between Men's and Women's results
Click "Class" to show the different board class results
Click "Time" to rest the results
Course: 5 miles (8kms)
Conditions: Lack wind. Much glass. Very paddle.
Temperature: 75′ F (24′ C)

| # | M/F | # | Name | Time | Class | # | Division | Age | Board |
| --- | --- | --- | --- | --- | --- | --- | --- | --- | --- |
| 1 | M | 1 | Rob Rojas | 0:39:29 | UNLIM | 1 | ELITE | 40 | RIVIERA |
| 2 | M | 2 | Rand Carter | 0:42:55 | UNLIM | 2 | ELITE | 50 | BARK SURFT |
| 3 | M | 3 | Brennan Rose | 0:43:00 | 14 | 1 | ELITE | 25 | RIVIERA |
| 4 | M | 4 | Jay Wild | 0:43:02 | 14 | 2 | ELITE | 34 | HOBIE |
| 5 | M | 5 | Ben Sarrazin | 0:43:23 | 14 | 3 | ELITE | 40 | BOGA |
| 6 | M | 6 | Seth Springer | 0:43:39 | 14 | 4 | ELITE | 37 | BARK |
| 7 | M | 7 | Adam Freeman | 0:45:05 | 14 | 5 | ELITE | 34 | LPC |
| 8 | M | 8 | Jimmy Spithill | 0:45:12 | 14 | 6 | OPEN | 34 | NAISH |
| 9 | M | 9 | John Merryfield | 0:45:37 | UNLIM | 3 | ELITE | 48 | BARK |
| 10 | M | 10 | Grant McFadyen | 0:45:48 | 14 | 7 | OPEN | 45 | BARK |
| 11 | M | 11 | Jedd Hasay | 0:45:51 | 14 | 8 | ELITE | 20 | INFINITY |
| 12 | M | 12 | Josiah Brackett | 0:45:55 | 12'6 | 1 | OPEN | 14 | FLATWATER |
| 13 | M | 13 | Michael Valenzuela | 0:46:43 | UNLIM | 4 | ELITE | 39 | RICHMOND |
| 14 | M | 14 | Dax Willard | 0:46:46 | 14 | 9 | ELITE | 35 | NAISH |
| 15 | M | 15 | Steve Funk | 0:46:53 | 14 | 10 | OPEN | 47 | STARBOARD |
| 16 | M | 16 | Lance Erickson | 0:47:16 | 14 | 11 | OPEN | 57 | EBOARDS |
| 17 | M | 17 | Gary Wimberly | 0:47:22 | 14 | 12 | ELITE | 50 | BOGA |
| 18 | M | 18 | Evan Derdowski | 0:47:24 | 14 | 13 | OPEN | 26 | FLATWATER |
| 19 | M | 19 | Scott Estrada | 0:48:01 | 14 | 14 | ELITE | 46 | COREBAN |
| 20 | M | 20 | Tim Boyer | 0:48:10 | UNLIM | 5 | OPEN | 47 | BARK |
| 21 | M | 21 | Rob Macids | 0:48:16 | 14 | 15 | OPEN | 38 | RIVIERA |
| 22 | M | 22 | Chris Brackett | 0:48:23 | 14 | 16 | OPEN | 44 | FLATWATER |
| 23 | M | 23 | Tai Boutell | 0:48:34 | 14 | 17 | OPEN | 44 | KINGS |
| 24 | M | 24 | Geoff James | 0:48:36 | 14 | 18 | OPEN | 51 | BARK |
| 25 | M | 25 | Fred Andersen | 0:48:48 | 14 | 19 | OPEN | 62 | BOGA |
| 26 | M | 26 | Michael Melville | 0:48:51 | 14 | 20 | OPEN | 60 | BLUERUSH B |
| 27 | M | 27 | Miguel Sloane | 0:49:14 | 14 | 21 | OPEN | 43 | BARK |
| 28 | M | 28 | Ryan Funk | 0:49:19 | 12'6 | 2 | OPEN | 13 | |
| 29 | M | 29 | Jeff Pearson | 0:49:22 | 14 | 22 | OPEN | 43 | HOBIE |
| 30 | M | 30 | Jean Rathle | 0:49:35 | 12'6 | 3 | OPEN | 50 | EVERPADDLE |
| 31 | M | 31 | Matt Lund | 0:49:38 | 14 | 23 | OPEN | 39 | HOBIE |
| 32 | F | 1 | Jen Fuller | 0:49:40 | F12'6 | 1 | ELITE | 50 | INFINITY |
| 33 | F | 2 | Anik Wild | 0:49:44 | F12'6 | 2 | ELITE | 42 | HOBIE |
| 34 | M | 32 | Alic Funk | 0:49:46 | 12'6 | 4 | OPEN | 18 | STARBOARD |
| 35 | M | 33 | Daniel Buchanan | 0:49:52 | 14 | 24 | OPEN | 43 | BARK |
| 36 | M | 34 | Mike Bond | 0:49:57 | 14 | 25 | OPEN | 58 | |
| 37 | M | 35 | Ben Day | 0:49:58 | 14 | 26 | OPEN | 35 | FLATWATER |
| 38 | M | 36 | Larry Ferguson | 0:50:04 | UNLIM | 6 | OPEN | 55 | BARK |
| 39 | F | 3 | Nina Oakley | 0:50:06 | F12'6 | 3 | ELITE | 32 | LAKESHORE |
| 40 | M | 37 | Joe Quinn | 0:50:36 | 14 | 27 | OPEN | 48 | BARK |
| 41 | M | 38 | Michael Crimmins | 0:50:55 | 14 | 28 | OPEN | 53 | BARK 14 DO |
| 42 | M | 39 | Dave Harris | 0:51:05 | 12'6 | 5 | OPEN | 59 | HARRIS CAT |
| 43 | M | 40 | Joshua Brackett | 0:51:15 | 12'6 | 6 | OPEN | 12 | 404 |
| 44 | M | 41 | Dino Wilson | 0:51:15 | 12'6 | 7 | OPEN | 52 | INFINITY |
| 45 | M | 42 | Trent Carter | 0:51:18 | 12'6 | 8 | OPEN | 50 | BARK SURFT |
| 46 | M | 43 | Nate Ludwig | 0:51:24 | 12'6 | 9 | OPEN | 36 | FLATWATER |
| 47 | M | 44 | Brian Williams | 0:51:31 | 14 | 29 | OPEN | 41 | FANATIC FA |
| 48 | M | 45 | Kevin Murnane | 0:51:35 | 14 | 30 | OPEN | 43 | SURFTECH |
| 49 | M | 46 | Tom Kalange | 0:51:49 | 14 | 31 | OPEN | 52 | WAI SUP |
| 50 | M | 47 | Pablo Boni | 0:52:03 | 14 | 32 | OPEN | 38 | |
| 51 | M | 48 | Jim Granger | 0:52:12 | 14 | 33 | OPEN | 61 | HOBIE |
| 52 | M | 49 | Brady Flattery | 0:52:14 | 14 | 34 | OPEN | 43 | FLATWATER |
| 53 | M | 50 | Wayne Prouty Jr | 0:53:19 | 14 | 35 | OPEN | 35 | FLAT WATER |
| 54 | M | 51 | Jay Pringe | 0:53:25 | 12'6 | 10 | OPEN | 47 | LAKESHOR |
| 55 | M | 52 | Scott McConaughey | 0:53:31 | 12'6 | 11 | OPEN | 53 | FLATWATER |
| 56 | M | 53 | Thomas Wade Jr. | 0:53:38 | 12'6 | 12 | OPEN | 30 | F-ONE |
| 57 | F | 4 | Wendy Ackermann | 0:53:47 | F12'6 | 4 | ELITE | 48 | BARK |
| 58 | M | 54 | Robert Rudd | 0:54:00 | 14 | 36 | OPEN | 30 | BARK |
| 59 | M | 55 | Hollis Turner | 0:54:06 | 14 | 37 | OPEN | 39 | KINGS |
| 60 | M | 56 | Luke McIntire | 0:54:19 | OC1 | 1 | OPEN | 34 | PUAKEA DES |
| 61 | M | 57 | Andrew Colehower | 0:54:24 | 14 | 38 | OPEN | 46 | STARBOARD |
| 62 | M | 58 | Matt Ivey | 0:54:51 | 14 | 39 | OPEN | 37 | BOGA |
| 63 | M | 59 | Travis Ganong | 0:54:59 | 12'6 | 13 | OPEN | 25 | TAHOE SUP |
| 64 | F | 5 | Julie Stevens | 0:55:01 | F12'6 | 5 | OPEN | 46 | BARK |
| 65 | F | 6 | Debbie Fogans | 0:55:07 | F12'6 | 6 | OPEN | 34 | FANATIC |
| 66 | F | 7 | Sally Mello | 0:55:21 | F14' | 1 | ELITE | 48 | FLATWATER |
| 67 | M | 60 | Mike Tessier | 0:55:32 | 12'6 | 14 | OPEN | 45 | |
| 68 | M | 61 | Ryan Delariva | 0:55:34 | 12'6 | 15 | OPEN | 29 | NAISH |
| 69 | M | 62 | W. Joe Woodman | 0:55:50 | 14 | 40 | OPEN | 55 | TAHOESUP |
| 70 | F | 8 | Brie Moore | 0:56:03 | F12'6 | 7 | OPEN | 38 | LPC |
| 71 | M | 63 | Kevin Campbell | 0:56:09 | 12'6 | 16 | OPEN | 31 | RICHMOND |
| 72 | M | 64 | Ed Caballero | 0:56:09 | 14 | 41 | OPEN | 40 | INFINITY |
| 73 | M | 65 | Vincent Huang | 0:56:15 | 14 | 42 | OPEN | 61 | F ONE |
| 74 | M | 66 | Mitch Boothe | 0:56:20 | 14 | 43 | OPEN | 54 | FLATWATER |
| 75 | M | 67 | Rick Fitzpatrick | 0:56:23 | 14 | 44 | OPEN | 38 | LAKESHORE |
| 76 | M | 68 | Dominique Smith | 0:56:28 | 14 | 45 | OPEN | 27 | SUPCO |
| 77 | F | 9 | Madeleine King | 0:56:32 | F12'6 | 8 | OPEN | 53 | JIMMY LEWI |
| 78 | M | 69 | Duke Bronwer | 0:56:41 | 12'6 | 17 | OPEN | 46 | SURTHTECH |
| 79 | F | 10 | Karrie McFadden | 0:56:48 | F14' | 2 | OPEN | 42 | INFINITY |
| 80 | F | 11 | Sofia Sanchez | 0:56:52 | F12'6 | 9 | OPEN | 13 | BARK |
| 81 | F | 12 | Lori Drourr | 0:57:02 | F12'6 | 10 | OPEN | 45 | BOGA |
| 82 | F | 13 | Francine Tone | 0:57:10 | F12'6 | 11 | OPEN | 58 | LPC |
| 83 | M | 70 | Michael Lefrancois | 0:57:52 | 14 | 46 | OPEN | 36 | TAHOE SUP |
| 84 | F | 14 | Marie-Michel Gagnon | 0:58:06 | F12'6 | 12 | OPEN | 25 | TAHOE SUP |
| 85 | M | 71 | Craig Eisenberg | 0:58:13 | 12'6 | 18 | OPEN | 56 | 12.6 HOBIE |
| 86 | M | 72 | Darin Armstrong | 0:58:18 | 14 | 47 | OPEN | 42 | RIVIERA / |
| 87 | M | 73 | Cly Lalas | 0:58:25 | 12'6 | 19 | OPEN | 35 | BARK |
| 88 | M | 74 | Bobby Meho | 0:58:35 | 14 | 48 | OPEN | 15 | COREBAN |
| 89 | M | 75 | Richard Carperter | 0:58:49 | 14 | 49 | OPEN | 57 | BOGA |
| 90 | M | 76 | Corey Zander | 0:59:01 | 12'6 | 20 | OPEN | 39 | TAHOE SUP |
| 91 | M | 77 | John Walsh | 0:59:11 | 14 | 50 | OPEN | 50 | BARK |
| 92 | M | 78 | Steve Lamoreaux | 0:59:11 | 14 | 51 | OPEN | 47 | SUPCO |
| 93 | F | 15 | Clayton Perry | 0:59:13 | F14' | 3 | OPEN | 44 | LAIRD |
| 94 | F | 16 | Cathy Huang | 0:59:33 | F12'6 | 13 | OPEN | 59 | NSP |
| 95 | F | 17 | Foreste Peterson | 0:59:46 | F12'6 | 14 | OPEN | 20 | SURFTECH |
| 96 | M | 79 | Alex Groswird | 1:00:13 | 14 | 52 | OPEN | 60 | BARK |
| 97 | M | 80 | Orion Shea | 1:00:18 | 12'6 | 21 | OPEN | 13 | TAHOE SUP |
| 98 | F | 18 | Alison Ganong | 1:00:49 | F12'6 | 15 | OPEN | 36 | BARK SURF |
| 99 | M | 81 | Ken Fairchild | 1:00:51 | 14 | 53 | OPEN | 53 | HOBBIE |
| 100 | M | 82 | Matix Springer | 1:01:05 | 12'6 | 22 | OPEN | 10 | BARK/SURFT |
| 101 | M | 83 | Phoenix Sanchez | 1:01:08 | 12'6 | 23 | OPEN | 11 | HOBIE |
| 102 | F | 19 | Stephanie Artis | 1:01:12 | F12'6 | 16 | OPEN | 38 | |
| 103 | M | 84 | Conrad Rojas | 1:01:40 | 12'6 | 24 | OPEN | 9 | RIVIERA |
| 104 | M | 85 | Bob Glynn | 1:01:43 | 14 | 54 | OPEN | 67 | SURFTEC BA |
| 105 | M | 86 | Christopher Old | 1:01:50 | 12'6 | 25 | OPEN | 42 | WAI |
| 106 | F | 20 | Helen Gallagher | 1:02:59 | F12'6 | 17 | OPEN | 54 | FLATWATER |
| 107 | F | 21 | Nancie Schoener | 1:03:19 | F12'6 | 18 | OPEN | 55 | TAHOE |
| 108 | M | 87 | Mark Bartley | 1:03:25 | 12'6 | 26 | OPEN | 42 | KITSON |
| 109 | M | 88 | Bruce Aldrich | 1:03:27 | 12'6 | 27 | OPEN | 58 | RIVIERA |
| 110 | M | 89 | Mark Thompson | 1:03:48 | 12'6 | 28 | OPEN | 51 | FUSION SUP |
| 111 | F | 22 | Barbara Peterson | 1:04:09 | F12'6 | 19 | OPEN | 58 | SURFTECH |
| 112 | F | 23 | Shelley Sierka | 1:04:24 | F12'6 | 20 | OPEN | 48 | NAISH |
| 113 | F | 24 | Leslie Clohan | 1:04:32 | F12'6 | 21 | OPEN | 50 | BOGA |
| 114 | M | 90 | Roderick Clohan | 1:04:39 | 12'6 | 29 | OPEN | 52 | BOGA |
| 115 | M | 91 | Kevin Shearer | 1:05:08 | 14 | 55 | OPEN | 37 | BOGA |
| 116 | F | 25 | Roshan Todd | 1:05:09 | F14' | 4 | OPEN | 39 | TAHOE SUP |
| 117 | F | 26 | ÉLAN Lindsey | 1:05:25 | F12'6 | 22 | OPEN | 12 | HOBIE |
| 118 | F | 27 | Stefanie Geckler | 1:06:09 | F14' | 5 | OPEN | 44 | 404 RIVIER |
| 119 | F | 28 | Claire Buchanan | 1:06:32 | F12'6 | 23 | OPEN | 25 | ROGUE |
| 120 | M | 92 | Estani Boni | 1:07:18 | 12'6 | 30 | OPEN | 10 | BARK |
| 121 | F | 29 | Danielle Domenichelli | 1:07:30 | F12'6 | 24 | OPEN | 27 | |
| 122 | M | 93 | Barney Pugh | 1:08:17 | 14 | 56 | OPEN | 66 | FLAT WATER |
| 123 | M | 94 | Mateo Masellones Jr. | 1:08:20 | 12'6 | 31 | OPEN | 45 | RIVIERA |
| 124 | M | 95 | Jonothan Webb | 1:08:29 | 12'6 | 32 | OPEN | 20 | |
| 125 | F | 30 | Cynthia Wigart | 1:08:37 | F12'6 | 25 | OPEN | 46 | TAHOE SUP |
| 126 | F | 31 | Delia Quinn | 1:09:15 | F12'6 | 26 | OPEN | 10 | |
| 127 | F | 32 | Zoe Carter | 1:09:17 | F12'6 | 27 | OPEN | 12 | BARK SURFT |
| 128 | M | 96 | Zenin Quinn | 1:09:17 | 12'6 | 33 | OPEN | 8 | BARK |
| 129 | F | 33 | Jessica Brackett | 1:09:43 | F12'6 | 28 | OPEN | 10 | FLATWATER |
| 130 | F | 34 | Megann Young | 1:10:57 | F12'6 | 29 | OPEN | 34 | SURFTECH |
| 131 | F | 35 | Kaythleen Carpenter | 1:11:15 | F12'6 | 30 | OPEN | 55 | BOGA |
| 132 | F | 36 | Erin Roberts | 1:12:04 | F12'6 | 31 | OPEN | 38 | RIVERIA |
| 133 | F | 37 | Carina McConaughey | 1:12:10 | F12'6 | 32 | OPEN | 52 | NSP |
| 134 | F | 38 | Michelle Craig | 1:13:00 | F14' | 6 | OPEN | 41 | |
| 135 | F | 39 | Erica Shearer | 1:14:22 | F12'6 | 33 | OPEN | 39 | RIVIERA |
| 136 | F | 40 | Ella Payton | 1:17:03 | F12'6 | 34 | OPEN | 12 | |
| 137 | F | 41 | Ashley Chadwick | 1:17:28 | F14' | 7 | OPEN | 34 | TAHOE SUP |
| 138 | M | 97 | Troy Franklin | 1:17:40 | 14 | 57 | OPEN | 51 | |
| 139 | F | 42 | Debbie Broughan | 1:17:56 | F12'6 | 35 | OPEN | 60 | |
| 140 | M | 98 | Larry Harper | 1:18:36 | 12'6 | 34 | OPEN | 54 | NSP |
| 141 | M | 99 | Cannon Hollingsworth | 1:19:00 | 12'6 | 35 | OPEN | 6 | TAHOE SUP |
| 142 | M | 100 | Connor Hollingsworth | 1:19:00 | 14 | 58 | OPEN | 16 | SURFTECH |
| 143 | F | 43 | Kate Craig | 1:20:11 | n/a | | OPEN | 11 | BARK |
| 144 | M | 101 | Jacob Brackett | 1:20:11 | 12'6 | 36 | OPEN | 8 | 404 |
| 145 | M | 102 | Brad Misik | 1:20:22 | 12'6 | 37 | OPEN | 24 | SURFTECH/B |
| 146 | M | 103 | Caden Hollingsworth | 1:20:49 | 12'6 | 38 | OPEN | 12 | SURFTECH |
| 147 | F | 44 | Kim Fahrendorf | 1:23:41 | 14 | 59 | OPEN | 60 | LAKESHORE |
| 148 | M | 104 | Paul Fahrendorf | 1:23:56 | 14 | 60 | OPEN | 59 | LAKESHORE |