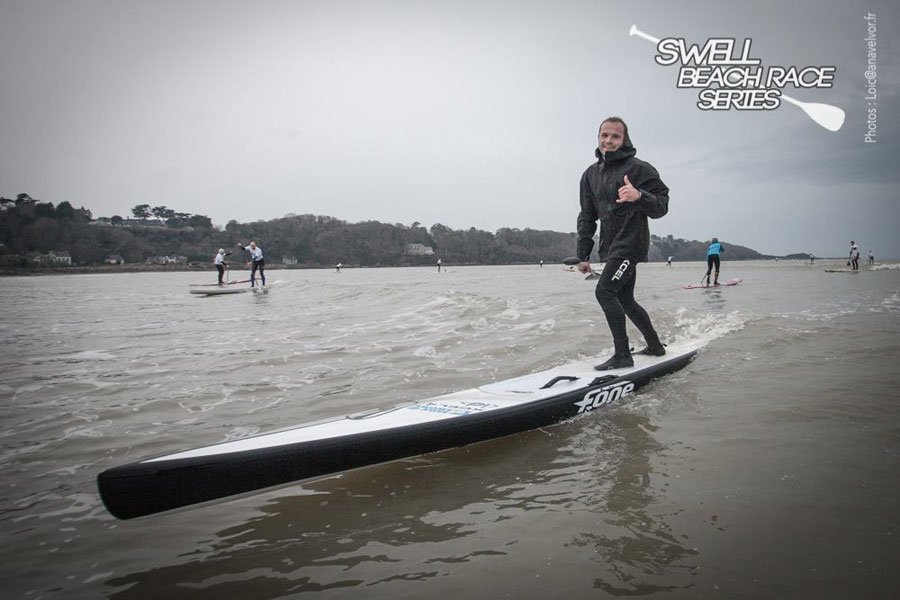 January 13, 2014
by Christopher Parker (@wheresbossman)
[RESULTS] Greg Closier Wins In France As 'Swell Beach Race Series' Returns


The Swell Beach Series, an event that's quickly become a bit of a staple on the French SUP racing circuit, is back again this year. While the 2014 Series actually kicked last month, the first race of the new year was held on the weekend in little hamlet of Saint-Michel-En-Grève.
The BOP-style racing Series is held in various spots around the north-west region of Brittany and regularly features a bunch of France's finest paddlers. On the weekend it was Greg Closier who took out the win ahead of young gun Martin Letourneur, with Yoann Cornelis 3rd and former Team France representative Gaetene Sene coming home 4th.
It must have been a sweet win for Closier after missing most of 2013 with a hip injury. As one of the original stalwarts of Stand Up Paddling in France (and pioneer of the extreme "Radliko" downwind run), Greg has been helping grow the sport in Brittany, a region that's home to some of the best young talent in Europe.
The water looked ABSOLUTELY FREEZING on the weekend yet the race still attracted close to 50 hardcore SUP racers. Plus, as always, the race produced a bunch of very slick images courtesy of photog Loic Olivier.
You can get the full wrap in French (and dodgy English) or check out the results and pics below. Event #3 in the six-race 2014 Swell Beach Race Series will be held on Feb. 16th.
Open Men's Top 3
1st: Greg Closier
2nd: Martin Letourneur
3rd: Yoann Cornelis
Open Women's Top 3
1st: Valérie Vitry
2nd: Anne Crozet
3rd: Karine Dormet
Juniors Top 3
1st: Martin Letourneur
2nd: Thomas Hebert
3rd: Martin Vitry
Veterans
1st: Franck le Ven
2nd: Pascal Pouget
3rd: Ronan Botrel
Scroll down past the pics for full results + finishing times.
(All photos © Loic Olivier – see the full gallery on Facebook)
OVERALL RESULTS