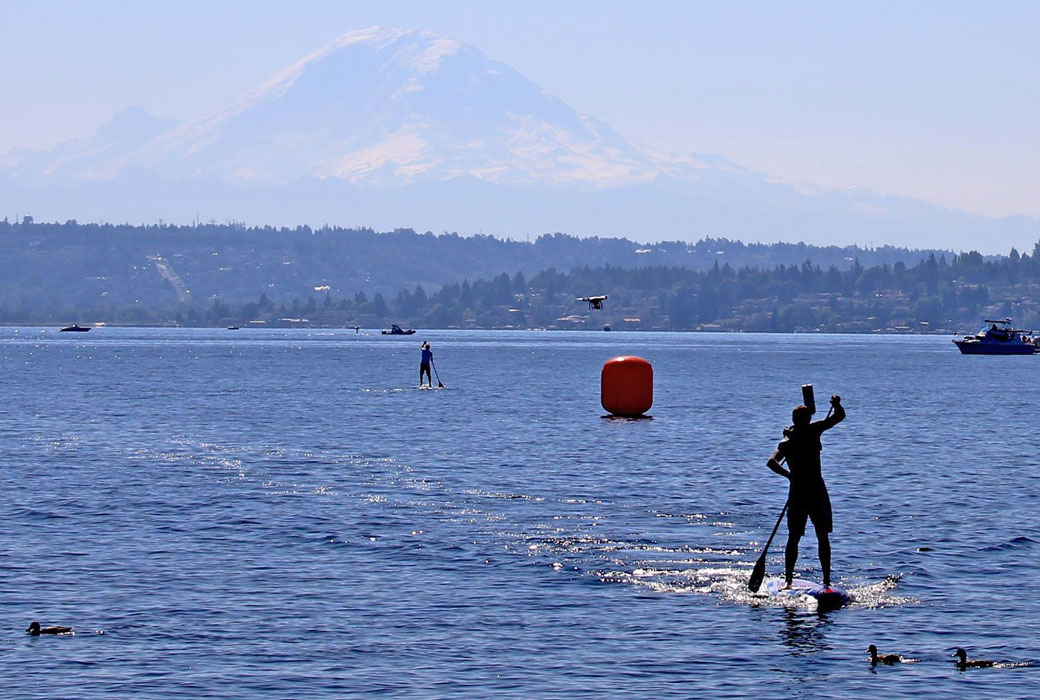 September 8, 2014
by Christopher Parker (@wheresbossman)
RESULTS: Chase Kosterlitz, Lina Augaitis Sweep Round The Rock [UPDATED]

You may not have noticed if you were tuned to SUPracer.com, but there were actually races happening somewhere other than in the Netherlands on the weekend.
The biggest was Round The Rock in Seattle, a well known race and a staple of the Pacific North West SUP community. Held just outside Seattle, Washington, the main event at Round The Rock is a 13 mile loop of Mercer Island. It's a long, flat race that attracts large numbers and some serious talent every year.
This year that talent included Canada's Lina Augaitis and Floridian-turned-Californian Chase Kosterlitz. The two flatwater machines were in fine form, taking out their respective 14′ divisions and also "sweeping" the event in general.
Chase was technically second across the line, however given the event's unique "Sweep or Weep" prize money format, Chase was the big winner. The BIC team rider took out not only the elite 14′ division, he also beat all but one of the unlimited guys (Brett Saguid paddled hard and took line honours on his 19 footer). That by itself is impressive, but Round The Rock has a special bonus if you can pull off this sort of thing.
The rules of Sweep or Weep mean if you finish in the top 3 of a "faster" board class, you get their prize money plus that of your own division.
So Chase walked away with the winner's cheque for the 14′ board class plus the runner-up prize money for the unlimited class.
We're still trying to get our hands on the full results so check back shortly to see how everyone fared in Seattle yesterday.
UPDATE: Full results below…
http://instagram.com/p/sqnzQOCHWx/
2014 Round The Rock – 13 Miler RESULTS
| Overall | Name | Time | Division | Div # | Age |
| --- | --- | --- | --- | --- | --- |
| 1 | Brett Saguid | 2:07:16 | M UL | 1 | 37 |
| 2 | CHASE KOSTERLITZ | 2:08:26 | M 14 | 1 | 28 |
| 3 | ARTHUR DANIEL | 2:11:47 | M 14 | 2 | 19 |
| 4 | Beau Whitehead | 2:12:45 | M UL | 2 | 45 |
| 5 | JOE THREADGILL | 2:13:30 | M UL | 3 | 48 |
| 6 | jarkko simonen | 2:15:44 | M 14 | 3 | 35 |
| 7 | Derek fromm | 2:16:01 | M 14 | 4 | 17 |
| 8 | Lina Augaitis | 2:18:20 | F 14 | 1 | 33 |
| 9 | Brendan Light | 2:19:29 | M 14 | 5 | 19 |
| 10 | Darian Hildreth | 2:20:08 | M UL | 4 | 41 |
| 11 | Spencer Slaven-Lazzar | 2:21:09 | M 14 | 6 | 26 |
| 12 | Scott Vande Vusse | 2:21:37 | M 14 | 7 | 35 |
| 13 | Art Aquino | 2:21:48 | M 14 | 8 | 48 |
| 14 | Grant McFadyen | 2:22:01 | M 14 | 9 | 45 |
| 15 | YANNICK MICHAUD | 2:22:31 | M 14 | 10 | 39 |
| 16 | Sean Thomas | 2:23:23 | M 14 | 11 | 37 |
| 17 | Dave Billenness | 2:23:31 | M 14 | 12 | 45 |
| 18 | Nick Ogilvie | 2:24:25 | M UL | 5 | 30 |
| 19 | Ford Huntington | 2:25:27 | M 14 | 13 | 16 |
| 20 | Dale Plant | 2:25:59 | M 14 | 14 | 50 |
| 21 | John Schalka | 2:26:02 | M 14 | 15 | 59 |
| 22 | Layne Stambaugh | 2:26:10 | M 14 | 16 | 31 |
| 23 | Lance Romo | 2:26:40 | M 14 | 17 | 44 |
| 24 | Bob Rueter | 2:27:10 | M 14 | 18 | 59 |
| 25 | Tim Quarles | 2:27:49 | M 14 | 19 | 55 |
| 26 | Bruce Barry | 2:28:22 | M 14 | 20 | 63 |
| 27 | shannon bell | 2:28:36 | F 12'6 | 1 | 40 |
| 28 | Renick Woods | 2:29:31 | M UL | 6 | 39 |
| 29 | Brian Smart | 2:30:07 | M 14 | 21 | 48 |
| 30 | Michael Hammer | 2:30:35 | M 12'6 | 1 | 52 |
| 31 | Ryan Kuja | 2:31:31 | M 14 | 22 | 32 |
| 32 | Blake Hanley | 2:31:42 | M 12'6 | 2 | 29 |
| 33 | gary parsons | 2:31:57 | M 12'6 | 3 | 54 |
| 34 | Harry Saini | 2:32:01 | M 14 | 23 | 40 |
| 35 | Lucas Hansen | 2:32:25 | M 14 | 24 | 34 |
| 36 | Fiona Wylde | 2:33:11 | F 14 | 2 | 17 |
| 37 | Patrick Hwang | 2:33:23 | M 14 | 25 | 40 |
| 38 | Zachary Price | 2:33:45 | M 14 | 26 | 38 |
| 39 | Lance Leasure | 2:33:51 | M 14 | 27 | 45 |
| 40 | DAN EBERHARDT | 2:34:09 | M 14 | 28 | 47 |
| 41 | alyson fromm | 2:35:18 | F 12'6 | 2 | 20 |
| 42 | Ralph Schierl | 2:35:22 | M 14 | 29 | 45 |
| 43 | Sammy Scoops | 2:36:01 | M 14 | 30 | 32 |
| 44 | Boe Zinter | 2:36:02 | M 14 | 31 | 30 |
| 45 | Alison Wood | 2:36:03 | F 14 | 3 | 45 |
| 46 | David Wheeler | 2:36:31 | M 14 | 32 | 40 |
| 47 | gene "tarsan" smith | 2:36:46 | M 12'6 | 4 | 53 |
| 48 | Scott Burton | 2:37:02 | M 14 | 33 | 38 |
| 49 | Rob Rogers | 2:37:53 | M 14 | 34 | 38 |
| 50 | John MacRae Wylde | 2:38:30 | M 12'6 | 5 | 50 |
| 51 | Kim Rueter | 2:39:31 | F 12'6 | 3 | 44 |
| 52 | Wendy McDonald | 2:39:40 | F 12'6 | 4 | 43 |
| 53 | Ali BIrtwell | 2:39:57 | M 12'6 | 6 | 31 |
| 54 | D Pedersen | 2:40:16 | M 14 | 35 | 47 |
| 55 | nick johansen | 2:40:21 | M 14 | 36 | 35 |
| 56 | Jason Lexa | 2:41:12 | M 12'6 | 7 | 39 |
| 57 | Jason Hampton | 2:41:23 | M 14 | 37 | 35 |
| 58 | Adam Jossem | 2:41:34 | M 14 | 38 | 36 |
| 59 | Ian McKerlich | 2:41:40 | M 14 | 39 | 49 |
| 60 | Oscar Maciel | 2:41:51 | M 14 | 40 | 44 |
| 61 | Troy Nebeker | 2:42:12 | M 14 | 41 | 46 |
| 62 | Billy Yunck | 2:42:31 | M 14 | 42 | 43 |
| 63 | Lysanne Lavigne | 2:42:35 | F 12'6 | 5 | 31 |
| 64 | Ryan Anderson | 2:42:38 | M 14 | 43 | 39 |
| 65 | Burch Ault | 2:42:48 | M 14 | 44 | 19 |
| 66 | John Zevenbergen | 2:43:41 | M UL | 7 | 55 |
| 67 | Chris Cochran | 2:45:06 | M 14 | 45 | 35 |
| 68 | Sarah Sandstrom | 2:46:06 | F 12'6 | 6 | 35 |
| 69 | Jeff Gassen | 2:46:12 | M 14 | 46 | 30 |
| 70 | Steve Martin | 2:46:46 | M UL | 8 | 49 |
| 71 | Tom Vance | 2:46:56 | M 14 | 47 | 49 |
| 72 | Darrell Kirk | 2:47:45 | M 14 | 48 | 52 |
| 73 | Daniel Davis | 2:47:48 | M 14 | 49 | 36 |
| 74 | Edgar Valentin | 2:47:51 | M UL | 9 | 45 |
| 75 | emery rhodes | 2:47:53 | M 12'6 | 8 | 54 |
| 76 | Rob Ziegler | 2:48:14 | M 14 | 50 | 51 |
| 77 | Jay Lazzar | 2:48:19 | M 14 | 51 | 63 |
| 78 | Joshua Schiffer | 2:48:33 | M 14 | 52 | 41 |
| 79 | Gregory Harbottle | 2:49:03 | M UL | 10 | 57 |
| 80 | Derek Loeser | 2:49:29 | M 14 | 53 | 47 |
| 81 | PATRICK OGAWA | 2:49:53 | M 14 | 54 | 55 |
| 82 | David Wiviott | 2:50:17 | M 14 | 55 | 33 |
| 83 | Dustin Smart | 2:50:44 | M 14 | 56 | 33 |
| 84 | Robb McEachran | 2:50:47 | M 14 | 57 | 38 |
| 85 | Mike Houston | 2:50:55 | M 14 | 58 | 51 |
| 86 | David Egan | 2:51:05 | M 14 | 59 | 59 |
| 87 | Kelly Reed | 2:52:10 | M 14 | 60 | 46 |
| 88 | MIKE MIDEL | 2:52:15 | M 14 | 61 | 47 |
| 89 | David Raney | 2:52:23 | M 14 | 62 | 37 |
| 90 | Michael Dawley | 2:52:57 | M 14 | 63 | 44 |
| 91 | steven linden | 2:53:05 | M 14 | 64 | 55 |
| 92 | JEFF UNDERWOOD | 2:53:44 | M 14 | 65 | 47 |
| 93 | Michael Goo | 2:53:53 | M 14 | 66 | 47 |
| 94 | bonnie fromm | 2:54:22 | F 14 | 4 | 52 |
| 95 | Maria Randle | 2:56:00 | F 12'6 | 7 | 49 |
| 96 | Alexander Vaughan | 2:56:08 | M 12'6 | 9 | 38 |
| 97 | jake brog | 2:57:05 | M SB | 1 | 25 |
| 98 | James Grieve | 2:57:21 | M 12'6 | 10 | 44 |
| 99 | Joel & Jhacoli Yang | 2:57:27 | M UL | 11 | 38 |
| 100 | Bernard Boglioli | 2:57:29 | M 14 | 67 | 61 |
| 101 | Mark Cairns | 2:58:07 | M 14 | 68 | 46 |
| 102 | Darrin Erdahl | 2:58:08 | M 14 | 69 | 54 |
| 103 | Mignon Fontenelle | 2:58:13 | F 12'6 | 8 | 42 |
| 104 | Mary Howatson | 2:58:51 | F ST | 1 | 52 |
| 105 | David Vincent | 2:59:01 | M 14 | 70 | 48 |
| 106 | Tyler Martin | 2:59:19 | M 14 | 71 | 40 |
| 107 | Benjamin Russell | 3:00:04 | M 14 | 72 | 40 |
| 108 | Kurt Kruger | 3:00:16 | M 12'6 | 11 | 48 |
| 109 | Jennifer Lawson | 3:00:24 | F 12'6 | 9 | 33 |
| 110 | ben williams | 3:01:17 | M UL | 12 | 29 |
| 111 | Peter Stovin | 3:01:19 | M 12'6 | 12 | 32 |
| 112 | MICHAEL JOHNSON | 3:02:37 | M 14 | 73 | 57 |
| 113 | Robert Kerns | 3:03:07 | M prone | 1 | 51 |
| 114 | Kayli Felbinger | 3:03:20 | F 14 | 5 | 21 |
| 115 | Michele Black | 3:03:39 | F 12'6 | 10 | 45 |
| 116 | Larry Holman | 3:03:57 | M 14 | 74 | 47 |
| 117 | Greg Zinter | 3:05:05 | M 14 | 75 | 65 |
| 118 | James Reynolds | 3:06:40 | M 12'6 | 13 | 29 |
| 119 | Lindsay Lambert | 3:07:20 | F 12'6 | 11 | 30 |
| 120 | Jack Mace | 3:08:51 | M 12'6 | 14 | 26 |
| 121 | Peder Thorstenson | 3:10:12 | M 14 | 76 | 45 |
| 122 | Aaron Poledna | 3:12:56 | M 14 | 77 | 44 |
| 123 | tom ryan | 3:13:19 | M 14 | 78 | 54 |
| 124 | Kaliko Kahoonei Kahoonei | 3:13:21 | M 12'6 | 15 | 21 |
| 125 | Steve Felbinger | 3:13:37 | M 14 | 79 | 49 |
| 126 | Rick McPherson | 3:13:58 | M 14 | 80 | 47 |
| 127 | Tevita Veetutu | 3:14:11 | M 14 | 81 | 41 |
| 128 | Beau Maples | 3:14:34 | M 12'6 | 16 | 29 |
| 129 | Scott Manley | 3:15:23 | M 12'6 | 17 | 55 |
| 130 | Jeremy Mull | 3:15:42 | M 14 | 82 | 36 |
| 131 | BRYAN TAYLOR | 3:15:51 | M prone | 2 | 38 |
| 132 | Christopher George | 3:17:25 | M 14 | 83 | 38 |
| 133 | TAMARA RICE | 3:17:32 | F 14 | 6 | 52 |
| 134 | peter krumins | 3:18:39 | M UL | 13 | 54 |
| 135 | ALEX GARCIA | 3:18:56 | M 14 | 84 | 35 |
| 136 | Josh Holmes | 3:19:21 | M 14 | 85 | 40 |
| 137 | Rich Horigan | 3:19:28 | M 12'6 | 18 | 52 |
| 138 | Steve Gordon | 3:20:25 | M 14 | 86 | 48 |
| 139 | Debora Owen | 3:21:32 | F 12'6 | 12 | 47 |
| 140 | Bill Allemann | 3:21:44 | M prone | 3 | 51 |
| 141 | Devan Backstrom | 3:21:58 | F 12'6 | 13 | 28 |
| 142 | Luisa Lopez | 3:22:30 | F 12'6 | 14 | 43 |
| 143 | Fritz Menish | 3:22:45 | M 14 | 87 | 39 |
| 144 | Tim Hoffman | 3:23:27 | M 14 | 88 | 53 |
| 145 | Marc Roseman | 3:23:44 | M 12'6 | 19 | 59 |
| 146 | paul williams | 3:23:57 | M UL | 14 | 61 |
| 147 | HANNAH HILL | 3:24:02 | F 12'6 | 15 | 14 |
| 148 | malcolm griffin | 3:26:32 | M 12'6 | 20 | 23 |
| 149 | scott griffin | 3:26:47 | M 12'6 | 21 | 54 |
| 150 | Tom Lepp | 3:27:00 | M 14 | 89 | 50 |
| 151 | Andre Orlov | 3:27:33 | M 12'6 | 22 | 49 |
| 152 | David Matthews | 3:28:34 | M 14 | 90 | 66 |
| 153 | Angela Veetutu | 3:31:11 | F 14 | 7 | 33 |
| 154 | Christian Sarason | 3:32:48 | M 14 | 91 | 43 |
| 155 | Derik Stenerson | 3:33:28 | M 14 | 92 | 47 |
| 156 | Tom Burke | 3:34:11 | M SB | 2 | 38 |
| 157 | Randi aiken | 3:34:30 | F 14 | 8 | 34 |
| 158 | Terry Inge | 3:36:37 | M 14 | 93 | 51 |
| 159 | Jordan Bumgarner | 3:36:54 | M 14 | 94 | 21 |
| 160 | Ray Alderfer | 3:37:28 | M 12'6 | 23 | 61 |
| 161 | paul werner | 3:38:03 | M 14 | 95 | 48 |
| 162 | Mark Chapa | 3:38:33 | M 12'6 | 24 | 38 |
| 163 | TODD LUFF | 3:38:35 | M SB | 3 | 46 |
| 164 | James Blackwell | 3:40:02 | M 12'6 | 25 | 27 |
| 165 | Heather Case | 3:40:13 | F 12'6 | 16 | 43 |
| 166 | timothy mccabe | 3:40:53 | M 14 | 96 | 52 |
| 167 | Jarrod Bennett | 3:41:41 | M 14 | 97 | 35 |
| 168 | Michael Stolfi | 3:43:03 | M SB | 4 | 37 |
| 169 | tee wolf | 3:44:18 | F 14 | 9 | 58 |
| 170 | Susan Arnold | 3:44:32 | F 14 | 10 | 37 |
| 171 | KATHY KINGEN | 3:45:15 | F 12'6 | 17 | 58 |
| 172 | Bruce Wotherspoon | 3:46:07 | M 12'6 | 26 | 56 |
| 173 | Rachel Shaver | 3:53:21 | F SB | 1 | 30 |
| 174 | Paul Bennett | 3:54:56 | M SB | 5 | 47 |
| 175 | Joshua Waddell | 3:57:37 | M 12'6 | 27 | 38 |
| 176 | brian finan | 3:58:45 | M 12'6 | 28 | 53 |
| 177 | JUSTIN SELF | 3:58:53 | M 14 | 98 | 99 |
| 178 | jenny mcpherson | 3:59:24 | F SB | 2 | 43 |
| 179 | cheryl overbey | 3:59:25 | F SB | 3 | 0 |
| 180 | makaylah ferritto | 4:01:50 | F SB | 4 | 16 |
| 181 | TONIA DAVIDSON | 4:02:38 | F UL | 1 | 46 |
| 182 | kathy brog | 4:08:17 | F SB | 5 | 55 |
| 183 | Ken Kroeger | 4:08:17 | M 14 | 99 | 42 |
| 184 | stacy adams | 4:08:35 | F 12'6 | 18 | 49 |
| 185 | Suzie Creech | 4:08:36 | F 12'6 | 19 | 46 |
| 186 | Lisa Francoise Schafer | 4:08:37 | F 12'6 | 20 | 45 |
| 187 | SEAN TIETJE | 4:08:39 | M SB | 6 | 31 |
| 188 | Margaret Sciabica | 4:14:36 | F 12'6 | 21 | 51 |
| 189 | jeffrey ferritto | 4:17:34 | M SB | 7 | 40 |
| 190 | Travis Griffith | 4:19:00 | M 12'6 | 29 | 37 |
| 191 | Cindy Roth | 4:19:01 | F 12'6 | 22 | 33 |
| 192 | Sara Bennett | 4:23:46 | F 14 | 11 | 35 |
| 193 | ULRIKA NOREN | 4:52:23 | F UL | 2 | 44 |
| 194 | Wendi Kovar | 4:52:24 | F UL | 3 | 53 |
| 195 | Vicki Gezon | 4:59:17 | F 12'6 | 23 | 63 |
| 196 | Karen Muth | 4:59:43 | F 12'6 | 24 | 34 |
| 197 | Linda Quirk | 5:11:30 | F 14 | 12 | 61 |