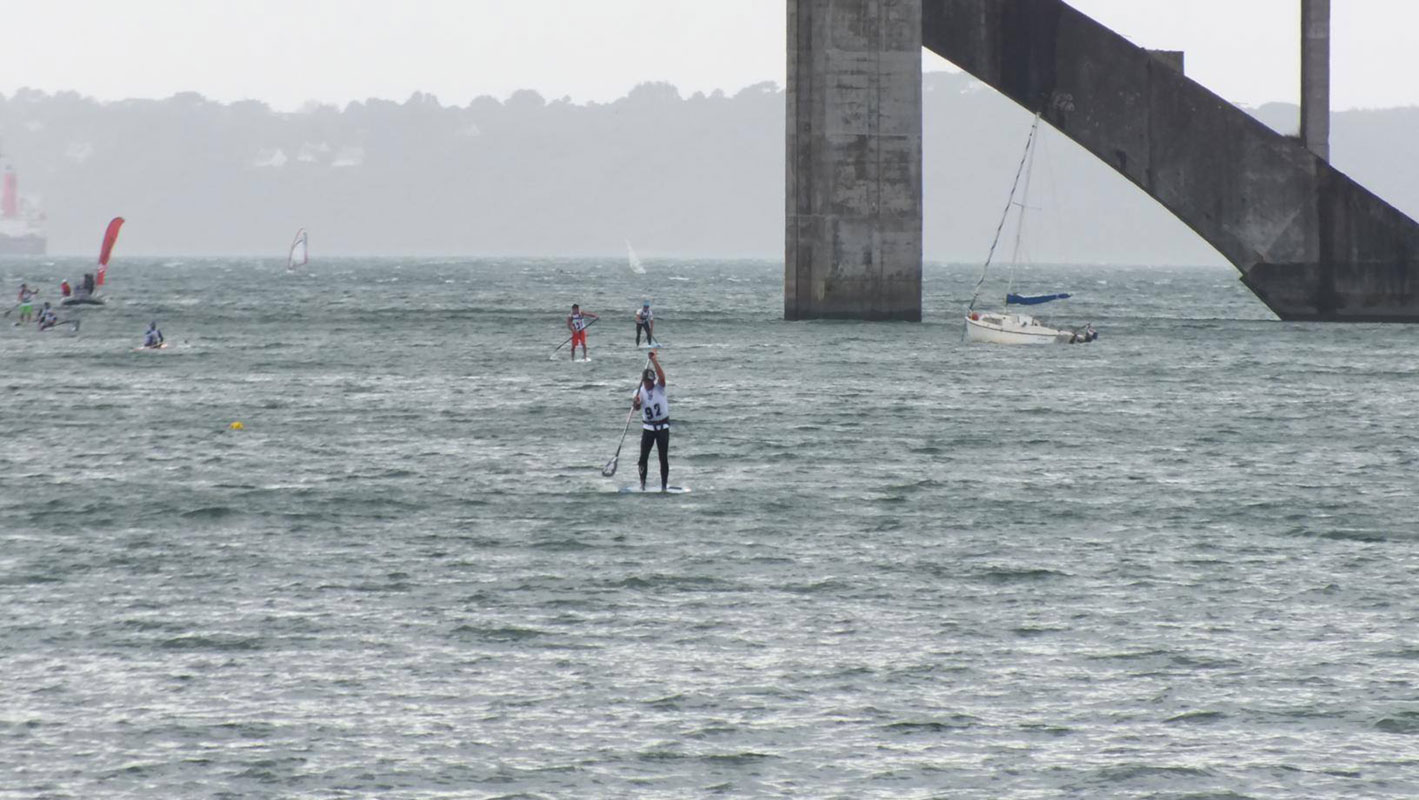 October 21, 2014
by Christopher Parker (@wheresbossman)
RESULTS: Titouan Puyo Wins The Presqu'île Paddle Race, Shows Once Again He's A Machine In The Bumps
Titouan Puyo has made a clean sweep of the Presqu'île Paddle Race in France, taking out both the downwind and beach race ahead of a strong field on the weekend.
Titou, the reigning ISA Distance Race World Champ, showed once again that he's an absolute machine in the bumps, finishing the 16km run three minutes clear of his rivals. Those rivals included many of France's finest, such as rising star (and Battle of the Paddle 'Most Inspirational' award winner) Martin Letourneur, Vincent Verhoeven, Gaetan Sene and Greg Closier (who was runner-up in the 12'6 class).
Titou backed up his downwind victory by crossing the line first in Sunday's Swell Beach Race, with Martin Letourneur (who's still classified as a 'junior') once again taking second place.
On the women's side, Valerie Vitry comfortably took out the downwind race, with Cecile Gondre runner-up. Vitry sat out the beach race on Sunday though, which opened the door for Gondre to take the win.

The Presqu'ile Paddle Race is a long-running, annual event held in the city of Brest on the country's west coast.
The event is one of the biggest races in France and this year attracted 130 paddlers (100 of which were SUPs). There's no prize money but it usually scores great conditions for the downwinder on Saturday and some fun little waves for the beach race on Sunday. This year saw competitors traveling from the French outposts of Guadeloupe and New Caledonia, as well as the British Isle of Jersey.

Saturday's race was held on the 'Radliko' downwind run – France's answer to Maui's Maliko run – with moderate 15 knot winds providing some decent bumps along the entire course.
The event was also a good warm-up for the 2014 French National Titles, which are coming up next month. That's the event where, twelve months ago, Titou famously came out of nowhere and announced himself as a contender by defeating Eric Terrien and earning a spot on Team France. The New Caledonian would go on to win Gold in the ISA World Championship Distance Race in Nicaragua six months later.
With contenders including Eric, Titou, Arthur Daniel, Arthur Arutkin, Martin Letourneur, Greg Closier, Gaetan Sene and Yoann Cornelis all fighting for a spot next month, the French will no doubt send a very strong squad to the 2015 Worlds next March.
---
Presq'uile Paddle Race: Downwind Race Results
| # | Name | Time | Class | # |
| --- | --- | --- | --- | --- |
| 1 | Titouan PUYO | 1:18:43 | 12'6 | 1 |
| 2 | Martin LETOURNEUR | 1:21:48 | 14' | 1 |
| 3 | Vincent VERHOEVEN | 1:21:58 | 14' | 2 |
| 4 | Gaetan SENE | 1:22:25 | 14' | 3 |
| 5 | Gregory CLOSIER | 1:23:24 | 12'6 | 2 |
| 6 | Romuald MAMADOU | 1:25:03 | 14' | 4 |
| 7 | Stéphane BODET | 1:25:06 | 14' | 5 |
| 8 | Florent DODE | 1:25:14 | 14' | 6 |
| 9 | Yoann CORNELIS | 1:26:27 | 12'6 | 3 |
| 10 | Dimitri GEORGES | 1:26:30 | 12'6 | 4 |
| 11 | Bruno MASSON | 1:26:49 | 14' | 7 |
| 12 | Amaury DORMET | 1:27:19 | 12'6 | 5 |
| 13 | jérémy BRANCHU | 1:28:20 | 12'6 | 6 |
| 14 | Franck LE VEN | 1:28:35 | 14' | 8 |
| 15 | Yves GONDRE | 1:29:20 | 12'6 | 7 |
| 16 | Simon MICHELIN | 1:29:30 | 12'6 | 8 |
| 17 | Renaud NOYELLE | 1:30:26 | 12'6 | 9 |
| 18 | Jean LETOURNEUR | 1:30:37 | 12'6 junior | 1 |
| 19 | Christophe GUERIN | 1:31:16 | 12'6 | 10 |
| 20 | Pascal POUGET | 1:31:52 | 14' | 9 |
| 21 | Paul-Conrad Delaëre | 1:31:59 | 12'6 | 11 |
| 22 | Marcelin SAUTOUR | 1:32:13 | 12'6 | 12 |
| 23 | Gregoire VITRY | 1:32:15 | 12'6 | 13 |
| 24 | Pierre de La Monneraye | 1:32:34 | 14' | 10 |
| 25 | Boris JINVRESSE | 1:32:41 | 12'6 | 14 |
| 26 | Gary Stephen SMITH | 1:32:53 | 14' | 11 |
| 27 | Lucas LE BAYON | 1:33:12 | 14' | 12 |
| 28 | Joseph GUEGUEN | 1:33:33 | 12'6 | 15 |
| 29 | Thomas KIMPFLIN | 1:33:40 | 12'6 | 16 |
| 30 | Thomas LETOURNEUR | 1:34:07 | 12'6 | 17 |
| 31 | Benoit RAPHALEN | 1:35:15 | 12'6 | 18 |
| 32 | Thomas HEBERT | 1:35:54 | 12'6 junior | 2 |
| 33 | Mathieu RAIMON | 1:36:04 | 12'6 | 19 |
| 34 | Fred ISTIN | 1:36:11 | 12'6 | 20 |
| 35 | Martin VITRY | 1:36:27 | 12'6 junior | 3 |
| 36 | Sylvain PLADYS | 1:36:40 | 12'6 | 21 |
| 37 | Tom AUBER | 1:37:27 | 12'6 junior | 4 |
| 38 | Yoann LE VEN | 1:37:44 | 12'6 | 22 |
| 39 | Adrien HEURTAUX | 1:38:00 | 12'6 | 23 |
| 40 | stephane CORABOEUF | 1:38:14 | 12'6 | 24 |
| 41 | Yves-Marie MATTHEYSES | 1:39:19 | 14' | 13 |
| 42 | Ildut MARZIN | 1:39:24 | 12'6 | 25 |
| 43 | Vincent GUILLAUME | 1:39:41 | 12'6 | 26 |
| 44 | Denis HENRIQUES | 1:39:52 | 14' | 14 |
| 45 | Tanguy RICHARD | 1:40:51 | 12'6 junior | 5 |
| 46 | David AMEMOUTOU | 1:41:21 | 12'6 | 27 |
| 47 | Benjamin VAURS | 1:41:57 | 12'6 | 28 |
| 48 | Eric DOLLE | 1:42:46 | 12'6 | 29 |
| 49 | Stéphane BOTREL | 1:43:49 | 14' | 15 |
| 50 | Sebastien SQUIBAN | 1:43:56 | 12'6 | 30 |
| 51 | Valerie VITRY | 1:44:00 | Women's 12'6 | 1 |
| 52 | Jean-Pierre LETOURNEUR | 1:44:09 | 14' | 16 |
| 53 | Frédéric LE COZ | 1:44:26 | 12'6 | 31 |
| 54 | Olivier GOASGUEN | 1:44:46 | 12'6 | 32 |
| 55 | Jerome BOITEAU | 1:45:08 | 14' | 17 |
| 56 | Stéphane PRIGENT | 1:45:40 | 12'6 | 33 |
| 57 | Stéphane GUINOT | 1:45:53 | 12'6 | 34 |
| 58 | Bertrand PINON | 1:46:41 | 12'6 | 35 |
| 59 | Sébastien BILLOIS | 1:46:52 | 14' | 18 |
| 60 | Benjamin PERROT | 1:47:00 | 12'6 junior | 6 |
| 61 | Fabrice D'ORNANO | 1:48:54 | 14' | 19 |
| 62 | Guillaume FALLOURD | 1:49:20 | 12'6 | 36 |
| 63 | Pascal BACHELET | 1:49:35 | 12'6 | 37 |
| 64 | Stéphane GERARD | 1:49:39 | 12'6 | 38 |
| 65 | Stive LENER | 1:49:47 | 12'6 | 39 |
| 66 | Mickael GUILBERT | 1:50:00 | 12'6 | 40 |
| 67 | Gael BRY | 1:50:09 | 12'6 | 41 |
| 68 | John Harvey | 1:50:29 | 12'6 | 42 |
| 69 | Frédéric COSTALOUGA | 1:51:00 | 12'6 | 43 |
| 70 | Cécile GONDRE | 1:51:33 | Women's 12'6 | 2 |
| 71 | Mickael GILLES | 1:52:38 | 14' | 20 |
| 72 | William VERNACK | 1:53:02 | 12'6 | 44 |
| 73 | Fanny TESSIER | 1:53:04 | Women's 12'6 | 3 |
| 74 | Hervé MOLINERO | 1:53:12 | 14' | 21 |
| 75 | Matthieu DESBOIS | 1:54:21 | 12'6 | 45 |
| 76 | Emmanuel FARDEIL | 1:54:27 | 12'6 | 46 |
| 77 | Jérôme VICI | 1:54:29 | 12'6 | 47 |
| 78 | Tristan EVIN | 1:54:56 | 12'6 | 48 |
| 79 | Karine DORMET | 1:56:00 | Women's 12'6 | 4 |
| 80 | Ronan KERDREUX | 1:57:07 | 12'6 | 49 |
| 81 | anne CROZET | 1:58:22 | Women's 12'6 | 5 |
| 82 | David LAUGIER | 1:58:30 | 12'6 | 50 |
| 83 | Alain GEFFRAULT | 2:00:27 | 12'6 | 51 |
| 84 | Olivier CABELGUEN | 2:01:18 | 12'6 | 52 |
| 85 | Cedric MALENGREAU | 2:02:08 | 14' | 22 |
| 86 | Lois CHARDEBAS | 2:02:52 | 12'6 junior | 7 |
| 87 | Béatrice GASTINEAU | 2:02:54 | Women's 12'6 | 6 |
| 88 | Karel DAVALLE-CORRE | 2:04:34 | 12'6 junior | 8 |
| 89 | Stéphanie JEAUNEAUX | 2:05:55 | Women's 12'6 | 7 |
| 90 | Pierre-Yves MOUY | 2:06:44 | 12'6 | 53 |
| 91 | John GODEL | 2:07:00 | 12'6 | 54 |
| 92 | James GREENFIELD | 2:08:57 | 12'6 | 55 |
| 93 | Alain CORRE | 2:10:11 | 12'6 | 56 |
| 94 | Patrice REMOIVILLE | 2:16:37 | 14' | 23 |
| 95 | Yannick CHARDEBAS | 2:26:43 | 12'6 | 57 |
| 96 | Aurélia QUEAU | 2:28:00 | Women's 12'6 | 8 |
Presq'uile Paddle Race: Swell Beach Race Results
| # | Name | Time | Division | # |
| --- | --- | --- | --- | --- |
| 1 | Titouan PUYO | 0:45:18 | Open | 1 |
| 2 | Martin LETOURNEUR | 0:45:41 | Junior | 1 |
| 3 | GREG CLOSIER | 0:45:58 | Open | 2 |
| 4 | Yoann CORNELIS | 0:46:21 | Open | 3 |
| 5 | Dimitri GEORGES | 0:46:24 | Open | 4 |
| 6 | Vincent VERHOVEN | 0:46:53 | Open | 5 |
| 7 | Paul-Conrad DELAERE | 0:47:56 | Open | 6 |
| 8 | Florent DODE | 0:48:46 | Open | 7 |
| 9 | Jérémy BRANCHU | 0:49:02 | Open | 8 |
| 10 | Amaury DORMET | 0:49:26 | Open | 9 |
| 11 | Christophe GUERIN | 0:50:22 | Open | 10 |
| 12 | Tom AUBERT | 0:50:32 | Junior | 2 |
| 13 | Martin VITRY | 0:51:02 | Junior | 3 |
| 14 | Thomas LETOURNEUR | 0:51:22 | Open | 11 |
| 15 | Mamadou ROMUALD | 0:51:23 | Open | 12 |
| 16 | Boris JINVRESSE | 0:51:37 | Open | 13 |
| 17 | Rico LEROY | 0:51:55 | Open | 14 |
| 18 | Franck LE VEN | 0:52:12 | Open | 15 |
| 19 | Thomas HEBERT | 0:52:18 | Junior | 4 |
| 20 | Renaud NOYELLE | 0:52:58 | Open | 16 |
| 21 | Jean LETOURNEUR | 0:53:11 | Junior | 5 |
| 22 | Thomas KIMPFLIN | 0:53:27 | Open | 17 |
| 23 | Grégoire VITRY | 0:53:32 | Open | 18 |
| 24 | Matthieu RAIMON | 0:53:56 | Open | 19 |
| 25 | Guillaume FALLOURD | 0:54:34 | Open | 20 |
| 26 | Yves GONDRE | 0:54:36 | Open | 21 |
| 27 | Stéphane BODET | 0:54:53 | Open | 22 |
| 28 | Joseph GUEGUEN | 0:55:16 | Open | 23 |
| 29 | David AMEMOUTOU | 0:55:29 | Open | 24 |
| 30 | Adrien HEURTEUX | 0:55:40 | Open | 25 |
| 31 | Ildut MARZIN | 0:55:55 | Open | 26 |
| 32 | Frédéric ISTIN | 0:56:06 | Open | 27 |
| 33 | Gary SMITH | 0:56:17 | Open | 28 |
| 34 | Benoît RAPHALEN | 0:57:00 | Open | 29 |
| 35 | Denis HENRIQUE | 0:58:37 | Open | 30 |
| 36 | Tanguy RICHARD | 0:59:15 | Junior | 6 |
| 37 | John HAVEY | 0:59:30 | Open | 31 |
| 38 | David DOMALAIN | 0:59:55 | Open | 32 |
| 39 | Stive LEMER | 1:00:08 | Open | 33 |
| 40 | Lucas LE BAYON | 1:00:20 | Open | 34 |
| 41 | Stéphane PRIGENT | 1:00:25 | Open | 35 |
| 42 | Benjamin PERROT | 1:00:29 | Junior | 7 |
| 43 | Benjamin VAURS | 1:01:55 | Open | 36 |
| 44 | Eric CROS | 1:02:33 | Open | 37 |
| 45 | Ronan BOTREL | 1:02:35 | Open | 38 |
| 46 | Bertrand PINON | 1:03:28 | Open | 39 |
| 47 | Jean-Pierre LETOURNEUR | 1:03:41 | Open | 40 |
| 48 | William VERNACK | 1:05:00 | Open | 41 |
| 49 | Loïs CHARDEBAT | 1:05:28 | Junior | 8 |
| 50 | Bruno MASSON | 1:05:33 | Open | 42 |
| 51 | Mathieu DESBOIS | 1:07:28 | Open | 43 |
| 52 | Mickaël GUILBERT | 1:07:29 | Open | 44 |
| 53 | Frédéric MICHELOT | 1:07:48 | Open | 45 |
| 54 | Cécile GONDRE | 1:11:22 | Women's | 1 |
| 55 | Anne CROZET | 1:14:31 | Women's | 2 |
| 56 | Alain JEFFRAULT | 1:15:39 | Open | 46 |
| 57 | Cédric MALENGREAU | 1:16:18 | Open | 47 |
| 58 | Yannick CHARDEBAS | 1:18:50 | Open | 48 |
| 59 | Hervé MOLINERO | 1:20:21 | Open | 49 |
| 60 | Stéphanie JEAUNEAUX | 1:29:57 | Women's | 3 |