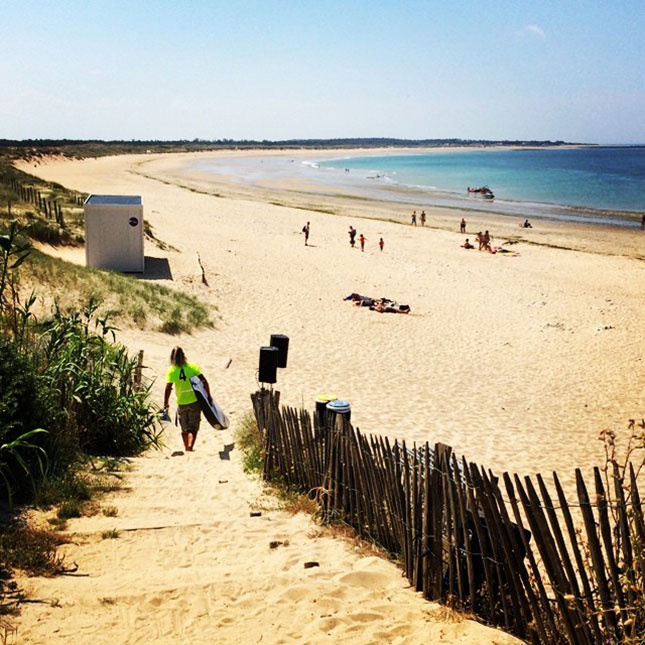 June 15, 2014
by Christopher Parker (@wheresbossman)
OLERON RESULTS: Zane Wins The Event While Titou Shows His Strength In The Bumps (UPDATED)
Euro Tour. Week 5. France.
While some of us headed down here to Noja, Spain this week, a bunch of the top guys drove north to France for the Oleron Island Stand Up Paddle Challenge.
On show this weekend are the likes of Eric Terrien, Titouan Puyo, Beau O'Brian, Casper Steinfath, Zane Schweitzer and plenty of other top guys.
########### SUNDAY UPDATE ###########
Looks like Zane Schweitzer has done it again. For the second weekend in a row, Zane has taken the overall event title. Today in Oleron Zane won the sprints while yesterday's hero, Titouan Puyo, finished 4th, which was enough for a reshuffle at the top of the overall leaderboard.
The race has literally just finished so we'll have full results/pics/recap shortly.
Thanks to Greg Closier for phoning in the results straight after the race.
MEN'S SPRINTS
1st: Zane Schweitzer
2nd: Beau O'Brian
3rd: Eric Terrien
4th: Titouan Puyo
5th: Leonard Nika
6th: Casper Steinfath
——
7th: Vincent Verhoeven
8th: Greg Closier
9th: Gaetene Sene
10th: Aaron Rowe
11th: Pete Kosinski
12th: Dylan Frick
OVERALL EVENT STANDINGS
(Combined results from yesterday's downwinder + today's sprints)
1st: Zane Schweitzer (3rd/1st – 3.7 points)
2nd: Titouan Puyo (1st/4th – 4.7 points)
3rd: Eric Terrien (2nd/3rd – 5 points)
4th: Beau O'Brian (5th/2nd – 7 points)
5th: Casper Steinfath (4th/6th – 10 points)
6th: Leonard Nika (9th/5th – 14 points)
7th: Greg Closier (7th/8th – 15 points)
8th: Gaetan Sene (8th/9th – 17 points)
8th: Vincent Verhoeven (10th/7th – 17 points)
10th: Dylan Frick (6th/12th – 18 points)
11th: Dimitri Georges (11th/13th – 24 points)
12th: Aaron Rowe (14th/11th – 25 points)
13th: Pete Kosinski (16th/10th – 26 points)
13th: Jeremy Branchu (13th/13th – 26 points)
15th: Ludovic Dulou (12th/20th – 32 points)
15th: Federico Benettolo (15th/17th – 32 points)
15th: Martin Vitry (17th/15th – 32 points)
18th: Leonardo Toso (19th/15th – 34 points)
19th: Gregoire vitry (18th/19th – 37 points)
19th: Lois Chardebas (20th/17th – 37 points)
########### SATURDAY UPDATE ###########
From all reports it was a really good downwinder, with some nice bumps the whole and even a few waves in the middle part of the run (which caused a bit of havoc).
Ti2 showed once again he's an absolute downwind machine, taking the win ahead of half a dozen other world class guys. It was also a great performance from Team France's other representative, Eric Terrien, who overcame a bad start to motor his way through the field and claim second.
http://instagram.com/p/pPQUN3SlIi/
Full results below. Looks like the big names were firing again.
So is anyone else getting just a little bit excited about the super stacked showdown at the Lost Mills next weekend?!
Almost all the guys below will be in action again next weekend in Germany, only they'll be joined by: Danny Ching, Connor Baxter, Chase Kosterlitz, Georges Cronsteadt, Jake Jensen, Paul Jackson, Vinnicius Martins, etc etc.
Yes, the Lost Mills is going to be freakin' massive…
But in the meantime here are today's results from Oleron. Check back tomorrow to see how the short course sprints go, which will determine the overall event placings.
RESULTS: 2014 Oleron Island Stand Up Paddle Challenge
SATURDAY: Downwinder
PRO MEN
1st: Titouan Puyo (1:20:42)
2nd: Eric Terrien (1:21:27)
3rd: Zane Schweitzer (1:21:31)
4th: Casper Steinfath (1:21:41)
5th: Beau O'Brian (1:22:16)
6th: Dylan Frick (1:22:54)
7th: Greg Closier (1:23:52)
8th: Gaetene Sene (1:24:00)
9th: Leonard Nika (1:25:14)
10th: Vincent Verhoeven (1:26:27)
11th: Dimitri Georges (1:27:39)
12th: Ludovic Dulou (1:28:36)
13th: Jérémy Branchu (1:28:40)
14th: Aaron Rowe (1:31:27)
15th: Federico Benettolo (1:31:48)
16th: Pete Kosinski (1:35:08)
17th: Grégoire Vitry (1:38:30)
18th: Léonardo Toso (1:44:15)
PRO WOMEN
1st: Cécile Gondre (1:48:52)
2nd: Valerie Vitry (1:49:51)
SUNDAY: Beach Race
…
(Thanks to Vincent Verhoeven for phoning in the results straight after the race!)
---