March 14, 2014
by Christopher Parker (@wheresbossman)
World's #1 Dark Horse Extends Winning Streak At Home In New Caledonia (NRJ Pro Cup)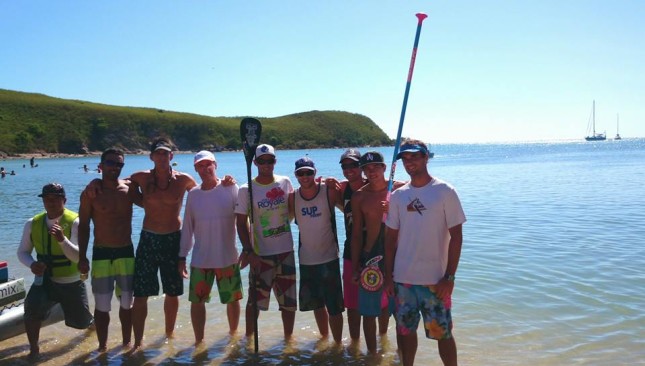 The world's number one dark horse, Titouan Puyo, has extended his winning streak, taking out day one of the NRJ Pro Cup at home in New Caledonia.
The wind was relatively light and the sun was blazing hot, however there were still plenty of fun bumps to be had. The 10km course ran from Anse Vata to Plage de Kuendu, covering a beautiful stretch of water inside the giant lagoon that surrounds this island.
New Caledonia really is a paddling paradise… With such consistent winds and a strong paddling community, I can see it becoming a popular downwind destination in the near future.
In fact I'm calling it now: New Caledonia is the next Tahiti. The island is full of world class outrigger paddlers who are now beginning to stand up. The guy who got third today, Moana Tihopu, is a young outrigger champ who had done just two SUP downwinders before today's race..!
Plus as Titou's star inevitably continues to rise on the international scene, I'm sure he will inspire plenty more "Caldoches" to make the transition into SUP racing. And when that happens, the rest of the paddling world better get ready.
But anyway, back to the event: The NRJ Pro Cup will continue tomorrow with a beach race. Today's downwinder has literally just finished, so check out the early results below then come back in an hour or two for full results and pics of the action.
On a side note: Big thanks to the local Starboard guys for lending me a board for the race. I paddled the 12'6 x 25′ Ace, which definitely helped me finish a few places higher!
2014 NRJ Pro Cup New Caledonia – Downwind Results
Click "M/F" to switch between Men's and Women's Results
Click "Class" or "Division" to sort results by Board Class or Age Division
Click "Time" to reset the results
[device]
iPhone/Android? Scroll down and click "Mobile Theme ON/OFF" if you can't see the full results table[/device]

| # | M/F | Name | Time | Class | # | Division | # |
| --- | --- | --- | --- | --- | --- | --- | --- |
| 1 | M | Titouan PUYO | 1:00:09 | 12'6 | 1 | Open | 1 |
| 2 | M | Franck MULLER | 1:01:54 | 14' | 1 | 40+ | 1 |
| 3 | M | Moana TIHOPU | 1:02:12 | 14' | 2 | Open | 1 |
| 4 | M | Jean-Louis COLMAS | 1:03:03 | 14' | 3 | 40+ | 2 |
| 5 | M | Bruno MASSON | 1:03:32 | 14' | 4 | 40+ | 3 |
| 6 | M | Vincent VERHOEVEN | 1:04:10 | 12'6 | 2 | Open | 2 |
| 7 | M | Christopher PARKER | 1:05:07 | 12'6 | 3 | Open | 3 |
| 8 | M | Philippe BUI | 1:05:18 | 12'6 | 4 | 40+ | 1 |
| 9 | M | Mario TRANIER | 1:05:56 | 14' | 5 | 40+ | 4 |
| 10 | M | David ANEWY | 1:06:18 | 12'6 | 5 | Open | 4 |
| 11 | M | Axel LUX | 1:06:36 | 14' | 6 | 40+ | 5 |
| 12 | M | Alexandre ROUYS | 1:06:37 | 12'6 | 6 | Open | 5 |
| 13 | M | Alain TEURQUETIL | 1:07:44 | 14' | 7 | 40+ | 6 |
| 14 | M | Kaheva MAIHOTA | 1:08:26 | 14' | 8 | Open | 2 |
| 15 | M | Michel-Pierre SEMPERE | 1:08:39 | 14' | 9 | 40+ | 7 |
| 16 | M | Pehi ANIAMIOI | 1:09:00 | 14' | 10 | Open | 3 |
| 17 | M | Marius TAHARIA | 1:09:10 | 14' | 11 | 40+ | 8 |
| 18 | M | Bruno LUSSIEZ | 1:10:07 | 14' | 12 | 40+ | 9 |
| 19 | M | Johnny LASIMAN | 1:10:19 | 14' | 13 | 40+ | 10 |
| 20 | M | Olivier CHARTIER | 1:10:33 | 12'6 | 7 | Open | 6 |
| 21 | M | Liam GOLIS TUYEN | 1:11:42 | 14' | 14 | Junior | 1 |
| 22 | F | Marie-Bénédicte ROGER | 1:12:09 | F14' | 1 | 40+ | 1 |
| 23 | M | Renato MERCURI | 1:12:43 | 14' | 15 | 40+ | 11 |
| 24 | M | Maxime PASCAUD | 1:12:48 | 12'6 | 8 | Junior | 1 |
| 25 | M | Jean-Philippe CHABAL | 1:12:56 | 14' | 16 | 40+ | 12 |
| 26 | M | Théau GONTARD | 1:13:03 | 14' | 17 | Open | 4 |
| 27 | F | Miranda BARRETTEAU | 1:13:10 | F12'6 | 1 | Open | 1 |
| 28 | M | Christophe NGUYEN | 1:14:34 | 12'6 | 9 | 40+ | 2 |
| 29 | M | Gwenaël SWARTVAGHER | 1:15:46 | 12'6 | 10 | Open | 7 |
| 30 | M | Benoit MARITAN | 1:17:16 | 14' | 18 | Open | 4 |
| 31 | M | Yohan PAIMBOUC | 1:20:00 | 14' | 19 | Open | 5 |
| 32 | M | Paul BERRY | 1:21:29 | 12'6 | 11 | Open | 8 |
| 33 | F | Nancy MULLER | 1:21:59 | F14' | 2 | 40+ | 2 |
| 34 | M | Julien LOBRY | 1:22:22 | 14' | 20 | Open | 6 |
| 35 | F | Emilie SIMONET | 1:22:57 | F12'6 | 2 | Open | 2 |
| 36 | F | Caroline SANCHEZ | 1:24:17 | F12'6 | 3 | Open | 3 |
| 37 | F | Nancy TUYEN | 1:26:04 | F14' | 3 | 40+ | 3 |
| 38 | M | Fabien GUIGNARD | 1:26:32 | 14' | 21 | Open | 7 |
| 39 | F | Nathalie GRINGORE | 1:28:49 | F14' | 4 | 40+ | 4 |
| 40 | F | Mathilda LELONG | 1:29:06 | F12'6 | 4 | Junior | 1 |
| 41 | F | Isabelle FAGET | 1:32:31 | F12'6 | 5 | 40+ | 1 |
| 42 | F | Edwige RIARIA | 1:32:54 | F14' | 5 | Open | 1 |
| 43 | F | Christine MITRIDE | 1:33:13 | F12'6 | 6 | 40+ | 2 |
| 44 | F | Florence MAZZI | 1:33:31 | F12'6 | 7 | 40+ | 3 |
SUNDAY UPDATE: Here are the results from the Beach Race…
Beach Race #1: 14 footers
1st: Franck Muller (0:39:17)
2nd: Jean-Louis Colmas (0:39:54)
3rd: Moana Tihopu (0:40:35)
4th: Bruno Masson (0:41:45)
5th: Axel Lux (0:42:40)
6th: Mario Tranier (0:43:40)
7th: Alain Teuquetil (0:43:41)
8th: Pehi Aniamioi (0:43:50)
9th: Kaheva Maihota (0:44:15)
10th: Michel-Pierre Sempere (0:45:56)
11th: Johnny Lasiman (0:46:07)
12th: Jean-Philippe Chabal (0:46:32)
13th: Theau Gontard (0:47:58)
14th: Marius Taharia (0:48:11)
15th: Marie-Benedicte Roger (0:48:13) [1st female]
16th: Benoit Maritan (0:48:40)
17th: Liam Golis Tuyen (0:49:41)
18th: Yohan Paimbouc (0:49:54)
19th: Jean-Bernard Fayard (0:50:49)
20th: Pierre Radotin (0:52:41)
21st: Julien Lobry (0:54:53)
22nd: Edwige Riaria (1:03:14) [2nd female]
Beach Race #2: 12'6″
1st: Titouan Puyo (0:39:31)
2nd: Vincent Verhoeven (0:40:55)
3rd: Christopher Parker (0:41:05)
4th: Jeremie Mandin (0:41:23)
5th: Alexandre Rouys (0:41:45)
6th: David Anewy (0:43:09)
7th: Philippe Bui (0:43:33)
8th: Olivier Chartier (0:45:33)
9th: Gwenael Swartvagher (0:46:22)
10th: Miranda Barretteau (0:49:21) [1st female]
11th: Christophe Ngyuen (0:50:09)
12th: Eric Lepagney (0:52:12)
13th: Emilie Simonet (0:55:50) [2nd female]
14th: Sonia Dumas (0:56:07) [3rd female]
15th: Niclas Adi (0:57:18)
16th: Caroline Sanchez (0:58:58) [4th female]
17th: Philippe Marmey (1:04:06)
18th: Chloe Tiennot (1:04:24) [5th female]
19th: Mathilda Lelong (1:07:32) [6th female]
20th: Francoise Marmey (1:08:37) [7th female]
21st: Vaia Douarch (1:13:19) [8th female]
22nd: Christine Mitride (1:17:10) [9th female]