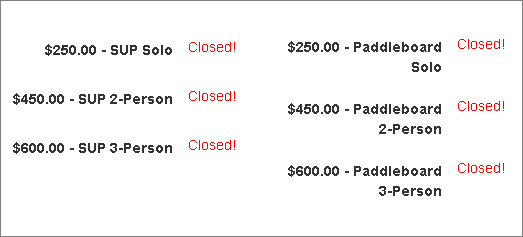 March 21, 2014
by Christopher Parker (@wheresbossman)
Molokai 2 Oahu Is Now TOTALLY Sold Out…
Remember how Molokai solo registration sold out in just three hours last weekend? But how we mentioned you could still register for the team divisions? Well, that's no longer an option either… because now the ENTIRE 2014 Molokai 2 Oahu Paddleboard World Championships are full.
The race officially sold out on Monday morning Hawaii time, just 48 hours after registration opened.
Most events have to beg paddlers to sign up before race day. However Molokai, one of the most grueling experiences in the paddleboarding world (and that's just getting yourself to the start line…), completely fills up in a matter of hours, despite the fact we're still more than four months out from the actual race itself.
The reason is of course very simple: Molokai is viewed as the uber-prestigious Holy Grail of the paddleboarding world. It's like some sort of mecca that paddlers the world over feel they need to visit at least once in their lives in order to pay their respects to the sport. The only other race that comes close to this sort of worship is the Battle of the Paddle.
But if the M2O is such an important race that so many paddlers want to compete in, why don't organisers simply open up more slots? The Ka'iwi Channel between Molokai and Oahu is a huge open expanse of water that has room for thousands of paddlers. In fact it's so large that even with the 200+ paddlers in the race, many competitors experience the feeling of total isolation.
So why not just open up the race? The problem isn't so much that adding more paddlers would be too difficult to handle, rather it's the hundreds of escort boats that would create an issue for organisers and safety crews. In case you're a Molokai virgin: Every paddler or team in the race is required to have their own escort boat, in case anything goes wrong on the 32 mile crossing. While there's plenty of room in the channel for boats, there's not so much space near the starting line… So while paddlers don't take up much room, boats certainly do. If we suddenly had 500 boats huddled just off the beach at the start of the race, it would probably become a bit of a nightmare for organisers.
I'm sure there's a solution out there that would allow for more people to experience the glorious pain that is Molokai, however for now it makes sense to keep it strictly limited. It also kinda adds to the aura of this great race to see it fill up so quickly…
So yeah, if you missed out this year, you've either gotta join the wait list and pray, or train hard for the next 12 months and then buy a good alarm clock in March 2015…