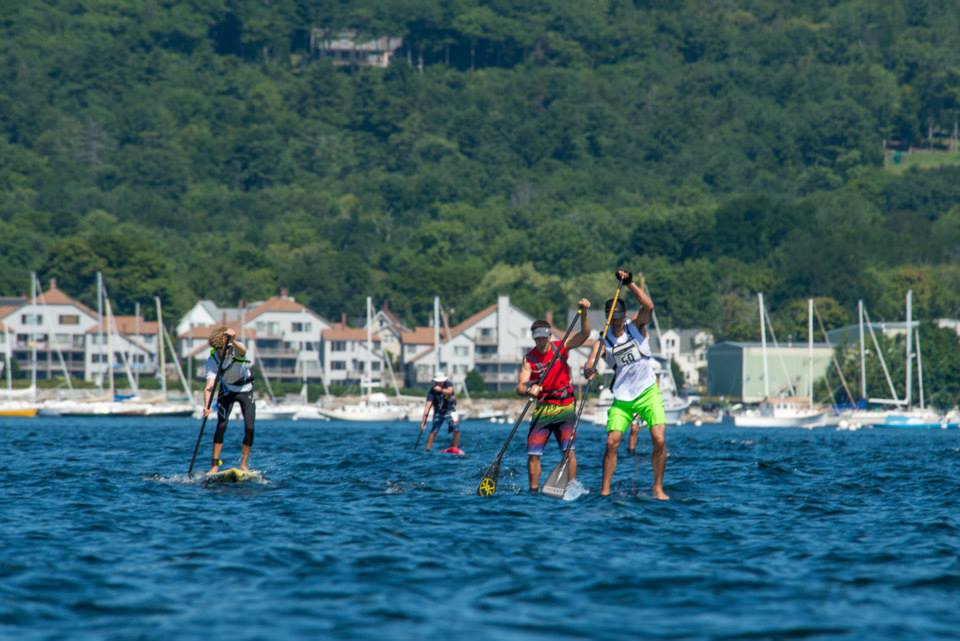 August 11, 2014
by Christopher Parker (@wheresbossman)
Canadian Duo Lina Augaitis, Cyril Burguire Win The Lobster SUP Cup

The Canadian duo of Lina Augaitis and the Cyril Burguire took out the Lobster SUP Cup on the weekend. Held in Penobscot Bay, Maine, the Lobster Cup has one of the coolest names and perhaps the raddest logo of any SUP race going round.
In what looked to be a typically-picturesque New England weekend, with sunny blue skies and beautiful surrounds, more than 50 paddlers hit the water for the two days of racing.
Cyril was too quick for Bill Kraft of the British Virgin Islands and local paddler (and New England SUP pioneer) Patrick Broemmel, while Lina was in a class of her own in the women's race.
Lina's victory is yet another trophy in the cabinet, with the SIC team rider on a seemingly endless world tour this year. That adventure continues next weekend, where Lina will be up against the world's best at the Ultimate SUP Showdown in Hawaii.

Maine, which sits in the north-east corner of the United States, may not be the world's mecca for stand up paddling, however the organisers of the Lobster SUP Cup seem to do a very nice job of putting on an event.
Full results from the weekend are below and there are more pics on the official Facebook page.
2014 Lobster SUP Cup RESULTS
ELITE DIVISION
(Combined times from Saturday + Sunday)
Total combined distance: 20.75 miles
Boards: 14′
1st: Cyril Burguire — 3:37:21
2nd: Bill Kraft — 3:45:35
3rd: Patrick Broemmel — 3:48:13
4th: Terry Kent — 3:48:19 *1st Mens Masters
5th: Travis Hayes — 3:53:00
6th: Sam English — 3:55:14
7th: Lina Augaitis — 3:56:56 * 1st Women's
8th: Emerson Smith — 3:59:18
9th: Adrian Johnson — 4:02:06
10th: Kjell Van Sice — 4:02:16 * 1st 12'6 Men
11th: Mike Long — 4:02:39
12th: Jack Egam — 4:05:46
13th: Rafael Adams — 4:07:53
14th: Dave Porter — 4:13:00
15th: Scott King — 4:14:05
16th: Chris Strout — 4:17:27
17th: Burr Tupper — 4:17:36
18th: Brannon Fisher — 4:21:15
19th: Mark Denitto – 4:22:55
20th: Mike Navarra — 4:32:09 * 2nd Masters Men
21st: Brian Cody — 4:33:18 * 3rd Master's Men
22nd: Kim Reilly — 4:33:51 * 2nd Women's / 1st Women's Masters
23rd: Wendy Anderson — 4:40:09 * 3rd Women's/ 2nd Women's Masters
24th: Luke Vicens — 4:46:45
25th: Allison Reid — 4:49:16
26th: Augie Owen — 4:55:06
27th: Ann Schulz — 4:58:34
28th: Sarah Beasley — 5:08:51
29th: Amy Squeglia — 5:31:33
RECREATIONAL DIVISION
1st: Veronica Ribot-Canales — 31:07
2nd: David Mcinnis — 31:26
3rd: Kaitlyn Fowle — 33:53
4th: Chris Bears — 35:09
5th: Judy Pope — 37:01
6th: Mitchell Baum — 37:12
7th: Wyatt Bracey — 38:00 *age 10
8th: Maeve Mcinnis — 38:02
9th: Jeff Warren — 38:55
10th: Delia Ives — 40:47
11th: Betsy Kingsley — 41:05
12th: Jessica Dagget — 41:36
13th: Morgan Anderson — 41:45
14th: Finn Emory — 42:59 *age 7
15th: Kathy Mosher — 43:04
16th: Michelee Carlson — 47:58
17th: Sharyn Pohlman — 50:57
KIDS RACE
1th: Wyatt Bracey — 3:50
2th: Sophia King — 4:21
3th: Finn Emory — 4:31
4th: Dylan Swift — 4:33
5th: Wyeth Schapiro — 5:14
6th: Ava Tobias — 7:30
7th: Carver Emory — 7:36
8th: Luke Tobias — 8:40