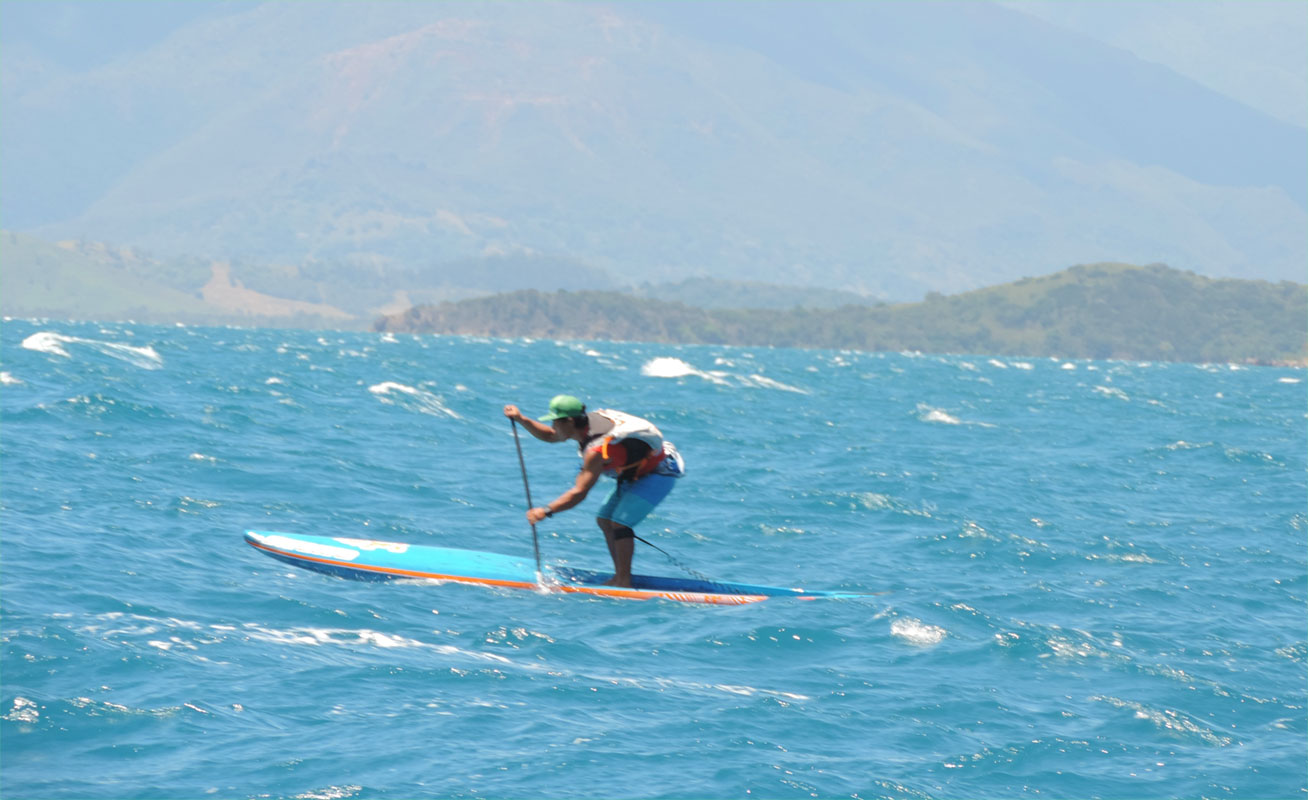 October 26, 2014
by Christopher Parker (@wheresbossman)
Japan's Tomo Murabayashi Wins A Cracking Downwind Race In New Caledonia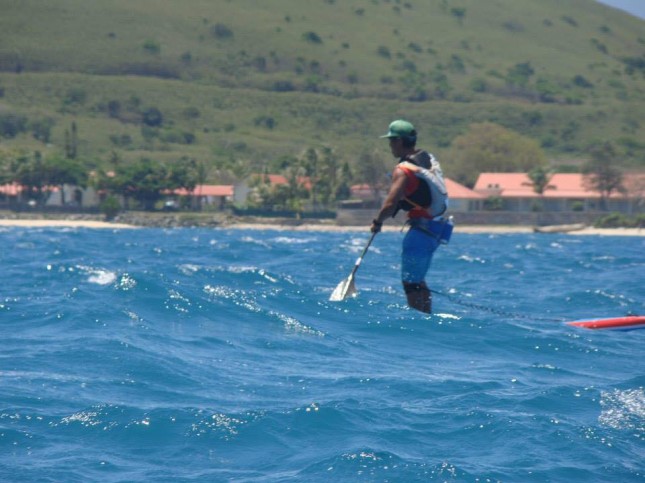 Japan's Tomoyasu Murabayashi (or just "Tomo") has won today's LMA Magic Race in New Caledonia, with the wind turning on to produce a cracking downwind run in paradise.
Tomo, part of the Starboard International Dream Team, held out the experienced locals for just over two hours to cross the line in a time of 2:01:14, which was a minute quicker than Franck Muller. There was also a great effort from Clement Colmas, who at just 13 years of age (and paddling a 12'6) came home for third place a mere two minutes off the lead.
Miranda Barretteau was the fastest woman across the line on a 12'6 in 2:26:42, followed by Marie-Benedicte Roger and Christine Besson on their 14 footers.
The LMA Magic Race is a 24km downwind run from the capital of Nouméa, heading north through the lagoon and along the beautiful coast of New Caledonia. The wind was firing at 25-30 knots, creating some epic conditions as you can see from the photos.
I did this downwinder myself when I was in New Caledonia back in March, so I can say from first hand experience it's an amazing run. New Caledonia may just be the best kept secret in the world of paddling: Beautiful, warm, blue waters and a trade wind that seemingly blows like clockwork.
The island is also home to a very strong local paddling group (including a certain Titouan Puyo).
It's a beautiful place and an awesome spot for some downwinding, so definitely add New Caledonia to your stand up paddling bucket list…
Scroll down below the pics for FULL RESULTS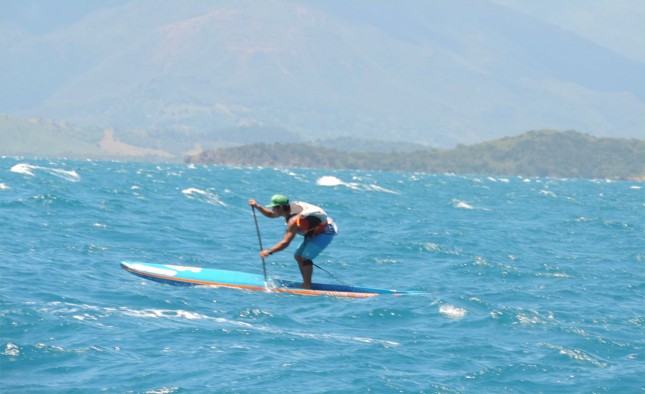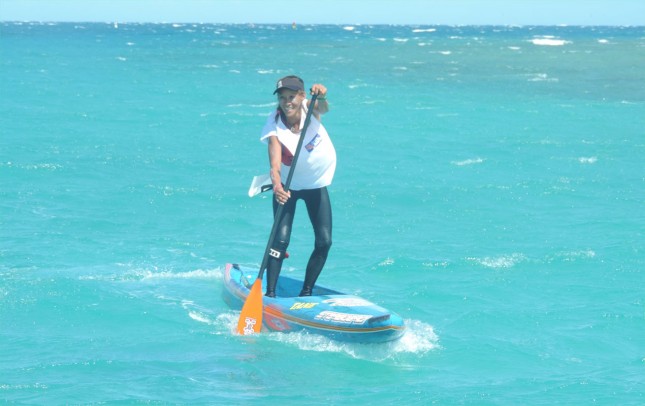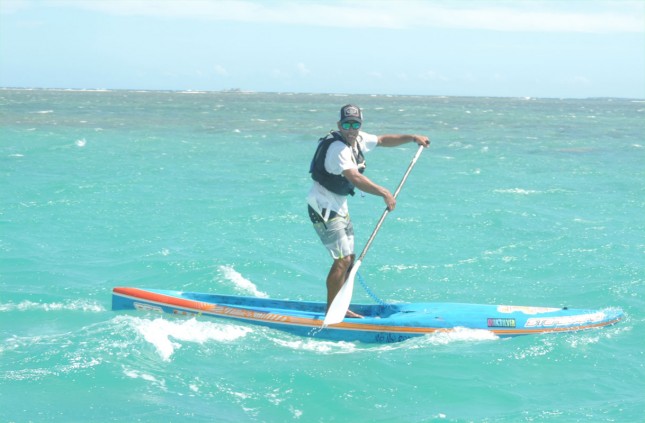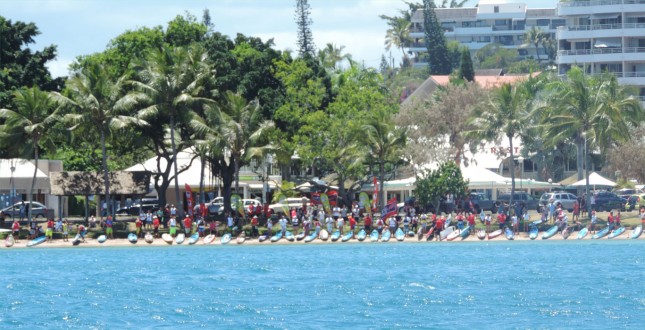 RESULTS: 2014 LMA Magic Race, New Caledonia
| # | Name | Time | Class | # | Division | # |
| --- | --- | --- | --- | --- | --- | --- |
| 1 | Tomoyasu Murabayashi | 2:01:14 | Men's 14' | 1 | 19-39 | 1 |
| 2 | Franck Muller | 2:02:28 | Men's 14' | 2 | 40+ | 1 |
| 3 | Clement Colmas | 2:03:28 | Men's 12'6 | 1 | 14 & under | 1 |
| 4 | Bruno Masson | 2:06:00 | Men's 14' | 3 | 40+ | 2 |
| 5 | Jean-Louis Colmas | 2:09:03 | Men's 14' | 4 | 40+ | 3 |
| 6 | Liam Golis Tuyen | 2:11:01 | Men's 14' | 5 | 15-18 | 1 |
| 7 | David Anewy | 2:13:54 | Men's 12'6 | 2 | 19-39 | 1 |
| 8 | Erwan Bouvier | 2:14:52 | Men's 14' | 6 | 40+ | 4 |
| 9 | Mario Tranier | 2:15:32 | Men's 14' | 7 | 40+ | 5 |
| 10 | Francois Levasseur | 2:15:47 | Men's 14' | 8 | 40+ | 6 |
| 11 | Jeramie Mandin | 2:16:21 | Unlimited | 1 | 19-39 | 1 |
| 12 | Michel-Pierre Sempere | 2:21:57 | Men's 14' | 9 | 40+ | 7 |
| 13 | Olivier Garioud | 2:23:25 | Men's 14' | 10 | 40+ | 8 |
| 14 | Benjamin Claveau | 2:23:54 | Men's 12'6 | 3 | 19-39 | 2 |
| 15 | Olivier Chartier | 2:26:25 | Men's 12'6 | 4 | 19-39 | 3 |
| 16 | Miranda Barretteau | 2:26:42 | Women's 12'6 | 1 | 19-39 | 1 |
| 17 | Axel Lux | 2:29:41 | Men's 14' | 11 | 40+ | 9 |
| 18 | Theau Gontard | 2:30:07 | Men's 12'6 | 5 | 19-39 | 4 |
| 19 | Marie-Benedicte Roger | 2:31:03 | Women's 14' | 1 | 40+ | 1 |
| 20 | Christine Besson | 2:31:59 | Women's 14' | 2 | 40+ | 2 |
| 21 | Pehi Aniamioi | 2:33:07 | Men's 14' | 12 | 19-39 | 2 |
| 22 | Johnny Lasiman | 2:39:54 | Men's 14' | 13 | 40+ | 10 |
| 23 | Michel Hauata | 2:40:41 | Men's 12'6 | 6 | 19-39 | 5 |
| 24 | Lionel Radigue | 2:41:23 | Men's 14' | 14 | 40+ | 11 |
| 25 | Nancy Muller | 2:43:19 | Women's 14' | 3 | 40+ | 3 |
| 26 | Fabrice Chaminade | 2:47:38 | Men's 14' | 15 | 40+ | 12 |
| 27 | Damien Marmey | 2:48:23 | Men's 12'6 | 7 | 14 & under | 2 |
| 28 | Christophe Nguyen | 2:50:56 | Men's 12'6 | 8 | 40+ | 1 |
| 29 | Nancy Tuyen | 2:51:21 | Women's 14' | 4 | 40+ | 4 |
| 30 | Laurent Waheo | 2:53:40 | Men's 14' | 16 | 40+ | 13 |
| 31 | Emilie Simonet | 2:54:15 | Women's 12'6 | 2 | 40+ | 1 |
| 32 | Stephane Amatredjo | 2:54:49 | Men's 12'6 | 9 | 19-39 | 6 |
| 33 | Hugues Thiss | 2:55:04 | Men's 12'6 | 10 | 40+ | 2 |
| 34 | Remi Guieba | 2:55:07 | Men's 12'6 | 11 | 19-39 | 7 |
| 35 | Isabelle Faget | 3:01:52 | Women's 12'6 | 3 | 40+ | 2 |
| 36 | Vanessa Costagliola | 3:02:15 | Women's 12'6 | 4 | 19-39 | 2 |
| 37 | Nathalie Gringore | 3:06:32 | Women's 14' | 5 | 40+ | 5 |
| 38 | Chloe Tiennot | 3:09:20 | Women's 12'6 | 5 | 19-39 | 3 |
| 39 | Sonia Dumas | 3:24:39 | Women's 14' | 6 | 40+ | 6 |
| 40 | Francoise Marmey | 3:33:28 | Women's 12'6 | 6 | 40+ | 3 |
| 41 | Jean-Philippe Chabal | 3:36:03 | Men's 12'6 | 12 | 40+ | 3 |