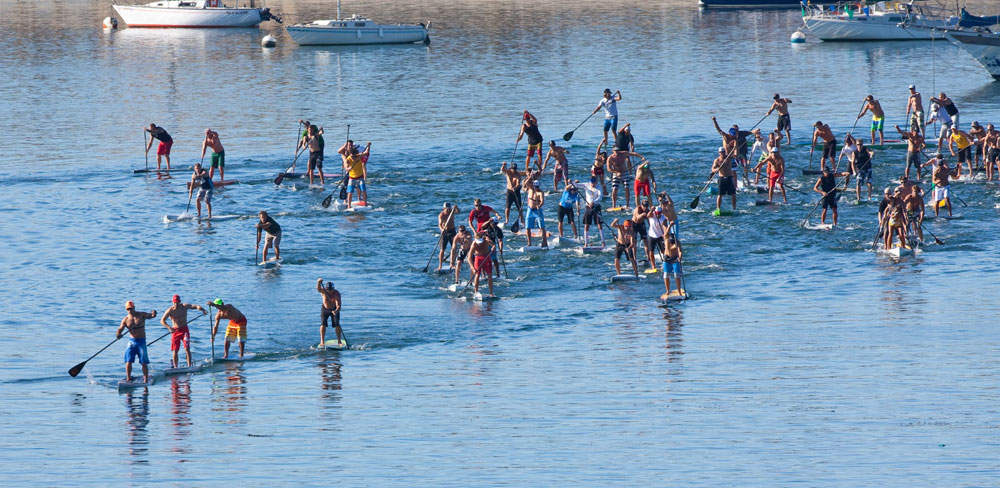 January 24, 2014
by Christopher Parker (@wheresbossman)
So Tomorrow's Hanohano Should Be Kinda Massive…
One of the biggest races of the year is going down in San Diego tomorrow and it looks set to be a cracker. The 18th Annual Hanohano Huki Ocean Challenge (or the "Hano" for short) might not be part of any elite world tour, it might not have lucrative prize money on offer and it might not get the hype it probably deserves, but one thing's for sure: It's one hell of a big race.
In terms of pure number of competitors, the Hano ranks right up there as one of the biggest SUP races in the world, with hundreds of paddlers converging on Mission Bay for the day. Right now there are 492 paddlers pre-registered on the eve of race. That covers all craft (outrigger, surfski, prone, SUP, etc), though I'm pretty confident the stand ups will be the dominant division.
I just counted 259 stand up paddlers entered into the 4.5 mile short course, so when you include the dozens of late entries plus kids' races, we'll end up seeing north of 300 SUPs on the water tomorrow.
That's big.
The Hano is one of those races that draws just about every paddle fanatic from near and far. It's one of those feelgood events that brings the community together, where prize money doesn't matter and you have as much fun talking story after the race as you do battling it out on the water.
But it's still a race. And that means there's gotta be a winner. So who's it going to be?
Most of the leading paddlers will be battling it out on 14 footers, so that's where most eyes will be when it comes to results. In that division we're probably going to see a battle between big names such as Slater Trout, Fernando Stalla and Georges Cronsteadt. None of those guys can be found on the pre-reg list, but word is they're all going to be there in the morning.
The Hano is an interesting race; despite having "Ocean" in its name, the short course stays entirely inside the protected flatwater bay (SUPs aren't allowed to compete in the ocean-going long course for some reason), meaning it basically turns into a tactical draft fest. Say what you will about drafting but I think it's one of the main reasons flatwater racing manages to be exciting, it adds a new element to the contest and makes the results less predictable.
So who's going to help set the pace in the lead draft pack, yet still have enough left in the tank for the red-line sprint to the finish?
My prediction is that Georges will be leading almost all the way and will still have enough to cross the line first. He's just too strong and if any of the other guys can get around him I'll be very impressed. Though the big question is how well Georges has recovered from his ankle-shattering injury at the BOP last year. This injury that was expected to keep the Tahitian strong man out of the water for six months, however a faster than expected recovery sees the SIC team rider compete in his first race since that fateful day.
Slater Trout showed in Puerto Rico last month and Miami two weeks ago that despite some up-and-down results in 2013, he's still got some incredible pace and can finish a race very strong. Crossing the line just metres behind Slater at the Orange Bowl was Fernando Stalla, who should also be up there tomorrow.
Then you've go about two dozen local dark horse guys that, given how much of a draft fest this race will likely become, could pull one out of the hat.
Should be an interesting race to watch and we'll be keeping a close eye on the races (look for info to start trickling in just after lunch California time), though no matter who wins, it looks like this race is guaranteed to be a pretty big success once again.