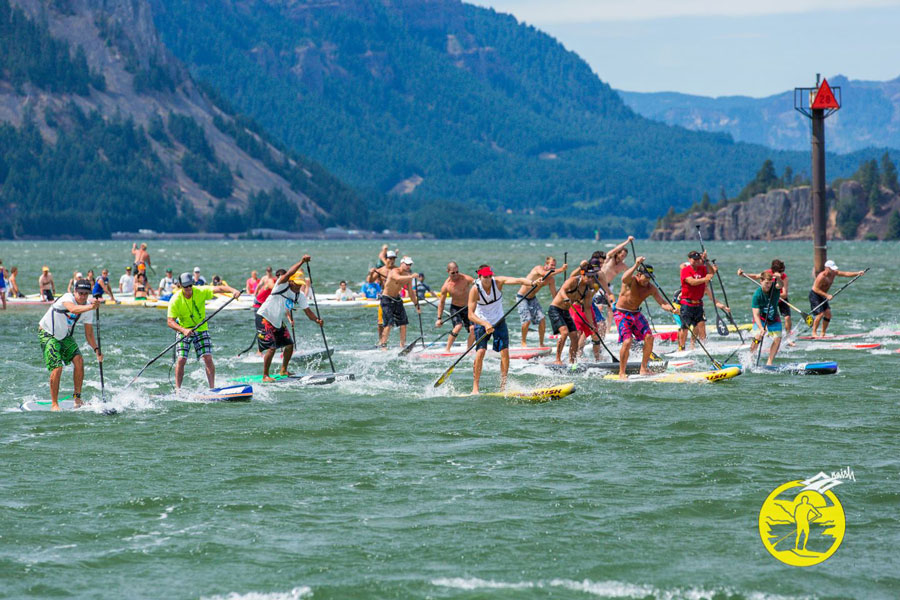 April 9, 2014
by Christopher Parker (@wheresbossman)
Gorge Paddle Challenge Unveils The Double Downwinder; Twice As Much Reason To Head To Hood River
Thinking of heading up to Oregon for this year's Gorge Paddle Challenge? Well now you've got twice as much reason to make the trip, because organisers have revealed this year's GPC will feature not one but TWO downwind runs, with the awesomely-titled "Double Downwinder" race set to make its debut. In what is perhaps a world first, this year's Gorge race will feature back-to-back runs on the famous Hood River downwind course, with both times counting towards the overall event rankings.
The "Double Downwinder" is exactly what it sounds like: You finish one downwinder, hop on the shuttle bus back to the start line, wait for everyone to regroup and then do it all over again. I've never heard of a SUP race holding two consecutive downwinders but when you've got conditions as good as the Gorge then it makes a whole lotta sense. Everyone goes there for the downwinding, so why not give people more of what they want?
The 2014 Gorge Paddle Challenge is locked in for the weekend of August 23rd & 24th and, while it's always been a well-loved and popular event, I'm tipping this will be its biggest year yet. Not only does this race always attract hundreds of weekend warriors (I mean, c'mon, who doesn't love a good downwinder?), it's also garnering a reputation as being one of the single most competitive races on the elite circuit as well. Last week's announcement of the new Champions Tour, of which the Gorge is a part, will only add to its notoriety.
After a bumper year in 2012, where Kai Lenny went toe to toe with Connor, Jamie and co, there was a slight drop on the men's side last year due to some unfortunate clashes (remember that weekend where the field was split between three events on two different continents?). Good news is the schedule is looking a lot smoother this year, so I'd expect a good chunk of the world's fastest to test their stuff against the fiercely proud locals, who will no doubt have the Gorge's world famous downwind run dialed in tight.
This local strength was clearly evident last year, when 16 year old local phenom Fiona Wylde beat the likes of Candice, Andrea and Jenny to claim a very memorable victory. In fact, the Gorge Paddle Challenge has grown into perhaps *the* most competitive race on the women's racing scene (outside of the BOP, of course) so don't be surprised to see another stacked field.
The same goes for the men's side: Kai Lenny will definitely be returning, with the young Maui superstar scheduled for a repeat of his Positively Kai Grom SUP extravaganza that attracted over 200 stoked out kids when it debuted in 2012. Kai went on to make it a clean sweep of that year's race before his Naish teammate Kody Kerbox edged out Georges Cronsteadt on combined time to claim the 2013 trophy.
However the guys on the yellow boards will have a lot more competition this time round…
Apart from Kai and Kody, I know that Georges Cronsteadt will be looking to go one better this year, while Connor Baxter will be hoping for a repeat of his 2011 victory. Throw in Jamie Mitchell, Danny Ching and the downwind machine Travis Grant (who will be making his Gorge debut this year), plus half a dozen more of the world's best, and suddenly the stage is set for a classic.
But forget about the elite guys and girls… Did I mention there are TWO downwinders this year? That alone is reason enough to get excited, even if we are still four and a half months out from race day.
Last week I spoke with the GPC's head honcho and Hood River SUP icon, Steve Gates, to get a better idea on how this novel new feature is gonna work.
Firstly I'm happy to report that, while the Double Downwinder is penciled in for Saturday and the course race on Sunday, a final call won't be made until a couple of days before the event. The schedule is flexible, so if the forecast says winds are going to be macking on Sunday then the races will be switched to give competitors the best possible downwind experience.
According to Steve, it's the logistics at Hood River that make this Double Downwinder possible. In some downwind hotspots it just wouldn't be feasible, but at Hood River the drive from the finish line back to the start is pretty quick and easy. The organising crew from Big Winds will have their massive trailer shuttling boards back to the start to make sure everyone can have their fill of all-you-can-eat downwind goodness.
And although the "Double Downwinder" kind of sounds like one single race, it's essentially two separate races held back to back. In calculating the overall event rankings, times will be combined from all three races: Downwinder #1, Downwinder #2 and the Course Race. So while the weekend has been half downwind/half course race in years gone by, this year it'll be two-thirds downwind/one-third course race. Considering Hood River is so famous for its wind, that makes a lotta sense. Plus the phrase "Double Downwinder" sounds pretty darn cool no matter how you slice it.
Recreational paddlers will have the option of doing either one or both of the downwinders (not sure why you'd only do one, but anyway…) while the two runs will obviously be mandatory for anyone looking to place in the overall rankings. In terms of the "Champions Tour" points, that will be based on the overall weekend standings, so you'll need to be a machine on the downwind but also quick & nimble around the course if you wanna score some valuable ranking points.
So there you go. The Double Downwinder. Perhaps a world first? But either way: Definitely double the reason to head up to Oregon this year.
I know we only just ticked over into April, so expect some more details on the 2014 Gorge Paddle Challenge to drop in the next few weeks, but until then start practicing your bump riding: We're in for a classic.