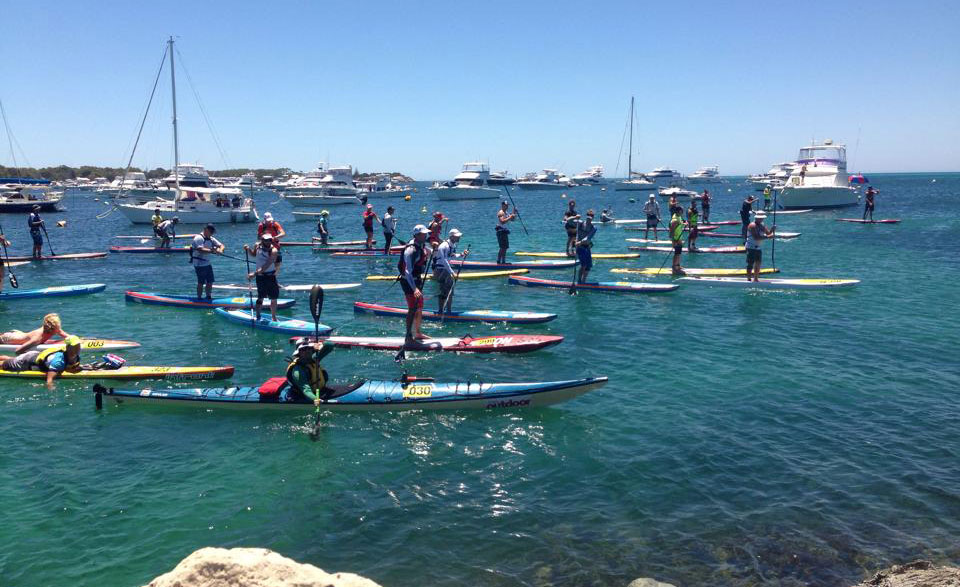 January 17, 2014
by Christopher Parker (@wheresbossman)
[RESULTS] Jake Jensen, Karla Gilbert Win 'The Doctor' Ocean Race In Perth, Western Australia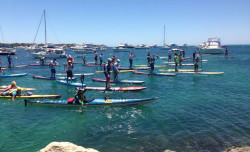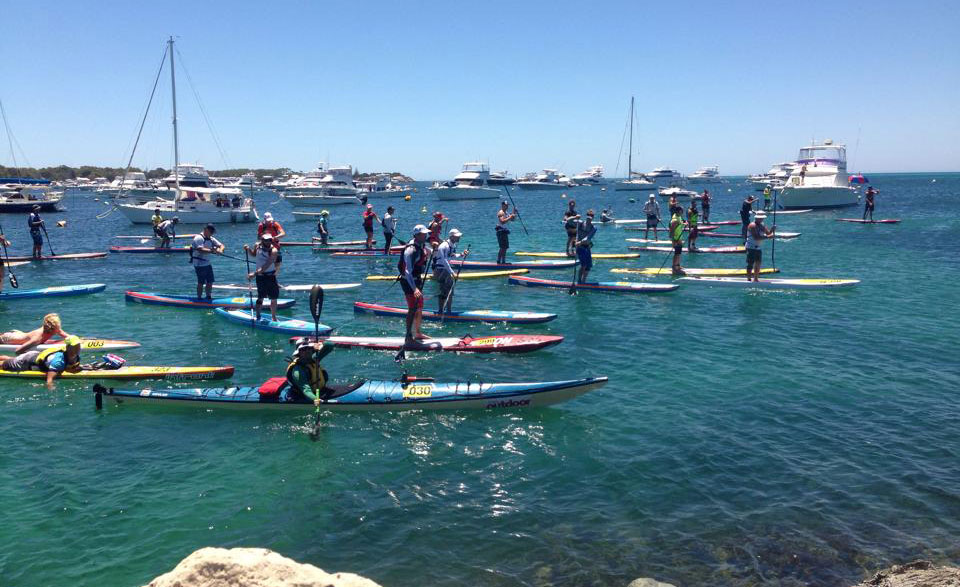 Jake Jensen and Karla Gilbert have just taken out 'The Doctor' ocean race in Perth, Western Australia. This is one of the premiere SUP events in the country (past winners include Connor Baxter and Travis Grant) and today saw a hot, windy battle between many of Australia's finest.
It was a tight battle in both the men's and women's races, but in the end it was Jake Jensen who took the win from Beau O'Brian. The two were neck and neck for much of the race – Beau had a slight lead for the first half of the race, however Jake took a line closer to shore and that seemed to pay off, hitting the beach 300 metres clear.
Meanwhile it was another close one between Karla Gilbert and Angie Jackson. The two Goast Coasters were paddling a similar pace almost the entire 27.5km from Rottnest to Sorrento, however Karla was just a bit too strong in the end and took the win by 49 seconds.
The race has literally just finished so we'll post the results below as they happen.
The Doctor 2014
MEN
1st: Jake Jensen (2:17:02)
2nd: Beau O'Brian (2:19:06)
3rd: Paul Jackson (2:20:26)
4th: Sam Parker (2:25:52)
5th: Marcus Tardrew (2:27:04)
6th: Charles Domin (2:31:23) *Unlimited
7th: Ben Tardrew (2:32:13)
8th: Will Lee (2:32:55)
9th: Andy Davies (2:35:35)
10th: Steve Walker (2:38:06)
11th: Dale Chapman (2:42:54)
12th: Brad Gaul (2:43:29)
13th: Peter Pridmore (2:46:19)
14th: James Tibbet (2:49:25)
15th: Kim Ovenden (2:51:29)
16th: Jon Locke (2:52:20) *Unlimited
17th: Cameron McKay (2:55:53)
18th: Jackson Shaw (2:57:26)
19th: Roger Goodwin (3:02:57)
20th: Adam Quinn (3:05:41)
21st: Scott McCluskey (3:06:18)
22nd: Luke Jenkins (3:12:02)
23rd: Jonathan Cowcher (3:12:21)
24th: Keiran O'Riordan (3:12:57)
25th: Derek Jones (3:13:52)
26th: Mark Hall (3:13:59)
27th: Wesley Fry (3:15:57)
28th: Gordon McKercher (3:16:19)
29th: Gordon Stimson (3:19:31)
30th: Travis Murphy (3:20:53)
31st: Kent Wright (3:22:03)
32nd: Richard du Preez (3:23:55)
33rd: Steve McCullough (3:25:00)
34th: Lach Simpson (3:25:45)
35th: Jeremy Bower (3:26:55)
36th: Piran Holloway (3:31:34)
37th: David Slater (3:37:47) *Unlimited
DNF: Greg Kerr
DNF: Joe Fry
DNF: Craig Fisher
WOMEN
1st: Karla Gilbert (2:39:49)
2nd: Angela Jackson (2:40:38)
3rd: Jade Lane (3:37:47)
DNF: Terrene Black
ROLLING UPDATES…
UPDATE 4:00pm (Perth time): That's it for the rolling updates. It was a tight battle in both the men's and women's races so congrats to Jake and Karla for coming away with the victories! We'll post the times above as they happen. Big thanks to Jake Jensen's family for phoning in the live updates from the escort boat.
UPDATE 3:42pm (Perth time): Karla Gilbert WINS 'The Doctor' 2014
UPDATE 3:40pm (Perth time): Karla Gilbert is about to hit the beach now to take the women's race victory. Karla had to dig deep to claim this win, after being pushed all the way by fellow Gold Coaster Angie Jackson.
UPDATE 3:20pm (Perth time): Gotta be a tough loss for Beau O'Brian, after leading for much of the race his runner-up finish mirrors his result from 2013, where Travis Grant took a narrow victory. Almost all of the paddlers are still out in the water so keep refreshing and we'll post results as they happen.
UPDATE 3:17pm (Perth time): Jake Jensen WINS 'The Doctor' 2014. Jake pulled away from Beau O'Brian in the dying stages to seal the victory. Beau is about to cross the line in 2nd while it looks like Jacko will take 3rd. Looks like Jake's line closer in to shore has paid off.
UPDATE: 3:15pm (Perth time): Jake has paddled hard in the last 10 minutes, plus his line seems to have paid off. Beau is about 300 metres behind and it looks like Jake will take the win.
UPDATE 3:05pm (Perth time): Ok the lead guys are nearing Sorrento (where the race finishes) and it's going to be a very tight race to the line. Still neck and neck between Beau and Jake in the men's, while the women's race is still up for grabs between Karla and Angie.
UPDATE 2:55pm (Perth time): Paul Jackson is holding down third but it looks to be a two-horse race. Jake and Beau are 300 metres ahead of Jacko but it's hard to tell exactly who's winning as they've taken different lines. Jake has taken a line much closer to shore, while Beau is 300-400 metres further out to sea. Jake may have a very slight lead right now but Beau may finish on a better line.
Only about 3-4kms to go in the race so we'll find out who the winner is in about 20 minutes…
UPDATE 2:45pm (Perth time): Still a tight battle in the women's race, with Karla and Angie battling for the win. Karla has about a 50 metre lead over her fellow Gold Coaster.
Meanwhile in the guys' race it's local boy Marcus Tardrew up in 5th place, about 50 metres behind Sydney's Sam Parker. The lead boat is motoring back up to the front three guys now so we'll have an update on the leaders in a few minutes…
UPDATE 2:10pm (Perth time): Ok the boats are back in range and we just spoke to Jake Jensen's escort crew. Here's the latest situation as the paddlers approach the halfway mark of the race (they've been going for 1 hour 10 minutes – last year's winning time was 2 hours 21 minutes)..
MEN: Beau has a 50 metre lead over Jake, with Jacko 200 metres behind that and then Sam Parker a further 400 metres behind.
WOMEN: Karla Gilbert has a 150 metre lead over Angie Jackson, with Terrene Black a further 250 metres behind that.
UPDATE 2:05pm (Perth time): The lead boats that are phoning in updates have gone out of mobile phone range, so it might be a slight wait before any new race updates come through.
UPDATE 2:00pm (Perth time): So who's competing? Here's the complete list of starters..
In the main division, the men's 14 foot class, we've got: Jackson Shaw, Rory Chapman, James Tibbett, Kieran O'Riordan, Paul Jackson, Steve Walker, Travis Murphy, Adam Quinn, Marcus Tardrew, Peter Pridmore, Scott McCluskey, Gordon McKercher, Gordon Stimson, Piran Holloway, Steve McCullough, Ben Tardrew, Willam Lee, Jonathan Cowcher, Mark Hall, Kim Ovenden, Lach Simpson, Derek Jones, Peter Baldwin, Sam Parker, Richard du Preez, Greg Kerr, Luke Jenkins, Jeremy Bower, Roger Goodwin, Wesley Fry, Kent Wright, Joe Fry, Cameron McKay, Andy Davies, Brad Gaul, Jake Jensen, Beau O'Brian and Dale Chapman.
Meanwhile outside the main class we've also got Jon Locke, Charles Domin, David Slater, Craig Fisher and Brendon Sarson on unlimited boards, while Craig Tuesley is the only paddler crazy enough to attempt the crossing on a 12'6.
The women's field is looking mighty slim with only Angela Jackson, Terrene Black, Karla Gilbert, Jade Lane named on the start list, though that list still includes the country's top three females.
So 48 starters all up. Not exactly a huge field, however considering the logistics involved in just getting to the start line for this race (it's almost like Australia's answer to Molokai), that's actually not too bad.
UPDATE 1:30pm (Perth time): Conditions? This race is named after The Fremantle Doctor, the afternoon seabreeze that blows like clockwork in the south west coastal areas of WA.
When the wind is on, it makes The Doctor race a classic downwinder. However if the wind doesn't come up, this race can be a grueling affair. For the non-Aussies reading this, keep in mind that Australia is in the middle of (a particularly hot) summer right now. The weather on Rottnest Island was 35 degrees C (95 F) when the race started. That makes doing anything hot, but when you're trying to paddle as fast as you can for three straight hours, you can imagine how draining it becomes.
So yeah, the paddlers really, really want some wind. Both to cool things down but also turn the race into a downwinder, which is physically a lot easier than a flatwater paddle. Are they getting any breeze? Here's the latest wind map for the area. The wind is predicted to pickup pretty quickly this afternoon, so the guys and girls should be getting quite a bit of relief by the time they're right out in the channel.

UPDATE 1:15pm (Perth time): Ok so while we're waiting for the action to unfold, here's a quick look at the race course. The paddlers will start on Rottnest Island and paddle 27.5km (17 miles) back towards the mainland.
UPDATE 1:05pm (Perth time): The leaders have just rounded the first marker straight off Rottnest Island and are now heading back to the mainland (via the central channel marker). Taking an early lead are Jake Jensen and Beau O'Brian, who have about 50 metres on Paul Jackson and Sam Parker.
UPDATE: 1:00pm (Perth time): Race has just started… The Stand Up Paddlers are off and paddling, while the surfskis will start in another 30 or 40 minutes (The Doctor is traditionally a surfski race, with those divisions having hundreds of competitors compared with 30-50 SUPs).
UPDATE 12:50pm (Perth time): The stand up paddlers are in the water and about to start at any moment.
UPDATE 12:00pm (Perth time): The wind has swung around to the south (which is a good thing) and the race could be starting soon.
UPDATE 10:00am (Perth time): The start of the race is anywhere between 10am and 2pm local time, depending on the wind. Looks like we might be in for a later start today.
---
Looking for more SUP race result? Head on over to our Race Results by Riviera page, where you can access results from close to 300 races around the world. It's kinda epic…