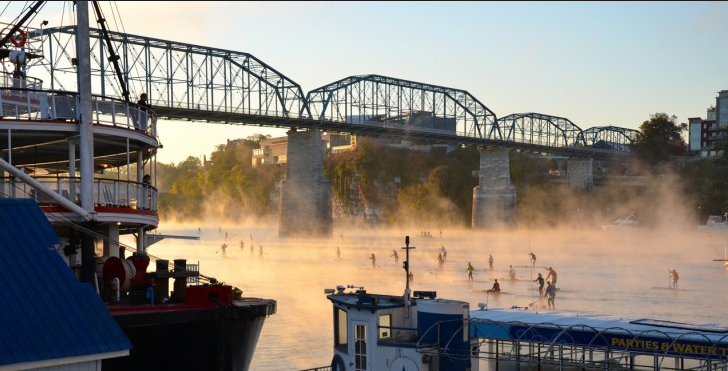 October 25, 2014
by Christopher Parker (@wheresbossman)
UPDATED RESULTS: Larry Cain Wins The Chattajack Race (aka The Inland Molokai)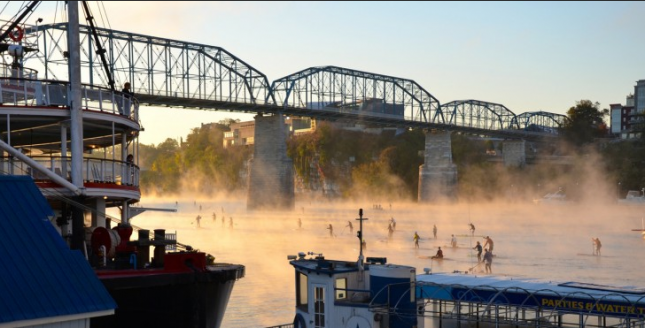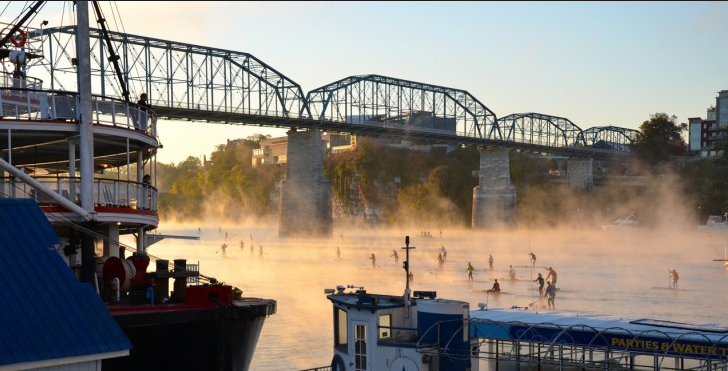 Results from today's Chattajack race in Chattanooga, Tennessee. The race has only just finished but it looks like Larry Cain has taken out the 14′ class and overall line honours. We'll try and round up the full results for you asap.
The Chattajack race winds along the Tennessee River Gorge and the course is supposedly 31 miles, however many a GPS have nudged closer to 32.
That's the same length of the Molokai-2-Oahu race. Combine that with the fact this is both a SUP and prone race and we might as well call Chattajack the Inland Molokai.
MORE >> 44 Beautiful Photos From The Chattajack Race
I spoke to renowned paddleboarding filmmaker Chris Aguilar after the race to get some insights. Sounds like it was a tough day on the water, with no help from the expected downstream current plus a cruel headwind just to rub it in. Apparently the final couple of miles were straight into the wind (sound familiar?! this really is the Inland Molokai…).
"I just finished the race (14′ prone, solo) and it was gnarly. Organisers predicted that we'd have a good downstream current, with 37,000 CFS expected to be released from the upstream dam. However only 13,000 CFS were released this morning, which basically meant the stream was dead still…

To make it worse, especially for the SUPs, there was a solid headwind almost all day. It tapered in some parts, as the course zig-zagged down the river, however the last few miles were all uphill. I think I lost a couple of minutes per mile in the closing stages due to a combination of fatigue, headwind and even an incoming current.

It's a really tough race. Though you can't help but think of all the history around these parts while you race – it really is an amazing and special place…"
Sounds rough. Anyway we'll have results for you as soon as they're officially released, so check back soon. UPDATE: Full results below. Big effort from Mike Tavares to claim second while Steve Dullack was only a few minutes further adrift.
Check out those finish times: FIVE hours…
Here's what race winner Larry Cain had to say about the event:
"Just got home from an awesome weekend and race in one of the most scenic locations I've ever paddled in, but the theme this weekend was definitely distance. 2800 km round trip driving and a 53 km race according to my GPS. Chattajack is definitely a bucket list race. Glad I've checked it off the list but if future years are as fun as this year's I'll have to go back. Huge thanks to Ben Friberg for organizing an awesome event and tackling the logistics of a race covering a huge area and to Joe Bark, Chris Aguilar, Chandler, Heather, Steve, Reno, Andrew and Ben for the laughs and comradeship. Definitely made the weekend more than just an awesome race but a ton of fun too.

Stoked to have had Michael Tavares to paddle with for most of the race. We were on pace to shatter 5 hours till the last 5km and I look forward to paddling with him anytime. Thanks to Bark Paddleboards, Surftech Sup and Quickblade Paddles for the support and encouragement that make going to events like this possible."
http://instagram.com/p/un7c8hGKn0
2014 Chattajack Results
You can view the full results on the official site. Here are the top finishers:
MEN'S 14′
1st: Larry Cain (5:05:21)
2nd: Mike Tavares (5:10:34)
3rd: Steve Dullack (5:13:22)
4th: Zach Rounsaville (5:17:04)
5th: Jeremy Whitted (5:18:09) (though according to Facebook he was first on a 12'6)
6th: Patrick Broemmel (5:18:35)
7th: Reid Nelson (5:24:46)
8th: Tony Paul (5:26:06)
9th: Ed Naggiar (5:29:39)
10th: Anthony Abraham (5:31:12)
WOMEN'S 12'6
1st: Karen Wilson (6:07:17)
2nd: Chandler Bold (6:07:19)
3rd: Patricia Miller (6:07:26)
4th: Kim Hillhouse (6:08:56)
5th: Lizi Ruiz (6:10:04
And to give you an idea of what this race looks like, here's the 2013 Chattajack highlights reel: