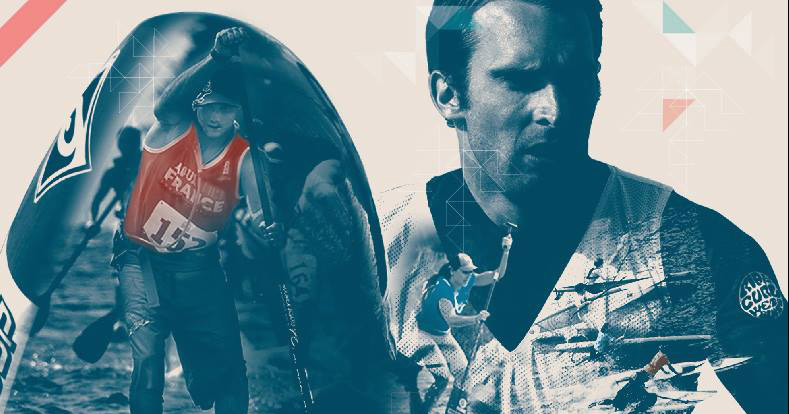 November 4, 2014
by Christopher Parker (@wheresbossman)
This Weekend: France's Finest Battle For A Spot At The Worlds (And: How Awesome Is This Event Poster?!)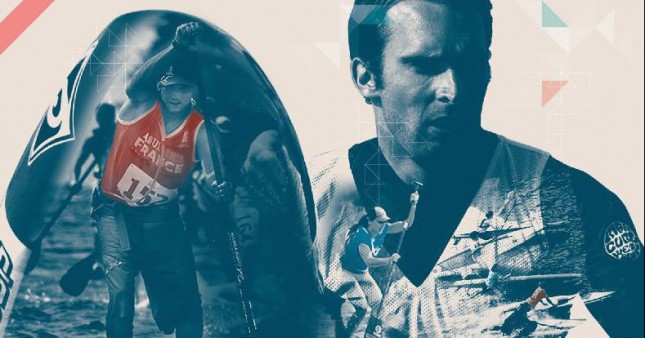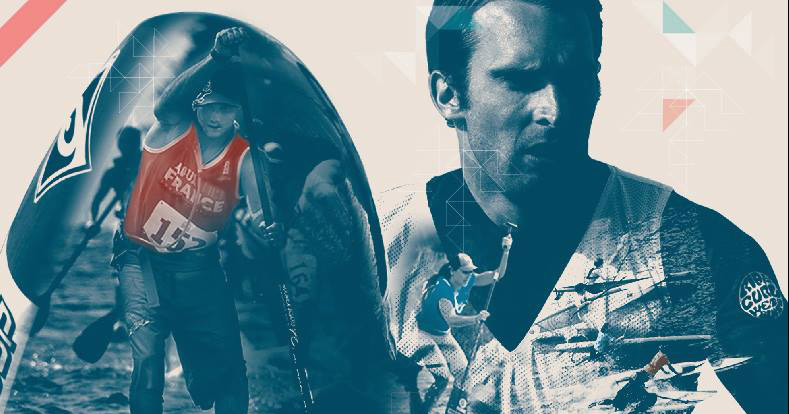 The French National SUP Racing Championship, aka the Championnats de France de SUP Race (sounds so much cooler in French…), is happening this weekend. And I'm excited about this event.
The 'Championnats' is the first part of the selection process for Team France 2015, the squad that will wear the red berets at next year's ISA World SUP and Paddleboard Championship (which will be held in _ _ _ _ _ _).
This 2014 French Champs are happening at Quiberon on the country's Atlantic coast and the timing is pretty good, with the official dates/location for the 2015 ISA World Championship expected to be announced at the end of this week. The best paddlers from the traditional powerhouse of European SUP will battle it out in a distance race (Saturday) + technical course race (Sunday) format.
So why am I so excited about an event that features paddlers from just one country, is held in a far away, freezing cold location and in a language I don't really understand? Three things…
Firstly, Team France is always one of the strongest contenders at the Worlds, so this weekend could have a significant impact on the results at next year's ISA event.
Secondly, this was the event twelve months ago where Titouan Puyo came out of nowhere and announced himself as a legitimate contender.
Thirdly, how awesome is the event poster?!
France is one of the strongest nations in the world of stand up paddling, period. They've long been the dominant force in Europe and have often held their own on the world stage too.
The Frenchies will start as one of the top three or four nations at next year's ISA Worlds in my opinion. Even if every single nation sent their top paddlers (including an independent Hawaiian team), I'd still rate France as having a realistic chance of winning the overall title. Quite a few results would have to go their way of course, but it's not impossible. Either way they're a pretty good bet for the Team Podium (top four overall nations).
At the 2014 Worlds in Nicaragua, France could have/should have been fighting the USA for second place behind Australia, at least until a very cruel disqualification in the team relay relegated them to fifth place in the overall.
The Achilles heel of most teams at the ISA Worlds is the prone paddling divisions. France has a relatively strong lifeguard culture though, so if they can convince their fastest lay-down-paddlers to race next year then they'll have a big head start.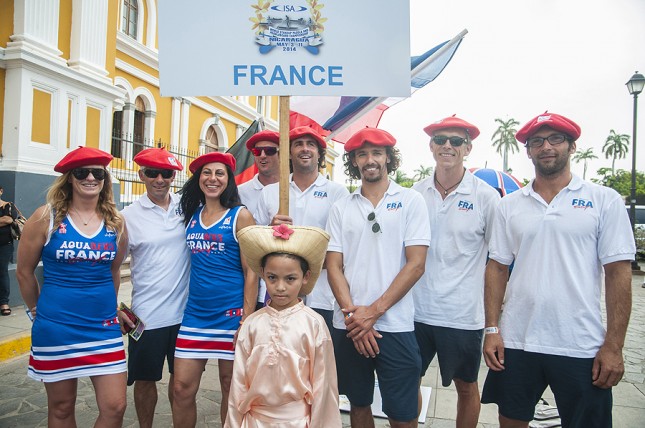 The rest of the French squad is very reliable – their SUP surfers usually make the podium and their female SUP racers have fought very hard at both national and international level (this weekend will probably see a rematch of the clash between Olivia Piana and Celine Guesdon from last year).
Meanwhile Eric Terrien has always held down the fort on the men's racing side. However he's no longer flying the flag alone…
Apart from a new wave of young guns, led by Arthur Daniel, Arthur Arutkin and Martin Letourneur plus the old guard such as Gaetan Sene, Greg Closier and Yoann Cornelis, there's a new face of French racing.
Twelve months ago Titouan Puyo was a complete unknown in the world of stand up paddling. Even most of the paddlers in France hadn't heard of him, let alone those in Australia or California.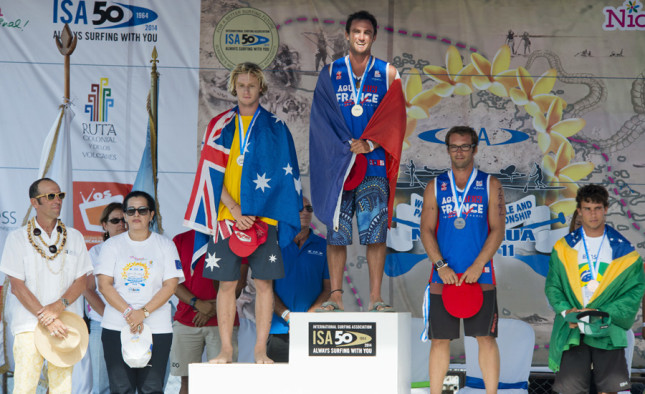 That was partly due to the fact Titou lives in the French outpost of New Caledonia (which is literally on the other side of the world) but mainly because the guy only started stand up paddling in early 2013. Even right now, with all he's achieved in 2014, Titouan has been paddling for less than two years. I know, it's annoying isn't it…
Of course he does have 10 years outrigger experience behind him, which doesn't hurt, but as far as the SUP world is concerned: Titouan Puyo came out of absolutely nowhere at the French 'Championnats' twelve months ago, defeating the previously-undefeated Eric Terrien in the distance race and kickstarting what has been one of the fairy-tale stories of recent times.
Titou proved his win at the 2013 French Nationals was no fluke, going on to win gold at the 2014 ISA World Champs in the distance event (with Eric taking the bronze in what was a very memorable race for the French team) ahead of a very classy field of international competitors.
So I guess it's rather fitting that the two heroes of that memorable race are now the face of the 2014 Championnats de France de SUP Race event poster.
And what a poster it is…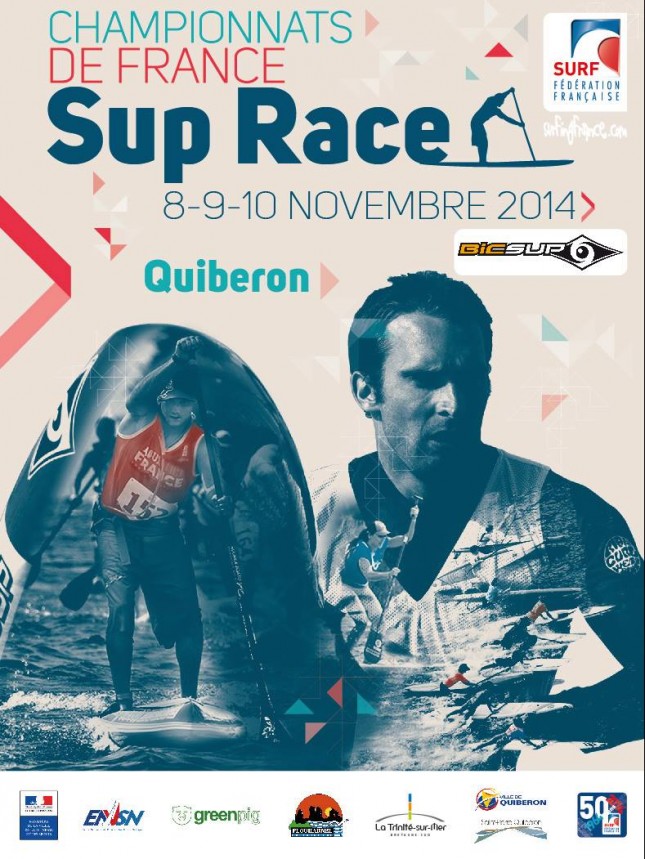 Look at it. Look at it!
It makes absolutely no sense whatsoever, at least not at first glance. However on closer inspection I think this is actually one of the greatest SUP posters I've ever seen. There's definitely some artsy French style going on in there but quite frankly I love it.
Though is it just me or does Eric Terrien look like an evil Bond villain that's carrying a glass bubble with Titouan Puyo trapped on the inside? (Paddle for your freedom Titou! Paddle!!)
Ok so maybe I'm feeling the effects of today's plane trip (my 44th of the year) or maybe this really is the greatest stand up paddling event poster ever?
Regardless of your thoughts on modern French design, one thing is for sure: This weekend is going to see some interesting and hard fought racing in Quiberon, France.
And of course we'll keep you posted with how it all goes down here on SUPracer.com (as well as the dates/location for the 2015 ISA Worlds – keep your eye out for an announcement any day now).