April 12, 2013
by Christopher Parker (@wheresbossman)
[RESULTS] U.S. SUP Tour @ Huntington Beach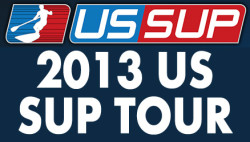 The first stop of the 2013 U.S. SUP Tour – the new three-event series that will decide Team USA for the 2014 World Champs – has just finished at Huntington Beach. Matt Becker was victorious in the Elite Men's SUP Race, coming home ahead of young gun Mo Freitas and picking up $1,000 for his effort.
Check out the results below and for more info there's a full recap over at SUP The Mag.
The 2nd leg of the 2013 U.S. Stand Up Paddle Tour is happening at Seaside Heights, New Jersey from 17th-19th May.
Men's SUP Race – Money Winners
1st: Matt Becker ($1,000)
2nd: Mo Freitas ($750)
3rd: Brennan Rose ($500)
4th: Brian Murphy ($400)
5th: Colin Mcphillips ($350)
6th: Chance Fielder ($300)
7th: Byron Kurt ($250)
8th: Griffin Ross ($200)
9th: Willis Brown ($150)
Women's SUP Race – Money Winners
1st: Tamara Lentz ($400)
2nd: Sarah Messina ($250)
3rd: $150 Sofia DeWolfe ($150)
4th: $100 Terri Plunkett ($100)
See full results (including SUP Surfing) on the official site.