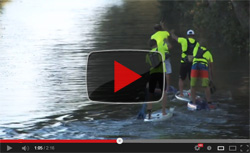 September 5, 2013
by Christopher Parker (@wheresbossman)
WATCH: Video Highlights From The SUP 11 City Tour
Video highlights of the SUP 11 City Tour, which is happening right now in the Netherlands. In case you've somehow missed our coverage of this event the past few days here's a quick primer: The race involves five different stages over five days. All up it's 220 kilometres (137 miles). Competitors are on the water between four and eight hours each day. Overall winning times are expected to be around 24 hours in total.
Oh and it's all flat water… the whole way. Yes, the 11 Cities is a grueling race. Well now you get a glimpse of just how grueling it is, with daily video highlights from Holland. The first two stages are below and we'll keep adding each day as the vids get released. UPDATE: The race has just finished, so check out highlights from all five stages below…
(and of course you can follow the SUP 11 City Tour RESULTS daily as well).
SUP 11 City Tour: Day 1 Highlights
SUP 11 City Tour: Day 2 Highlights
SUP 11 City Tour: Day 3 Highlights
SUP 11 City Tour: Day 4 Highlights
SUP 11 City Tour: Day 5 Highlights