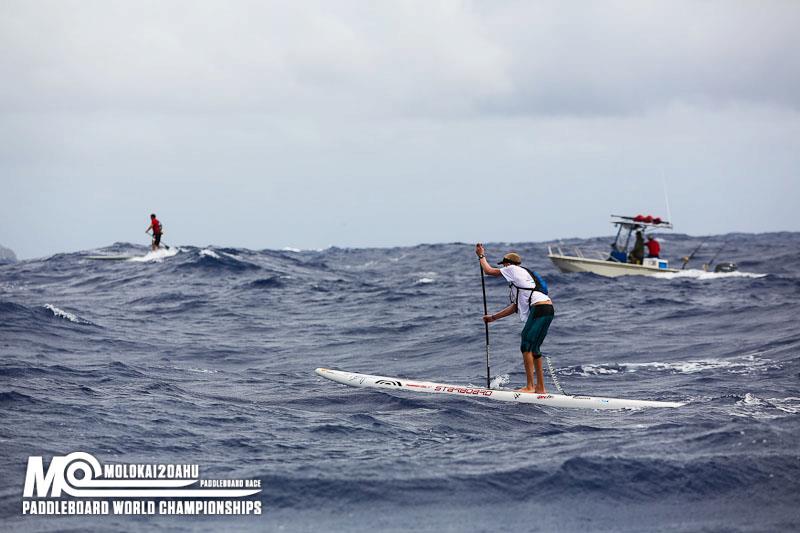 June 24, 2013
by Christopher Parker (@wheresbossman)
Who's Doing Molokai? Check Out The Full Competitor List And Find Out…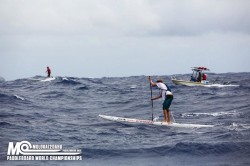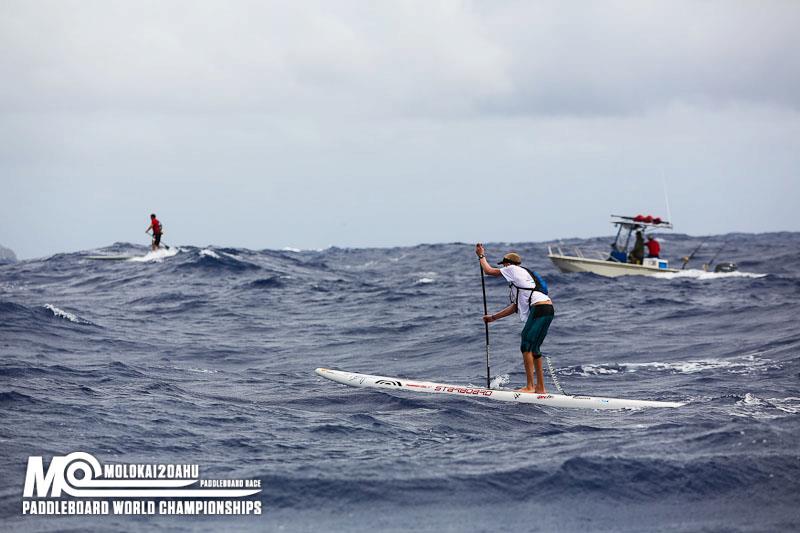 We're only a month away from one of the most prestigious SUP races on the calendar; the 2013 Molokai-2-Oahu Paddleboard World Championships. We called it a couple of months back; this will be the most competitive SUP fields ever assembled for Molokai, with the likes of Danny Ching and Travis Grant signing on for the first time.
Well now you can see how the entire field of stacks up with the full competitor list. There's going to be 156 Stand Up Paddlers competing this year…
The big four are there: Connor Baxter (winner of the past two titles), Danny Ching, Travis Grant, Kai Lenny.
Missing are a couple of big names: 2010 Champion Dave Kalama and 10x Paddleboard Champ Jamie Mitchell, however there's a whole stack of dark horses that could challenge Connor, Danny, Kai and Travis.
One of those is Scott Gamble. Now Scott is hardly a dark horse, at least not among the Hawaiian paddling fraternity, but he doesn't have the same reputation as the big guns and could fly under the radar. The Oahu paddler was apparently in the lead last year, before unfortunately pulling out with injury, so look for him to be right near the front again this year.
There's plenty of other well known names on the start list; Brazilian-come-Maui-boy Livio Menelau is always up there. Young guns Kody Kerbox and Mo Freitas have the speed to win, but their endurance is perhaps a little untested. France's Eric Terrien knows the Ka'iwi Channel well and has been testing out his Molokai board in Europe the past couple of weeks. America's Cup winning skipper Jimmy Spithill will probably surprise a few people. While in the Stock class we've got the likes of Andrew Logreco (multiple winner of this division) and Florida's big guy, Chase Kosterlitz.
The women's field is looking super competitive as well. Defending Champ Talia Gangini (now Talia Gangini-Decoite after her recent marriage) will be back in the Solo race, though Downwind Queen and previous winner Andrea Moller will be looking to make up for a surprise defeat in 2012.
But the real question mark in the women's race will be how well Annabel Anderson performs. The New Zealander has been on a tear the past twelve months, winning every race in sight (sometimes defeating not only all the women but all of the men as well), however her Molokai skills are a bit of an unknown. The Kiwi loves downwinding though, so if we get half decent conditions this year I think Annabel will be right up there (and if we get bad conditions, it might actually work in her favour, as the downwinding skills of Andrea and co will be nullified…).
So check out the complete competitor list for all three SUP categories below, then keep your eye on SUPracer.com over the next five weeks for complete coverage of Molokai 2013.
Molokai 2013 In Numbers…
– 72 competitors have signed on for the Solo SUP category – 13 women and 59 men
– 18 solo paddlers are competing in the "stock" board class (14′ & under) – two women and 16 men
– 54 solo paddlers have signed on for the "unlimited" board class – 11 women and 43 men
– 14x three-person teams (total 42 competitors)
– 21x two-person teams (total 42 competitors)
– All up there's going to be 156 competitors across all of the SUP divisions
– Oldest competitor in the Solo category: 65-year-old Bob Arnot (USA)
– Youngest competitor in the Solo category: 15 year old Kimon Dos Santos (South Africa)
| Category | M/F | Name | Division | Age | Country |
| --- | --- | --- | --- | --- | --- |
| Solo | M | Bob Arnot | Unlimited - Male 50+ | 65 | US |
| Solo | M | Chikara Tsumura | Unlimited - Male 50+ | 60 | JP |
| Solo | M | Brad Feldman | Unlimited - Male 50+ | 56 | US |
| Solo | M | Scott Trudon | Unlimited - Male 50+ | 54 | US |
| Solo | M | Scott McPhail | Unlimited - Male 50+ | 51 | US |
| Solo | M | Michael Nunnery | Unlimited - Male 50+ | 50 | US |
| Solo | M | Stuart Murray | Unlimited - Male 50+ | 50 | AU |
| Solo | M | Joel Comer | Unlimited - Male 50+ | 50 | US |
| Solo | M | Billy Robello | Unlimited - Male 40-49 | 49 | US |
| Solo | M | Pietro Muscas | Stock - Male 40-49 | 48 | ZA |
| Solo | M | Peter Petersen | Stock - Male 40-49 | 48 | ZA |
| Solo | M | Kevin Horgan | Unlimited - Male 40-49 | 48 | US |
| Solo | M | Terry Stevens | Stock - Male 40-49 | 47 | VI |
| Solo | M | Christian Cook | Unlimited - Male 40-49 | 46 | US |
| Solo | M | Nevvar Hickmet | Unlimited - Male 40-49 | 46 | GB |
| Solo | F | Tomoe Yasu | Unlimited - Female (All Ages) | 46 | JP |
| Solo | F | Devin Blish | Unlimited - Female (All Ages) | 46 | US |
| Solo | M | Jerry Bess | Unlimited - Male 40-49 | 46 | US |
| Solo | M | Patrick Broemmel | Unlimited - Male 40-49 | 45 | US |
| Solo | M | J Stephens | Unlimited - Male 40-49 | 45 | US |
| Solo | M | Michael Richards | Stock - Male 40-49 | 44 | US |
| Solo | M | Norman Hann | Unlimited - Male 40-49 | 43 | CA |
| Solo | M | Stéphane Bodet | Unlimited - Male 40-49 | 42 | GP |
| Solo | M | Will Anido | Unlimited - Male 40-49 | 42 | AU |
| Solo | M | Ingo Rademacher | Unlimited - Male 40-49 | 42 | US |
| Solo | M | Vince Longo | Unlimited - Male 40-49 | 42 | US |
| Solo | M | Jeremy Riggs | Unlimited - Male 40-49 | 41 | US |
| Solo | M | Takuji Araki | Stock - Male 30-39 | 39 | JP |
| Solo | F | Brigette Van Aswegen | Stock - Female (All Ages) | 38 | ZA |
| Solo | M | Scott Gamble | Unlimited - Male 30-39 | 37 | US |
| Solo | M | Chase Kosterlitz | Stock - Male 29 & U | 37 | US |
| Solo | M | Yoshiaki Nagamatsu | Stock - Male 30-39 | 37 | JP |
| Solo | M | Roberto Araujo | Unlimited - Male 30-39 | 37 | BR |
| Solo | M | Jimmy Fitt | Unlimited - Male 30-39 | 36 | US |
| Solo | M | Tomoyasu Murabayashi | Unlimited - Male 30-39 | 35 | JP |
| Solo | M | Marcus Tardrew | Unlimited - Male 30-39 | 35 | AU |
| Solo | M | Livio Menelau | Unlimited - Male 30-39 | 35 | US |
| Solo | M | Craig Longobardi | Stock - Male 30-39 | 35 | US |
| Solo | M | James Spithill | Unlimited - Male 30 - 39 | 34 | AU |
| Solo | F | Andrea Moller | Unlimited - Female (All Ages) | 33 | US |
| Solo | M | Matthew Schollard | Stock - Male 30-39 | 32 | US |
| Solo | F | Annabel Anderson | Unlimited - Female (All Ages) | 32 | NZ |
| Solo | F | Lina Augaitis | Unlimited - Female (All Ages) | 32 | CA |
| Solo | F | Sonja Hönscheid | Unlimited - Female (All Ages) | 32 | DE |
| Solo | F | Jennifer Lee | Unlimited - Female (All Ages) | 32 | US |
| Solo | M | Eric Terrien | Stock - Male 30-39 | 31 | ES |
| Solo | M | Gustavo Oliveira | Stock - Male 30-39 | 31 | BR |
| Solo | F | Jennifer Kalmbach | Unlimited - Female (All Ages) | 30 | US |
| Solo | M | Travis Grant | Unlimited - Male 30-39 | 30 | AU |
| Solo | M | Danny Ching | Unlimited - Male 30-39 | 30 | US |
| Solo | F | Terrene Black | Unlimited - Female (All Ages) | 30 | AU |
| Solo | M | Luiz Carlos Guida | Unlimited - Male 30-39 | 30 | BR |
| Solo | F | Rachel Bruntsch | Stock - Female (All Ages) | 29 | US |
| Solo | M | Andrew Ching | Unlimited - Male 29 & U | 29 | US |
| Solo | M | Andrew Logreco | Stock - Male 29 & U | 28 | US |
| Solo | F | Mariko Strickland | Unlimited - Female (All Ages) | 26 | US |
| Solo | M | Kaeo Abbey | Unlimited - Male 29 & U | 26 | US |
| Solo | M | Tamarua Cowan | Unlimited - Male 29 & U | 25 | PF |
| Solo | M | Chuck Glynn | Stock - Male 29 & U | 24 | US |
| Solo | M | Christian Bradley | Stock - Male 29 & U | 23 | US |
| Solo | M | Kai Lenny | Unlimited - Male 29 & U | 20 | US |
| Solo | F | Talia Gangini Decoite | Unlimited - Female (All Ages) | 20 | US |
| Solo | M | Kody Kerbox | Stock - Male 29 & U | 19 | US |
| Solo | M | Zane Schweitzer | Unlimited - Male 29 & U | 19 | US |
| Solo | M | Noa Ginella | Unlimited - Male 29 & U | 19 | US |
| Solo | M | Connor Baxter | Unlimited - Male 29 & U | 18 | US |
| Solo | M | Matt Becker | Unlimited - Male 29 & U | 18 | US |
| Solo | M | Vinnicius Martins | Unlimited - Male 29 & U | 17 | BR |
| Solo | M | Travis Baptiste | Unlimited - Male 29 & U | 16 | US |
| Solo | M | Riggs Napolean | Stock - Male 29 & U | 16 | US |
| Solo | M | Mo Freitas | Unlimited - Male 29 & U | 16 | US |
| Solo | M | Kimon Dos Santos | Unlimited - Male 29 & U | 15 | ZA |
| Category | Team Captain | Partner | Division |
| --- | --- | --- | --- |
| Two-person | Figueroa, Karen | Dominique Miller | Stock 14' - Female (All Ages) |
| Two-person | Fourcade, Teva | Austin Yonehiro | Stock 14' - Male 79 & Under |
| Two-person | Grimaud, Laurent | Steven Frogier | Stock 14' - Male 80+ |
| Two-person | Hart, Dana | Shane White | Stock 14' - Male 80+ |
| Two-person | Ingalls, Tucker | Poenaiki Riaoha | Stock 14' - Male 79 & Under |
| Two-person | Kalepa, Archie | Dave Parmenter | Stock 14' - Male 80+ |
| Two-person | Klemawesch, Patrick | Stephen Klemawesch | Stock 14' - Male 100+ |
| Two-person | Moore, Patrick | Blake Francis | Stock 14' - Male 79 & Under |
| Two-person | Ouellet, Kerstin | Keith Meter | Stock 14' - Mixed |
| Two-person | Patterson, Chuck | Ridge Lenny | Stock 14' - Male 79 & Under |
| Two-person | Pestana, Edmund | Yannick LII | Stock 14' - Male 100+ |
| Two-person | Roberts, Kevin | Ryan Helm | Stock 14' - Male 80+ |
| Two-person | Schweiger, Michi | Manca Notar | Stock 14' - Mixed |
| Two-person | Smith, Bill | Mike Evatt | Stock 14' - Male 100+ |
| Two-person | Smith, Vanessa | Stu Sohier | Stock 14' - Mixed |
| Two-person | Stehlik, Robert | Greg Pavao | Stock 14' - Male 80+ |
| Two-person | Sterling, Jamie | Teammate Needs to Register | Stock 14' - Male 79 & Under |
| Two-person | Szymanski, Brian | Matt Friedman | Stock 14' - Male 80+ |
| Two-person | Walker, Eric | Gail Vento | Stock 14' - Mixed |
| Two-person | Wheeler, Ed | Halie Harrison | Stock 14' - Mixed |
| Two-person | Willis, Alika | Leleo Kinimaka | Stock 14' - Male 100+ |
| Category | Team Captain | Paddler #2 | Paddler #3 | Division |
| --- | --- | --- | --- | --- |
| Three-person | Cachuela, Alex | Walter Machado | Alika Tom | 3-Man: SUP - Open Male (No Elites) |
| Three-person | Chang, Jeff | Nicole Madisok | Stephen Pugh | 3-Man: SUP - Open Mixed (No Elites) |
| Three-person | Farrer, Cameron | Brett Thomas | Team Member Needs to Register | 3-Man: SUP - Open Male (No Elites) |
| Three-person | Fong, Scotty | Kekoa Uemura | Team Member Needs to Register | 3-Man: SUP - Open Male (No Elites) |
| Three-person | Frey, Roch | Greg Welch | David Darbs | 3-Man: SUP - Open Male (No Elites) |
| Three-person | Froiseth, Teene | Sandy Deeley | Scott Adams | 3-Man: SUP - Open Male (No Elites) |
| Three-person | Gomes, Lani | Kanakolu Noa | Sharon Look | 3-Man: SUP - Open Female (No Elites) |
| Three-person | Hoesterey, Morgan | Kate Dowling | Fran Kasssberg | 3-Man: SUP - Open Female (No Elites) |
| Three-person | Hope, Dale | Victor Lopez | Dale Hope | 3-Man: SUP - Open Male (No Elites) |
| Three-person | Jeppesen, Heather | Beau Oliveira | JH Tillman | 3-Man: SUP - Open Mixed (No Elites) |
| Three-person | Lui-kwan, Don | Jon Lui-kwan | Aaron Lui-Kwan | 3-Man: SUP - Open Male (No Elites) |
| Three-person | Nagasawa, Scott | Lyman Ashikawa | Marj Takabayashi | 3-Man: SUP - Open Mixed (No Elites) |
| Three-person | Smith, Curtis | Bobby Balouskas | Randy Viveiros | 3-Man: SUP - Open Male (No Elites) |
| Three-person | Titcomb, Herbie | George Kam | Kent Kam | 3-Man: SUP - Open Male (No Elites) |
(click here to see the official list, including prone paddleboard divisions)