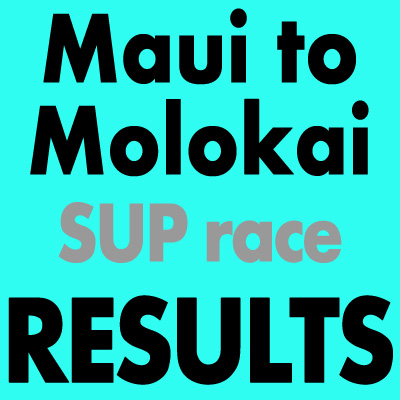 July 13, 2013
by Christopher Parker (@wheresbossman)
[RESULTS] Connor Baxter, Terrene Black Win Maui To Molokai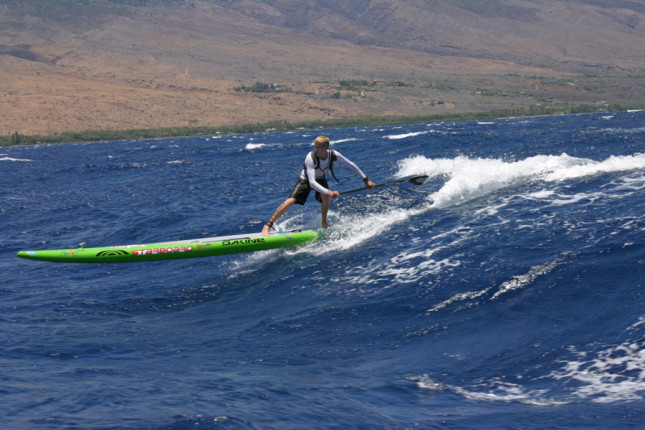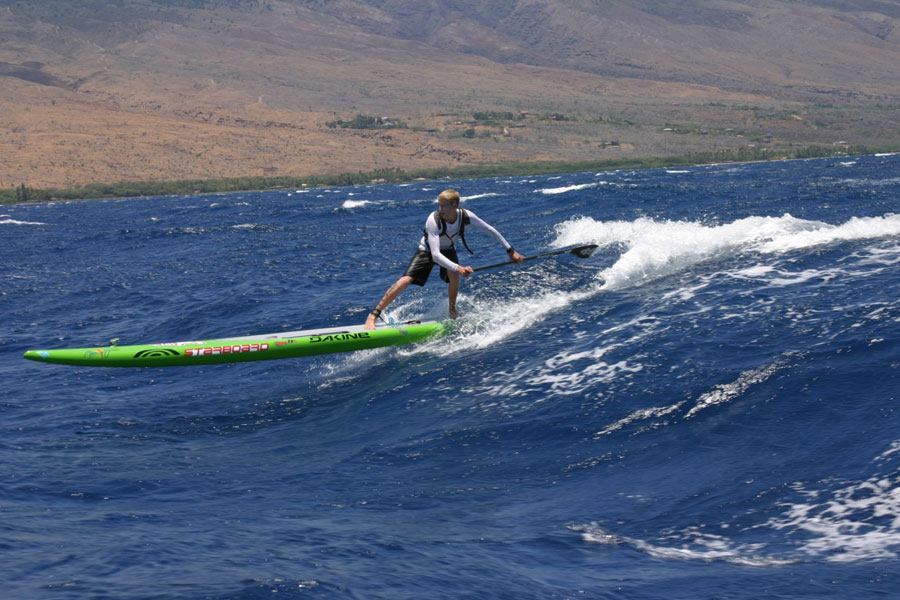 >>> MORE: Check out Connor Baxter's Maui to Molokai recap (plus some awesome photos)
Take a look at the early results from today's big event in Hawaii, the 27 mile Maui to Molokai SUP race. Plenty of the world's best are on the islands for "Downwind Month" so expect a stacked field to line up on the West side of Maui for the epic crossing.
All eyes will be on defending champion Connor Baxter, who will be looking to not only defend his M2M crown but also make a statement ahead of the big Molokai-2-Oahu race in two weeks time.
Last year Maui-Molokai was part of the Triple Crown of SUP, but those three events were cut down to one this year, leaving organisers to label today's race the "World Cup of SUP" instead.
Despite often getting lost in the excitement surrounding it's older sibling, the Molokai-2-Oahu event in two weeks time, the M2M is a huge race in its own right. The course is 27 miles, just 5 miles shy of the M2O distance, making it a huge commitment by all competitors. Plus the conditions in the Pailolo Channel between Maui and Molokai are usually better for downwinding than in the famous Ka'iwi Channel between Molokai and Oahu. That makes the M2M more "fun" for the paddlers, even if it doesn't have quite the same prestige as M2O.
It's 9am in Hawaii and paddlers are just making their way to the start line at Honolua Bay on the West of Maui. The start is scheduled for 10am, so check back in about five hours for live results as the paddlers cross the line at Kaunakakai Pier on Molokai…
>> SATURDAY UPDATE #1: The first paddlers are just approaching Molokai now and no surprise… Connor Baxter is about to claim the 2013 Maui to Molokai title, going back to back and sending a strong message to his competitors ahead of the Molokai-2-Oahu race in two weeks time.
>> SATURDAY UPDATE #2: Travis Grant (Australia) takes 2nd, Dave Kissane (Australia) 3rd. Terrene Black (another Aussie) wins the women's race. Awesome effort from Travis, who beat out plenty of local and more experienced paddlers. Amazing effort from Kissane as well, who's highly under rated despite beating consistently beating competitors half his age (Dave is over 40!).
>> SATURDAY UPDATE #3: Still waiting on full results and times… Stick with us, we'll have them posted as soon as we hear something.
>> MONDAY UPDATE: Still no news on results from the organisers… we'll update you if we hear anything. In the meantime, check out Connor Baxter's recap of Maui to Molokai race for some cool insights and awesome pics of the race.
>> WEDNESDAY UPDATE: Final results are.
*****
2013 Maui to Molokai SUP Race RESULTS
MEN'S
OVERALL TIMES
1st: Connor Baxter (3:09:57)
2nd: Travis Grant (3:14:13)
3rd: Dave Kissane (3:18:12)
4th: Livio Menelau (3:20:30)
5th: Cowan Tamarua (3:22:50)
6th: Jeremy Riggs (3:25:46)
7th: Kody Kerbox (3:28:37)
8th: Scott Trudon (3:29:04)
9th: Vinnicius Martins (3:42:36)
10th: Zane Schweitzer (3:43:23) [1st 14′ class]
11th: Marcus Tardrew (3:43:45)
12th: Tomoyasu Murabayashi (3:43:47)
13th: Paul Jackson (3:44:46) [2nd 14′ class]
14th: Joshua Riccio (3:46:04) [3rd 14′ class]
15th: Armie Armstrong (3:46:55)
16th: Luiz Guida (3:48:55)
17th: Chase Kosterlitz (3:50:38) [4th 14′ class]
18th: Mo Freitas (3:51:35)
19th: William Robello (3:52:26)
20th: Kaeo Abbey (3:55:41)
21st: Robert Teriitetlau (3:56:13)
22nd: Terrene Black (3:56:30) [1st Women's]
23rd: Alessandro Matero (3:59:06)
24th: James Fitt (3:59:14)
25th: Andre Domin (4:01:09)
26th: Jeff Chang (4:04:51)
27th: Gustavo de Oliveira (4:05:09)
28th: James Martindale (4:10:47)
29th: Belar Diaz (4:12:33) [5th 14′ class]
30th: Brennan Rose (4:14:23) [6th 14′ class]
31st: Matt Becker (4:14:24) [7th 14′ class]
32nd: Ed Wheeler (4:18:00)
33rd: Buzzy Kerbox (4:31:13)
34th: Peter Petersen (4:32:28) [8th 14′ class]
35th: Thiago Sayao (4:36:25)
36th: Philip Binney (4:37:43)
37th: Vetea Ribet (4:39:39) [9th 14′ class]
38th: Jennifer Lee (4:41:39) [2nd Women's]
39th: Kimon Santos (4:43:46)
40th: Jeff Erickson (4:46:22) [10th 14′ class]
41st: Jason Cantor (4:47:41)
42nd: Lina Augaitis (4:49:05) [3rd women's / 1st women's 14′ class]
43rd: Archie Kalepa (4:52:18) [11th 14′ class]
44th: Sharen Look (5:03:15) [4th women's]
45th: Brigette van Aswegen (5:07:11) [5th women's / 2nd women's 14′ class]
46th: Joe Moura (5:08:52)
47th: Margaret King (5:34:23) [6th women's]
Unlimited board class
1st: Connor Baxter
2nd: Travis Grant
3rd: Dave Kissane
14 ft board class
1st: Zane Schweitzer
2nd: Paul Jackson
3rd: Joshua Riccio
WOMEN'S
1st: Terrene Black
2nd: Jennifer Lee
3rd: Lina Augaitis
>>> SEE MORE PHOTOS
…plus hear from the champ himself with Connor's Maui-Molokai Race Recap