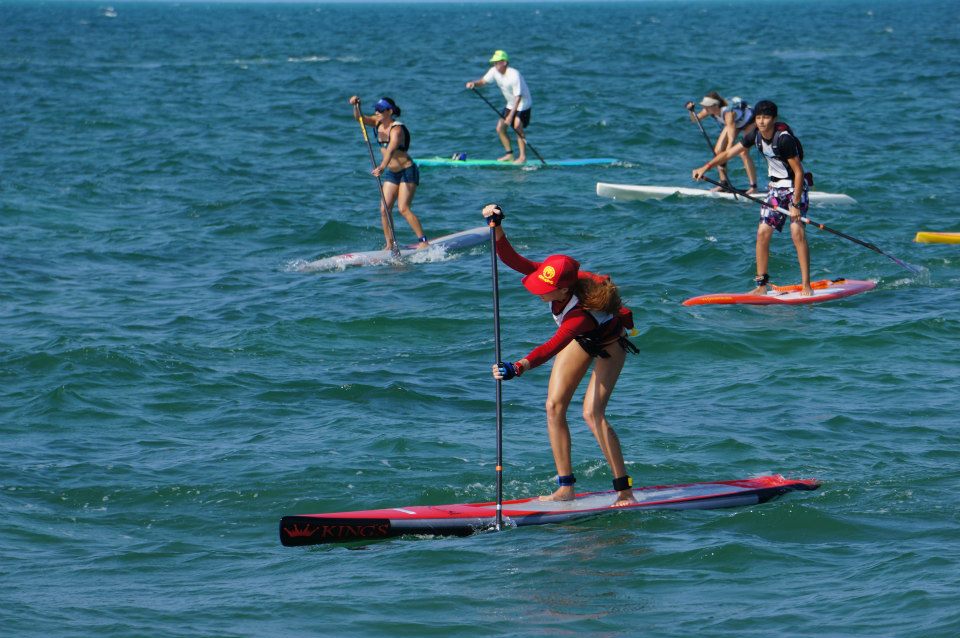 May 15, 2013
by Christopher Parker (@wheresbossman)
[RESULTS] 2013 Key West Classic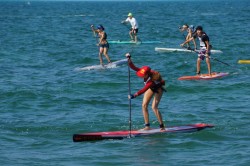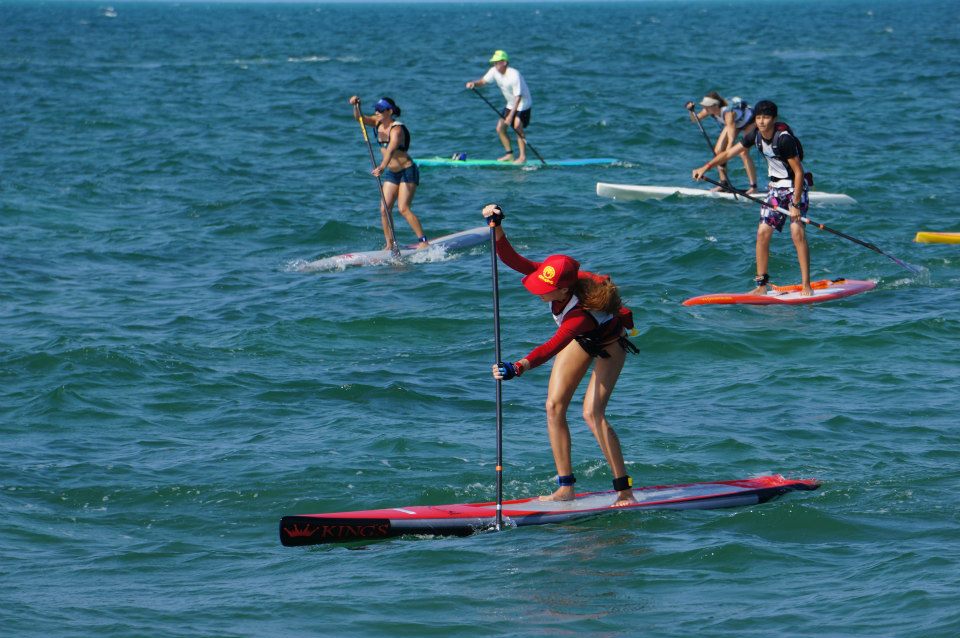 Check out the full race results from last weekend's big Key West Classic. The race drew close to 150 paddlers to the Florida Keys, proving once again just how popular SUP racing is on the U.S. East Coast.
As for the winners; Thomas Maximus took line honours on his Unlimited board, Charlie Howden held off a big field to claim the 14′ men's race and Heather Baus was far too strong in the women's 12'6 race.
Scroll down for full results from every SUP division…
Also take a look at the epic Key West Classic photo we posted yesterday, and which captured just about all of the 150 paddlers in one single, panoramic frame…
There's also plenty of "normal" photos over on Precision Paddleboard's Facebook gallery.
Men's 14′ Top 5
1st: Charlie Howden 2:13:56
2nd: Matthew McDonald 2:15:02
3rd: Jacob Portwood 2:18:47
4th: Packet Casey 2:22:52
5th: Andy White 2:25:18
Women's 12'6 Top 5
1st: Heather Baus 2:32:52
2nd: Bailey Rosen 2:46:47
3rd: Mini Mini 2:48:35
4th: Kristin Thomas 2:52:36
5th: Patricia Miller 3:03:52
*****
2013 Key West Classic SUP Race RESULTS
Men's Unlimited (12 mile course)
1st Thomas Maximus 2:12:22
2nd Daian Hildreth 2:39:47
3rd Juan DeLeon 3:13:52
Men's 14′ (12 mile course)
1st Charlie Howden 2:13:56
2nd Matthew McDonald 2:15:02
3rd Jacob Portwood 2:18:47
4th Packet Casey 2:22:52
5th Andy White 2:25:18
6th Jeremy Waitted 2:28:35
7th Brandon Rambo 2:29:30
8th Jesse Kautz 2:29:40
9th Michael Conlee 2:31:01
10th Mark Athanacio 2:35:16
11th Christopher Johnson 2:36:40
12th Chip Bock 2:39:19
13th Brad Rambo 2:39:25
14th Kyle Gallagher 2:40:28
15th Brent Brown 2:41:50
16th Iain McFarland 2:41:55
17th Chris Stephan 2:42:36
18th David Leach 2:42:49
19th Mike Evatt 2:43:33
20th Ed Pierce 2:47:25
21st Anthony Berry 2:48:30
22nd Brian Vilano 2:50:52
23rd Timothy Vero 2:52:29
24th Jeff Archer 2:55:37
25th Jim Higgins 2:55:49
26th Jeff Berry 2:57:16
27th James Brown 2:58:15
28th Steve Thomas 3:00:25
29th Scott Baste 3:01:55
30th Mike Kenna 3:04:21
31st Alex Mauer 3:09:23
32nd Robert Pudney 3:22:29
33rd Randy Reed 3:33:44
34th David Daniels 3:35:11
35th David Rush 3:48:36
36th Christopher MacEachern 4:08:15
37th James Guynn 4:26:26
Men's 12'6 (12 mile course)
1st Justin Cook 2:31:12
2nd Joseph Morel 2:32:07
3rd Jamie Twigg 2:37:50
4th Ethan Luppert 2:38:46
5th Cody White 2:38:47
6th Camilo Marmol 2:39:50
7th Trapper Chechaa 2:44:47
8th Eric Diggins 2:48:25
9th Todd Rapp 2:48:32
10th Michael Faulkner 2:49:30
11th John Meskauskas 2:50:20
12th Mark Cannon 2:51:52
13th Donald Eisenman 2:53:24
14th David Merkli 2:54:31
15th Andres Pombo 2:56:24
16th Rev Thom 2:58:32
17th Martin Burzynski 3:00:08
18th Alex Afonso 3:06:18
19th Jason Mechan 3:07:50
20th David Meadors 3:08:28
21st Mike Asher 3:10:34
22nd Craig Stepnowski 3:14:39
23rd Rob Hildeshaun 3:17:36
24th William Compton 3:22:22
25th Bubba Ellis 3:31:21
26th Scott Adams 3:38:49
27th Jason Brasky 3:42:04
28th Daniel McCurdy 3:46:35
29th Paul Gallagher 3:49:09
30th David Weihnacht 3:49:47
31st Sonny Perry 3:53:58
Men's 12′ & under (12 mile course)
1st Bill Whiddon 2:48:07
2nd Bert Koch 3:09:07
3rd Alex Pelley 3:12:55
4th Frank Marino 3:23:49
5th Conrad Garcia 3:25:09
6th Gary Stanyer 3:38:38
7th Christopher Ray 3:40:51
8th Todd Carr 3:44:08
9th Dan Smith 3:54:07
10th John Dressler 4:07:22
11th Matthew Murphy 4:07:37
12th Emil Koch 4:43:15
13th Anthony Lazarus 5:47:25
Women's 14′ (12 mile course)
1st Helga Goebel 2:29:59
2nd Lizi Ruiz time unknown
3rd Tammy Brinkman, 3:45:16
Women's 12'6 (12 mile course)
1st Heather Baus 2:32:52
2nd Bailey Rosen 2:46:47
3rd Mini Mini 2:48:35
4th Kristin Thomas 2:52:36
5th Patricia Miller 3:03:52
6th Alexandra Menk 3:04:40
7th Heather Gaines 3:08:50
8th Sue Cooper 3:09:06
9th Nessa Brunton 3:10:20
10th Catherine Uden 3:12:55
11th Heather Kaarup 3:14:30
12th Deirdre Robbins 3:14:49
13th Bernadette Leach 3:17:30
14th Tara McCabe 3:33:15
15th Nicole Capra 3:39:11
16th Lisa Cool 3:39:19
17th Annette Robertson 3:47:15
18th Liana Pyne 3:50:05
19th Katrina Kruse 3:52:35
20th Debbie Wilcox 3:53:34
21st Camille Blatz 3:56:09
22nd Briana Castillo 3:56:44
23rd Renee Makimaa 4:01:17
24th Laura Lossi 4:15:59
25th Theresa Paturno 4:18:47
26th Darlene Larson 4:23:32
27th Monique Walker 4:38:45
28th Stacey Rapp 4:38:45
29th Helen Champagne 5:50:30
Women's 12′ & under (12 mile course)
1st Aranza Rodriguez 3:43:44
2nd Sandy Rodriquez 3:46:24
3rd Holly Amodio 3:50:01
4th Bethany Tietz 3:51:46
5th Elizabeth Vetter 3:52:14
6th Barbara Sage 3:54:33
7th Katie Leigh 3:57:03
8th Yajaira Carrasquel 4:00:08
9th Kimberly Wallen 4:03:55
10th Maryann Jackowski 4:06:10
11th Ginette Smith 4:10:59
12th Christi Allen 4:25:56
13th Tabble Memoli 4:28:26
14th Beth Kilroe 4:34:05
15th Carolina Dupont 4:34:33
16th Tamra Czerny 4:42:10
Tandem (12 mile course)
1st Jim and Savannah Baus and 2:48:40