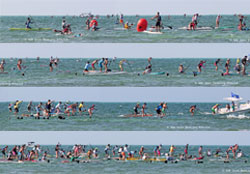 May 14, 2013
by Christopher Parker (@wheresbossman)
Epic Photo: The Key West Classic In Super Wide Angle
I love wide angled photos of Stand Up Paddle racing, but this is kinda ridiculous…
Check out this panorama shot from the Key West Classic SUP race on the weekend.  It shows the start of the race and somehow manages to get pretty much every single paddler in the frame. Awesome.
The photo is 11326×480 pixels, or in other words has an aspect ratio of 24 (by comparison, most normal photos have a 1.5 ratio…).
Click here to see the original, or take a closer look with our handy viewer below.
Photo credit goes to Rick Iossi, who posted this shot (along with a couple of other super wide angle panoramas from the Key West Classic) over on the FKSA forums.