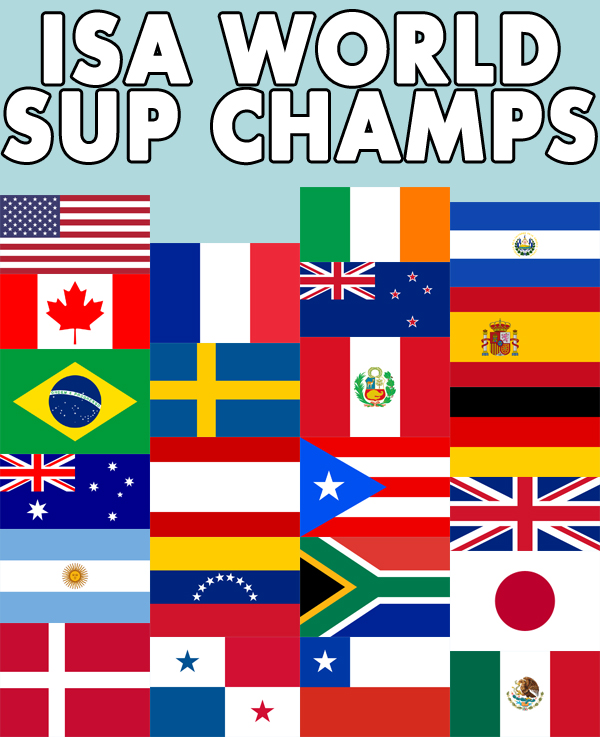 February 25, 2013
by Christopher Parker (@wheresbossman)
2013 ISA Worlds: Distance Race Preview, Predictions and Course Map (This'll Be A Good One…)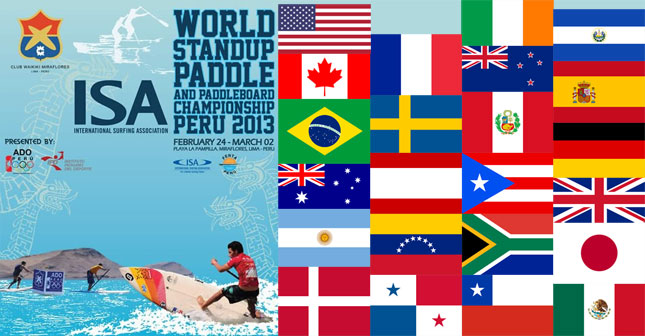 It's on! The first SUP race of the 2013 ISA World StandUp Paddle and Paddleboard Championship is only hours away. At 11am local time Tuesday in Peru (8am California, 5pm France, 2am Wednesday Sydney) seventy-two competitors from around the world will hit the water for the start of the 22km Long Distance SUP and Prone Paddleboard races.
>>> You can watch the LIVE WEBCAST of the race here on SUPracer.com
The field is wide open in this one; there's probably six guys who are genuine contenders for the Gold Medal, with another half a dozen dark horses who could easily snatch one of the minor placings. So scroll down to see who's competing, who are the favourites and also get a glimpse of the interactive course map… this is going to be a very interesting race.
My picks for the SUP race medals, in no particular order… Kelly Margetts and Jamie Mitchell (Australia), Paul Jackson (New Zealand), Eric Terrien (France), Casper Steinfath (Denmark) and Fernando Stalla (Mexico). Also keep a close eye on all the paddlers from South Africa, Spain and France.
Over on the women's side of the draw I think Angela Jackson of Australia will be the one to beat, though there are so many dark horses in this event that anything could happen.
In the prone race I'm calling it now: Australia to win Gold in both the men's and women's. Brad Gaul and Jordan Mercer are the defending Molokai-2-Oahu World Champions and will be extremely difficult to catch.
SUP and Prone Distance Race COURSE MAP
The race is approximately 22km and will start and finish at the same spot, right in front of the event site. The call is for a beach start, so the waves are going to play a big part.
The course you can see below is just over 7km meaning paddlers have to complete three laps. The racers will also go in and out through the waves at each end of the course, which will really mix things up and prevent any "draft trains" from deciding the race. There is no beach run except for at the very end, where there's a short sprint to the finish line.

View ISA World Champs Distance Race Course in a larger map
SUP and Prone Distance Race START LIST
// ARGENTINA
SUP:
Sebastian Barbero
Alfredo Hass
Lorena Cemersoni Barbero
Prone:
Carlos Di Pace
Mauro Plit
Florencia Baraboglia
// AUSTRALIA
SUP:
Jamie Mitchell
Kelly Margetts
Angela Jackson
Prone:
Brad Gaul
Lincoln Dews
Jordan Mercer
// BRAZIL
SUP:
Alexander Araujo
Gabriel Vilarinho
Barbara Brasil
Prone:
Genauto Franca
Fabio Velasco
Regina Silva
// CANADA
SUP:
Gary Parsons
Shannon Bell
Prone:
David Jainu
// CHILE
SUP:
Alan Vogt
Prone:
Alberto Adriazola
// DENMARK
SUP:
Casper Steinfath
// FRANCE
SUP:
Eric Terrien
Yoann Cornelis
Olivia Piana
Prone:
Serge Lougarot
// GERMANY
SUP:
Normen Weber
Petra Offermanns
// GREAT BRITAIN
SUP:
Charlie Grey
Ollie Shilston
Marie Buchanan
Prone:
Andre Le Geyt
// IRELAND
SUP:
Johnny O'Hara
// JAPAN
SUP:
Takayo Yokoyama
Kosuke Matsuyama
Tomoe Yasu
// MEXICO
SUP:
Fernando Stalla
Javier Jimenez
Martha Diaz
Prone:
Diego Cadenas
Antonio Valdez
Risa Mara Machuca
// NEW ZEALAND
SUP:
Paul Jackson
Trevor Tunnington
// PERU
SUP:
Raul Delgado
Jose Schiaffino
Romina Alvarez Calderon
Prone:
Luis Eduardo Escudero
Alvaro Guerrero
Rocio Larranaga
// PUERTO RICO
SUP:
Greg Jaudon
Kym Freeman
Prone:
Rafa Ortiz
Diana Carrero
// SOUTH AFRICA
SUP:
Scott Rutherfoord
Dylan Frick
Shelley Bradfield
Prone:
Ryan Butcher
Francois Frick
Anna Notten
// SPAIN
Roman Frejo
Belar Diaz
Laura Queglas
// SWEDEN
SUP:
Johan Möller
Magnus Lindstedt
// UNITED STATES
Prone:
Thomas O'Neill
// VENEZUELA
SUP:
Francisco Hernandez
Humberto de Araujo
Edimar Luque
Prone:
Armando Colucci
Javier Vargas
Daniella Sotillo