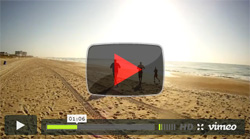 Carolina Cup: On The Road With Team Quickblade
Go behind the scenes at the 2013 Carolina Cup with Team Quickblade's Jamie Mitchell, Matt Becker and the Mad Scientist himself, Jim Terrell. Check out how the guys spent their first day (including almost missing their flight) as they arrived in North Carolina early to prepare for one of the biggest races of the year.
If you've seen the 2013 Carolina Cup SUP race results, you'll know that Jamie and Matt both finished in the top six against a very stacked field, while Jimmy (pushing 50 no less) wasn't too far behind.
I've had the pleasure of travelling with these three in the past and it's always good times when they're around…