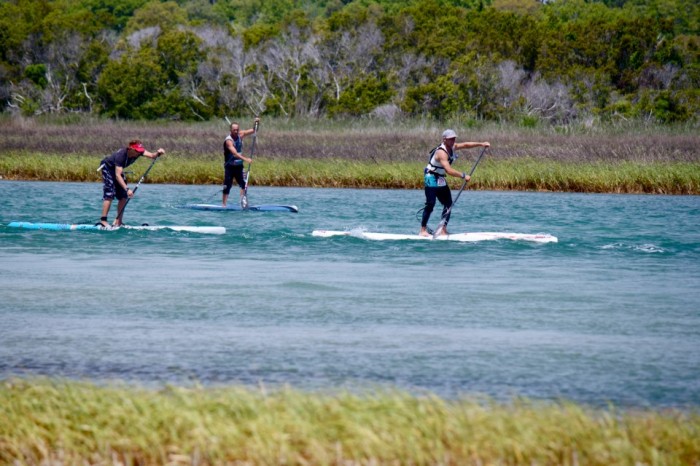 April 30, 2013
by Christopher Parker (@wheresbossman)
Eric Terrien's Carolina Cup Recap: Strategy & Tactics
The 2013 Carolina Cup was huge. Hundreds of paddlers descended on Wrightsville Beach, including many of the world's best, to instantly make this one of the races of 2013.
In the end it was Danny Ching who stole the show in the men's Elite Race, while Annabel Anderson put in a similarly impressive display on the women's side. However one performance that shouldn't be unnoticed is that of Eric Terrien, the consistently-underrated Frenchman who got closer to Ching than any other paddler.
Sure, Danny Ching finished four minutes clear, which is an awesome effort against this sort of talent, but the race for second sounds like it was a fascinating tactical battle…
Eric, Jamie Mitchell, Ryan Helm and Chase Kosterlitz traded places for over two hours. Strategy came into play more than ever in this race as the course covered everything: choppy ocean, waves, flat water and fast-flowing tidal currents.
It's really cool to hear how the guys formed a "draft train relay" to try and reign in Danny. They each spent time pulling at the front, before dropping back and hopping on the wash. This way they could hold a higher average speed with less effort, compared to if they all went it alone. It's the same way cycling teams are trained to work together, so whether you love or hate drafting in SUP, you've gotta admit it adds a more tactical element to the races.
Here's how Eric saw the race…
"Danny Ching flew from start to finish. At the end of the 1st downwind leg Jamie was in second place with a little bit of a lead on me. However I was on a better line, with less current, so I caught up to him and then had Ryan Helm right on my tail.
The three of us worked together during the whole flat water stretch. Jamie organised a draft-train relay: we each paddled for three minutes at the front while the other two drafted. Ryan seemed to be faster than Jamie and I but did not break away. As we got closer to the end of the flatwater/upwind/upstream nightmare, Chase Kosterlitz was also paddling strong and making ground.
As Jamie, Ryan and I turned right to head back out into the ocean, I noticed how strong the outgoing current was, so I did my best to read the water and choose the best line. At this point Ryan decided to choose his own line and made the wrong choice. Jamie was following me as we were on the fast lane getting pushed out to the ocean.
The temptation to try and cut through the waves was huge but it would have been a mistake. The best choice in my opinion was to be patient and stay with the current until you got pushed a long way out in the ocean, after which you would have been on a perfect line for a downwind paddle to the finish.
I think that Jamie decided to go a little too early. I stayed the with the current a bit longer and it paid off, as I had to go out through less breaking waves, with less effort and then I also ended up being on a better line. At this point of the race a few meters made a big difference.
I was still a long way from the finish by the time Danny was already on the beach… I finished second, with Jamie third, Chase fourth and Ryan fifth.
There was a killer BBQ for the paddlers after the race, and all in all it was a world class event. Clinics, Open Races, Elite Races… anyone can go and have fun. This is how every SUP event should be…"
>>> Recap taken from EricTerrien.com. There's even more detailed race insights over at Get Up SUP Mag if you can read French (or dodgy English).