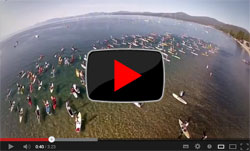 2012 Tahoe Nalu Video Recap (A Little Late, But Worth The Wait)
Here's a great clip of the 2012 Ta-Hoe Nalu SUP race, which was won by Jamie Mitchell and Candice Appleby.
It's not the quickest video edit we've ever seen (the event was in August; this video got released a few days ago) but it was worth the wait. This is the event where Jamie Mitchell famously came from behind in the distance race to beat Chase Kosterlitz to the line – by running. Check out the video and you'll see what I mean (you can also relive the sequence on the original Tahoe Nalu results post).