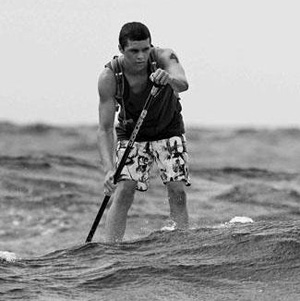 March 18, 2012
by Christopher Parker (@wheresbossman)
[RESULTS] Bridge To Beach: Jake Jensen Wins In Sydney

RESULTS from the 2012 "Bridge To Beach" Stand Up Paddle race in Sydney.
The race was held Sunday 18th March and was taken out by Gold Coast young gun and Naish Team Rider, Jake Jensen.
Jensen was paddling the stealthy new Naish Javelin MC14, the first time the new hollow-core board has been seen in the wild.
2012 Bridge to Beach Stand Up Paddle Race RESULTS
Click "Division" to switch between Men's and Women's Results

| # | Name | Time | Division | Division # |
| --- | --- | --- | --- | --- |
| 1 | Jake Jensen | 00:59:26 | Male | 1 |
| 2 | Sam Parker | 01:00:01 | Male | 2 |
| 3 | Steve Morrison | 01:00:16 | Male | 3 |
| 4 | Charles Domin | 01:03:06 | Male | 4 |
| 5 | Tony Ruavlt | 01:05:25 | Male | 5 |
| 6 | Brad Gaul | 01:05:28 | Male | 6 |
| 7 | Rob Gittoes | 01:06:06 | Male | 7 |
| 8 | Steven Floyd | 01:06:21 | Male | 8 |
| 9 | Peter Margan | 01:07:56 | Male | 9 |
| 10 | Peter Meyer | 01:08:09 | Male | 10 |
| 11 | Ben Chin | 01:08:30 | Male | 11 |
| 12 | Robert Meredith | 01:08:31 | Male | 12 |
| 13 | Terrene Black | 01:08:56 | Female | 1 |
| 14 | Neil English | 01:12:59 | Male | 13 |
| 15 | Tim Wyers | 01:13:30 | Male | 14 |
| 16 | Greg Mitchell | 01:14:59 | Male | 15 |
| 17 | Mark Mitchell | 01:15:31 | Male | 16 |
| 18 | Melissa Mcmanus | 01:15:39 | Female | 2 |
| 19 | Peter Shepherd | 01:16:29 | Male | 17 |
| 20 | Andrew Lai | 01:17:50 | Male | 18 |
| 21 | Elyse Comerford | 01:18:12 | Female | 3 |
| 22 | Andrew Titterton | 01:19:03 | Male | 19 |
| 23 | Jason Christopher | 01:20:59 | Male | 20 |
| 24 | Luice Ratcliff | 01:21:00 | Male | 21 |
| 25 | Kevin Claret | 01:22:47 | Male | 22 |
| 26 | Evan Green | 01:23:06 | Male | 23 |
| 27 | Jeremy Corne | 01:25:04 | Male | 24 |
| 28 | Martin Davies | 01:29:49 | Male | 25 |
| 29 | Scott Piper | 01:31:11 | Male | 26 |
| 30 | Nicole Allen | 01:33:09 | Female | 4 |
| 31 | John Reeves | 01:34:40 | Male | 27 |
| 32 | Kelliegh Jackson | 01:35:24 | Female | 5 |
| 33 | Fionna Green | 01:39:42 | Female | 6 |
| 34 | Philip Damp | 01:45:06 | Male | 28 |
| 35 | Anouk Lee | 01:47:13 | Female | 7 |
| 36 | Mark Kelly | 01:47:15 | Male | 29 |
| 37 | Penny Higgins | 01:48:01 | Female | 8 |
| 38 | Tracey Stancliffe | 01:56:46 | Female | 9 |
| 39 | Daniel Oates | 01:56:46 | Male | 30 |
*****
Race pics and video coming soon…