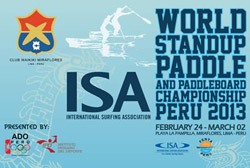 February 14, 2013
by Christopher Parker (@wheresbossman)
10 Days Til Peru And The 2013 ISA World Champs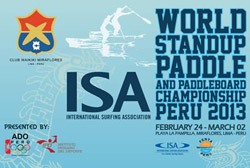 One of the most important events of the year, the ISA World Paddle Champs in Peru are almost here. In 10 days, paddlers from two dozen different countries will line up on the beaches of Miraflores, Lima, for a week of SUP racing, SUP surfing and prone paddleboarding.
While defending-champs Australia are the big guns, they'll be joined by an international cast of competitors. From South Africa to Sweden, Chile to Canada and another 20 odd countries in between, there's going to be one big international mix at this year's event. We'll keep you covered once the action starts, but until then here's a taste of what's to come with "10 Things You Need To Know" about the 2013 ISA Worlds.
You can find out all 10 Things You Need To Know on the official site, but here's a few that caught our interest:
#6: The Numbers.
There's going to be 120 paddlers from over 20 countries filling over 200 competition spots.
#7. The Schedule.
Sunday 24th Feb: Parade of Nations + Opening Ceremony (something you won't see at any other SUP event around the world)
Monday 25th: SUP Surfing
Tuesday 26th: SUP Distance Race and Prone Distance Race
Wednesday 27th: SUP Surfing and Prone Short Course Race Qualifiers
Thursday 28th: SUP Surfing and SUP Short Course Race Qualifiers
Friday 29th: SUP Surfing, Relay Qualifiers, Prone Short Course Final

Saturday 30th: SUP Surfing Finals, Relay Final, SUP Short Course Race Final
#10. The History.
One of the hosts of the event is Club Waikiki, which, founded in 1942, is one of the oldest surfing clubs in the world.