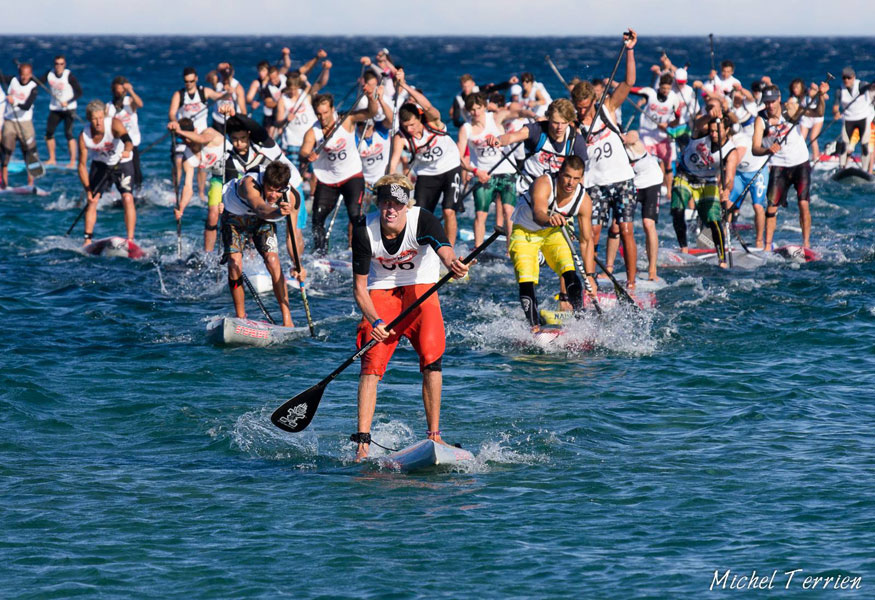 December 16, 2013
by Christopher Parker (@wheresbossman)
What Is The SUP Athletes Association, And What Does It Mean For The Future Of SUP Racing?

Something very strange took place at this year's Battle of the Paddle California, though despite it being one of the most important events of BOP Week, virtually nobody saw it and very few people even heard about it: For once, a big chunk of the world's best stand up paddlers sat down in the same place at the same time and chatted about the future of their sport.
Despite 500+ SUP races around the world each year, the Battle is still the only event that draws all the top athletes, but even then the week is a bit of a circus and paddlers rarely have time to get together. For this reason it was quite an achievement to get so many of the world's best in the same room for three straight hours of animated discussion about the future of SUP racing.
That's how the new SUP Athletes Association (or "SUPAA") was born, though it's a movement that's been in the works for much longer than that. For the past six months or more, several of the top names in the sport have spent countless hours working to create an organisation that could play a foundational role in future Stand Up Paddle racing.
SUPAA will officially launch on the 31st December but the details of the Association are formally coming to light this week. The group – and that's really what SUPAA is, a group of paddlers, whether they be elite or amateur, who are passionate about SUP – exists solely to promote the future of the sport. The aim is to ensure SUP racing continues to grow but to do so in a healthy and stable fashion, one that promotes the sport at an amateur level while also looking after the interests of the athletes at the top. Because after all, whether you're an elite pro or a weekend warrior, paddlers are the sport.
"For Paddlers, By Paddlers." is the tagline on the official website and that sums up what SUPAA is all about: Promoting the sport and ensuring that both professional and amateur paddlers will have their say in where it's going. The group has big plans that, if they pull them off, will have a dramatic impact on the future of Stand Up Paddle racing as we know it.
Their aim is to work alongside race directors and manufacturers and implement a set of rules, guidelines and best practices to help push stand up paddling forward in a logical manner. The Association will be a "collective" that's based on the input of both elite and amateur paddlers. While the elite guys and girls will be pushing the agenda, they'll be canvassing the weekend warriors for their thoughts and advice as well, because without the healthy growth at grassroots level there is no future for the pros.
I see SUPAA as being an international paddler's union type of organisation, where the athletes will have a collective voice in helping guide the future of their own sport. Up until now SUP racing has largely been driven by event directors and brands who, far too often, either haven't had the knowledge, skill or resources to pull off good events, or simply haven't had the best interests of the sport in mind at all.
Event date changes, cancellations, postponements, prize money payout issues, bad rules, confusing rules, no rules at all, bad course designs, scheduling clashes and several other issues that need to be addressed if the sport wants to have a serious future.
It's true there are many races (and race directors) that do a great job and there are also growing pains in any new sport that would help explain those that don't. However it's also true that the athletes themselves have a loud voice in helping shape the future of most sports, something that hasn't really been happening in SUP racing until now. The athletes involved in SUPAA want both elite and amateur paddlers of the world to have more of a say and be able to help manufacturers and race organisers improve on what they do and, in turn, help grow the sport.
So if this all comes off as planned, I believe SUPAA could play a major role in the international SUP racing scene. Something like this has long been talked about and it's obviously overdue, but the movement now seems to have the right people behind it for the chatter to become reality.
Spearheading the SUP Athletes Association is Chase Kosterlitz. Tired of seeing poorly-run events and impatient at the endless talk but very little action regarding a paddler's collective, Chase took the lead earlier this year and has been working behind the scenes for months to get SUPAA off the ground.
Though while the big guy from Florida is in the driver's seat, SUPAA is very much a group effort: Pretty much every top athlete has either been involved in meetings, Skype calls, emails, Facebook chats, been quizzed about what they want to see from SUPAA, offered their ideas to the draft set of rules or even agreed to help run the organisation at some point over the past six month.
Jamie Mitchell was leading some of the very earliest Skype group calls that SUPAA had, before it even had a name. Eric Terrien lent his experience running EuroSUPA to the rolling discussion. Jim Terrell added his trusted opinions on board design restrictions. Candice Appleby and Annabel Anderson were both at the meeting during Battle Week. Danny Ching gave insights and advice from his many years at the top of the ocean paddling world. Chuck Patterson had plenty to say about where the sport should be heading. Travis Grant has lent both his ideas and his support to the effort, which, given Trav's status as one of the most respected paddlers int he world, has given SUPAA some instant credibility behind the scenes.
And that's just the short list. Basically: SUPAA is being run by the SUP athletes, for the SUP athletes, and also for the future growth, health and stability of the sport in general. The official launch is 31st December though behind the scenes a lot of progress has already been made, with a draft set of rules and guidelines that some of the major races are already looking at.
The 2014 Stand Up World Series has chosen to adopt many of SUPAA's draft rules, including board design restrictions, athlete representatives, prize money payout guarantees and more. The BOP Brazil, Paddle Royal and Carolina Cup have all taken advice from SUPAA or agreed to work with their new rules.
It's not just the races either, one of the most important groups in our sport is the board manufacturers. They prop up many events and pay for the majority of pros to travel to the big international races, meaning their goals, concerns and wishes have to be considered very closely when proposing fundamental changes to the sport. Brands and athletes don't always have the same goals, but they do need to work together closely for mutual benefit. I know that guys like Chase have been speaking a lot with the major brands about SUPAA's draft rulebook, especially in regards to the board design restrictions. That's a topic we'll expand on in another post next week, though you can rest assured that the debate – kickstarted by Jim Terrell's famous post – is finally turning into real action.
It would be easy to compare SUPAA to the plethora of other organisations that have taken a slice stand up paddling pie, however where SUPAA is different is that it's the paddlers themselves having their say as a group. The Association isn't about taking over the sport, but rather steering it in the right direction, especially where the athletes are concerned. If you look at any serious sport you'll see athlete organisations that ensure the best interests of both the sport and the athletes are taken into consideration by those running the tours and events.
I'm sure we'll hear more about the Stand Up Paddle Athletes Association in the coming days and weeks but in the meantime you can put your name down on the official site if you want to be the first to know when it's officially unveiled. Also follow the news on the official SUPAA Facebook page.
I have a feeling SUPAA is going to do some pretty big things for the sport and help bring it some much needed clarity, so we'll continue to cover this new association and their plans as they develop.
All the official details will be on SUPathletes.com next week (31st December) but for a quick understanding of what SUPAA's goal is, here's a sneak peak at their guiding statements…
MISSION
SUPAA is dedicated to promoting excellence in the sport of stand up paddling. In pursuing this mission, SUPAA will (a) establish organizational standards to improve the quality of events and instruction (b) promote rules to ensure fair competition and (c) endeavor to establish a standard of excellence in all aspects of stand up paddling. These initiatives will produce a uniformly positive experience for stand up paddle constituent groups, including but not limited to: athletes, officials, sponsors, spectators, volunteers, media, consumers and manufacturers.
VISION
With the guidance of the world's top stand up paddle athletes, race directors and industry personnel, we will cultivate and continue positive growth of the sport of stand up paddling.
Through our organizational programs we will provide a framework within which uncompromising standards can be implemented and executed.
Through our membership and programs we will act on behalf of the standup paddle athlete while also representing the interests of stand up paddle board officials, sponsors, media, consumers and manufacturers.