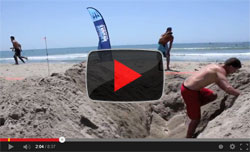 [VIDEO] Chuck Patterson Likes To Watch Other Paddlers Suffer (This Is What's Happening Tomorrow)
UPDATE: Chuck and the crew are working on the obstacle course as we speak. The big guy just Instagram'd this shot that shows the kind of punishment we're in for tomorrow… Yep, it's gonna hurt.
*****
Tomorrow sees the debut of an exciting new SUP race at Camp Pendleton in Southern California. The Water Warrior is being co-organised by Chuck Patterson and promises to give paddlers a punishing experience both on and off the water.
Crawling through the sand, navigating trenches and scaling cargo net walls are just some of the many obstacles paddlers will face in between each lap of the actual course (and you thought the soft-sand run at the Battle of the Paddle was painful). If you haven't already heard about the event and booked your place at Oceanside tomorrow, then check out our original Water Warrior Beach SUP Race announcement for more info. Though you might want to check out the video below before you do, just so you know what you're getting yourself into…
This vid is from last year's Watermans Paddle For Humanity (which, by the way, is happening next weekend in Newport) when the organisers let Chuck take over their Dana Point event. Expect something similar tomorrow, only even harder and with more obstacles. Yes, Chuck Patterson likes to watch other paddlers suffer…