– – – – – – this is a draft sales letter to go on virtualpaddleleague.com – – – – – – – –
If you miss racing with your fellow paddlers, this is an open invitation from Paddle Monster and SUP Racer to be part of something special…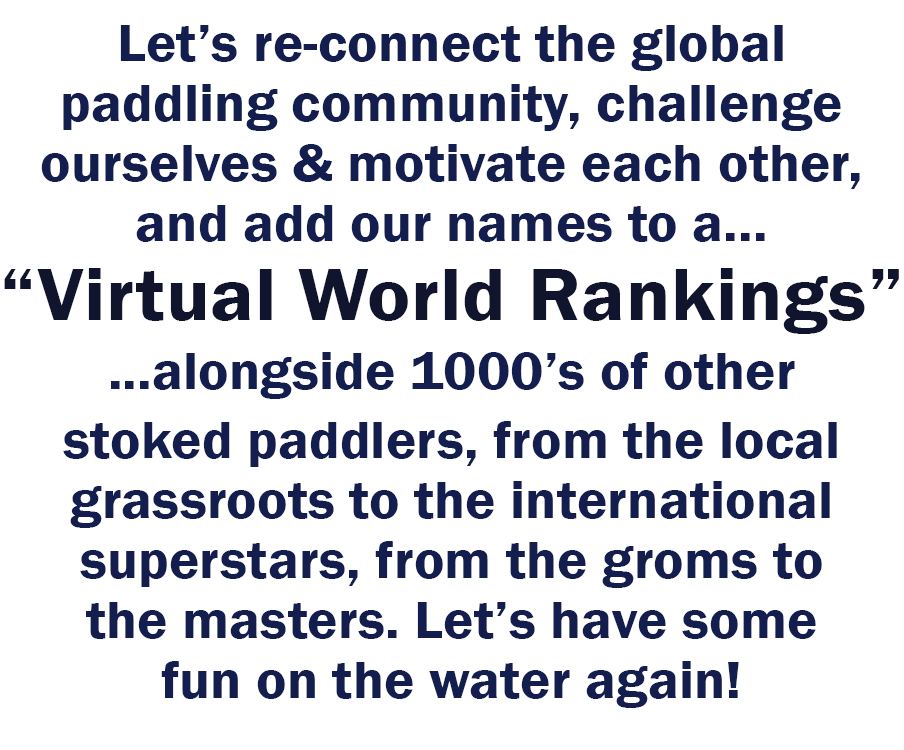 If you'd like to feel the rush of racing, compare your times with paddlers from around the world and be part of a kickass community led by some of the biggest names in the sport, we invite you to join…
The Virtual Paddle League
These are strange times indeed. Suddenly, the simple act of being on the water is a privilege. The idea of doing an actual race is out of the question.
Or is it?
Because while our sport may be "on hold" and we're physically isolated, that doesn't mean we need to feel disconnected. That doesn't mean we can't race.
The best thing about our sport is our community. That's what motivated the crew from Paddle Monster and SUP Racer to team up and start building the Virtual Paddle League — a new series of online "Time Trials" and "Dream Races" that will challenge, motivate and make you feel part of the international paddling community again.
Just like us, you're probably missing that feeling of sand between your toes as you line up for your local, regional or international paddle race. And just like us, you might already be comparing virtual times against your buddies from local training group on Facebook.
We've taken the idea of "virtual race series" and turned it into a legitimate global racing league, complete with time-based Virtual World Rankings, age-group "Leaderboards," innovative (and damn good fun!) "Dream Races" and plenty more. This is not just a virtual race, this is an international paddling community.
The guiding principle of the Virtual Paddle League is that paddling should be fun. We believe any day on the water is a day well spent, and we want to encourage you to get on the water whenever you can. To challenge yourself, to motivate (and smack-talk) your buddies, and to connect with thousands of fellow paddlers, compare times and share the stoke.
We're going to be very transparent here: This project isn't easy. The Virtual Paddle League is a comprehensive, automated system of online time trials, never-before-seen "Dream" race formats, and unique "virtual live streams" that we hope will help re-connect the international paddling community.
It's ambitious, but we believe it's a goal worth pursuing. And we invite you on the journey.
WHAT IS THE
"VIRTUAL PADDLE LEAGUE"?
– THE 14 PILLARS
The Virtual Paddle League is the name of a new racing league created by Paddle Monster and SUP Racer. We're not just creating a virtual race series where you can submit your time, we're creating an entirely new way of racing.
And starting next week, we're opening the doors for you to join us, submit your times and see your name in bright lights alongside thousands of paddlers from around the world.
Here are the fourteen pillars that explain what we're aiming to build.
1. GLOBAL PADDLING COMMUNITY
The foundation of our sport is our community. The Virtual Paddle League is designed to be a community first and foremost, one that you can connect with even if you're paddling solo on the other side of the world. The Virtual Paddle League is inclusive and open — we encourage members from any country, any age, any ability. Whether you're Connor Baxter or a fist-time paddler: You're all equal, you're all welcome.
2. VIRTUAL WORLD RANKINGS
The core of the Virtual Paddle League is the "Virtual" World Rankings. But instead of points, you'll be ranked on your best time in a 5K time trial (though that's just for starters).
Go for a paddle, record your time, and submit your session. Within seconds, your name will automatically be added to the global leaderboard where you can compare your time with paddlers from Australia, America, France, Brazil and beyond.
The first (of many) events in the Virtual Paddle League will be the classic "5K" time trial. You can submit as many times as you want to improve your personal best and leapfrog your buddies — whether they're from your local training group or the other side of the world.
3. REGIONAL LEAGUES (FLY YOUR FLAG)
We're all proud of our hometown, and we all want to represent our local crew. So apart from identifying yourself with your national flag on the "Virtual World Rankigns" leaderboard, we'll be giving you the option to identify with a local training group, paddle club or regional league.
We'll also be partnering with existing virtual series to host exclusive regional leaderboards. So not only will you feature on the Virtual Paddle League World Rankings, you will proudly show that you're part of your local paddle crew.
4. AGE DIVISIONS
The Virtual Paddle League is all about inclusion, and we respect and promote age divisions for the Virtual World Rankings. You can now find out how your time compares with 40+, 50+, 60+ and 70+ year-old paddlers from all around the world, while we're also running dedicated leaderboards to encourage juniors (under 18) and super groms (under 15) to get out on the water and fine-tune their skills.
5. "DREAM RACES"
Notice how our sport kinda always has the same race formats? Long distance, short course, sprints. Getting a bit old, huh? We've all talked about trying new formats, and we think now is the time to do it. Our sport is crying out for fresh new ideas, and now is a better time than any to experiment.
So the Virtual Paddle League will be running "Dream Races" that create race formats our sport has never seen. And you're invited to participate. These are unique race formats that have never been seen before.
The first "Dream Race" (coming up in just a few weeks) is called "Catch Me If You Can" and involves a virtual Connor Baxter chasing down you and hundreds of other excited/motivated/slightly nervous paddlers around the world. The best part? We're going to ask you to send us some footage, combine that with all of your times and broadcast the show on Facebook that you can tune into for a LIVE Watch Party.
Every "Dream Race" is included free with your base membership of the Virtual Paddle League — we're going to add new "Dream Races" (and new time trial distances) every month.
6. OPEN TO ALL CRAFT
Stand up paddlers, outrigger, surfski and prone. You're all welcome in the Virtual Paddle League
7. PADDLE WITH THE PROS
Connor Baxter, Seychelle, James Casey, Casper Steinfath, Angie Jackson and Kenny Kaneko are just some of the top athletes who you'll be sharing the same Virtual World Rankings leaderboard with.
8. PLEDGE YOUR ALLEGIANCE
What if Game of Thrones or Harry Potter met stand up paddling? "House Connor" or "Team Seychelle"? Will you be aligned to James Casey or Casper Steinfath?
Everyone that joins the Virtual Paddle League gets to select a "Team Captain" who will be their virtual leader for the season. It's just another way aim to make the Virtual Paddle League more motivating, more inclusive and more fun.
9. AUTOMATED AND EASY TO USE
The Virtual Paddle League team has been working behind-the-scenes for weeks to build a custom, powerful system that turns your training times into the Virtual World Rankings.
As soon as you get off the water, you can submit your time straight from your training app (Garmin or Strava), SpeedCoach or GPS watch, and within seconds you'll appear on the global leaderboard.
10. VERIFIED TIMES
Every paddler's time on the Virtual World Rankings comes with verified GPS data — no more worrying about if your buddy paddled an hour after you and did a downwinder on your lake 😉
11. TRACK YOUR PROGRESS (AND YOUR RIVALS)
You'll also be able to track your progress (and the progress of your friends and rivals) over the course of the season — every time logged on the Virtual Paddle League will be saved even when you beat your previous best.
12. VIRTUAL "LIVE STREAMS" & WATCH PARTIES
This is a new concept. A bold one. We don't want to promise too much (because it's never been done before), but we're damn excited about this part of the Virtual Paddle League.
Every time we run a "Dream Race" we'll be inviting you to submit your footage, which will be combined with a chosen elite athlete and mixed with in-depth GPS data and timing to create a "virtual live stream" with commentary by Chris from SUP Racer.
Hopefully it'll be a fun way to keep motivated, stay connected and be entertained.
13. MONTHLY VIRTUAL PODIUMS
We'll be recognising the top performers in each of the age divisions and distances every month. These "virtual podium" unveiling sessions will also be live-streamed on Facebook and posted all around the world on Instagram. We'll even send you a virtual podium graphic that you can repost on your own social media and let your buddies know you seriously kicked their ass this month 😉
14. WE'RE JUST GETTING STARTED…
The Virtual Paddle Leauge is launching on the 10th of May with a simple objective: Go paddle 5km, record your time on a GPS watch or smartphone, and submit your session to the Virtual Paddle League. Within seconds, your time will appear alongside thousands of paddlers from around the world on the Virtual World Rankings. You'll also get your name on the regional and age-division leaderboards.
And that's only the beginning.
Two weeks from now, we'll add our next time trial distance: The King and Queen of the Kilometre. Suddenly your heart will be pumping as you try to hold a higher speed for 6-10 minutes. This one is going to be intense.
After that, we'll add "Catch Me If You Can with Connor Baxter" so you can feel the thrill/dread of being chased down by a virtual G.O.A.T.
We'll be adding one new time trial distance and one new "Dream Race" every single month to keep the feeling of community fresh and motivated.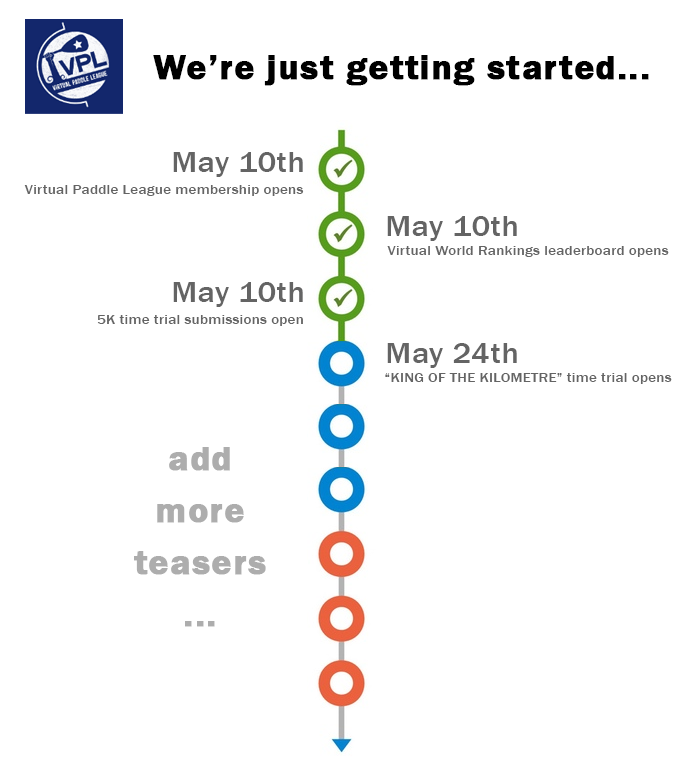 HOW EXACTLY DOES IT WORK?
Step 1: Go paddle 5km (3.1 miles) on flat water and record with your GPS watch or favourite training app
Step 2: Submit your session to our automated timing service in just a few clicks
Step 3: We do all the magic work behind the scenes to put your name in lights on the Virtual World Rankings and regional leaderboards
Step 4: Talk some trash on the Virtual Paddle League "Clubhouse" members-only Facebook group
Step 5: Enjoy being part of a connected, global, motivated paddling community
Step 6: Repeat as many times as you want every month.
"HOW MUCH TO JOIN?"
If you already know you want to join your fellow paddlers inside the Virtual Paddle League, choose your membership option below.
We will use your monthly membership $$ to continue developing the behind-the-scenes system and to financially support the elite athletes who have become our Virtual Ambassadors. Boss Man also needs a new shirt.
Think about it for a second: How much does an average race cost? $50? $100? And that paddle? Another $500? Don't forget the $2k race board… This is often an expensive sport, so we wanted to keep the price of a monthly membership as low as possible while still ensuring we can professionally build this system and share it with you guys in the paddling community.
We want to make you feel like you're getting more than your money's worth each month. From the automated timing submissions to the Virtual World Rankings, Regional Leaderboards, Dream Races and "Live Streams" — we're all going to make this a fun club and a great community to be part of. That's our commitment to you.
WANT TO TAKE IT FOR A TEST DRIVE FIRST?
The Virtual Paddle League is kinda like the Netflix of paddling. Sign up, take a look at the ENTIRE system, and let us know if you're having fun and you feel it's right for you.
Sign up for a monthly membership and get a 14-day fully-featured free trial period to test out the Virtual Paddle League. You can instantly start competing against thousands of paddlers from around the world and get your name on the Virtual World Rankings.
JOIN THE
VIRTUAL PADDLE LEAGUE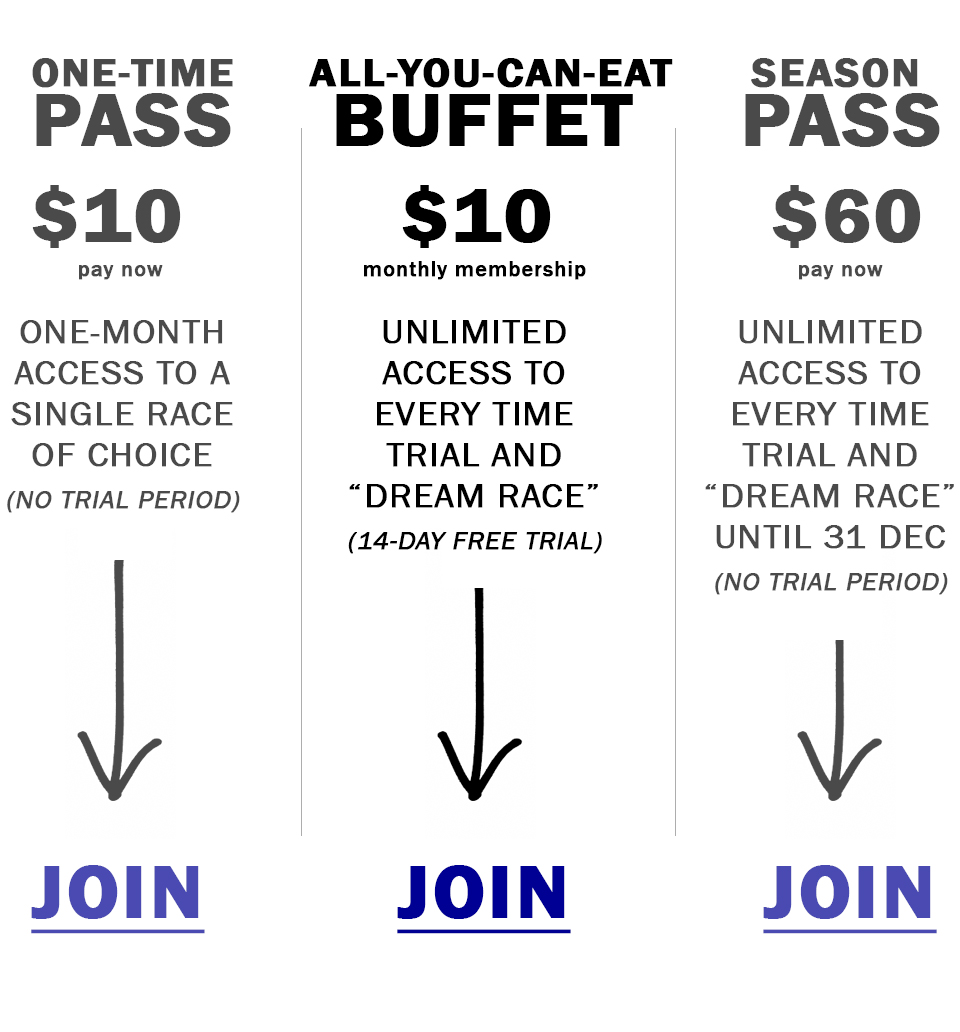 maybe add a graphic right below 'join' with bullet points reminding them of how many different features the Virtual paddle League is offering…

HEY JUNIORS: If you're under 18, you can join the Virtual Paddle League for just $5 per month (because we want to support the future)
We're excited to launch the Virtual Paddle League and create a fun, challenging, inclusive platform for the global paddling community.
We look forward to seeing you on the inside, comparing times and talking trash in the Virtual Clubhouse 😉
– Larry Cain, John Beausang and Tim Myers from Paddle Monster, and Chris from SUP Racer
[include a graphic with our signatures or is that super cheesey? How about our photos? Give it a personal touch or does nobody want to look at us when handing over money?]
P.S. If you're still not sure, remember you've got a 14-day free trial and nothing to lose with a monthly membership. If you join now you can see your name on the Virtual World Rankings within minutes of completing your first session.
P.P.S. Don't forget that JUNIORS can access a $5 per month all-you-can-eat membership. We want to help get as many kids on the water as possible and really grow the future of our sport.
P.P.P.S. If you'd love to join but you've been hit really hard by the coronavirus and things are too tight right now, please message us and we'll work something out. This is a community after all.