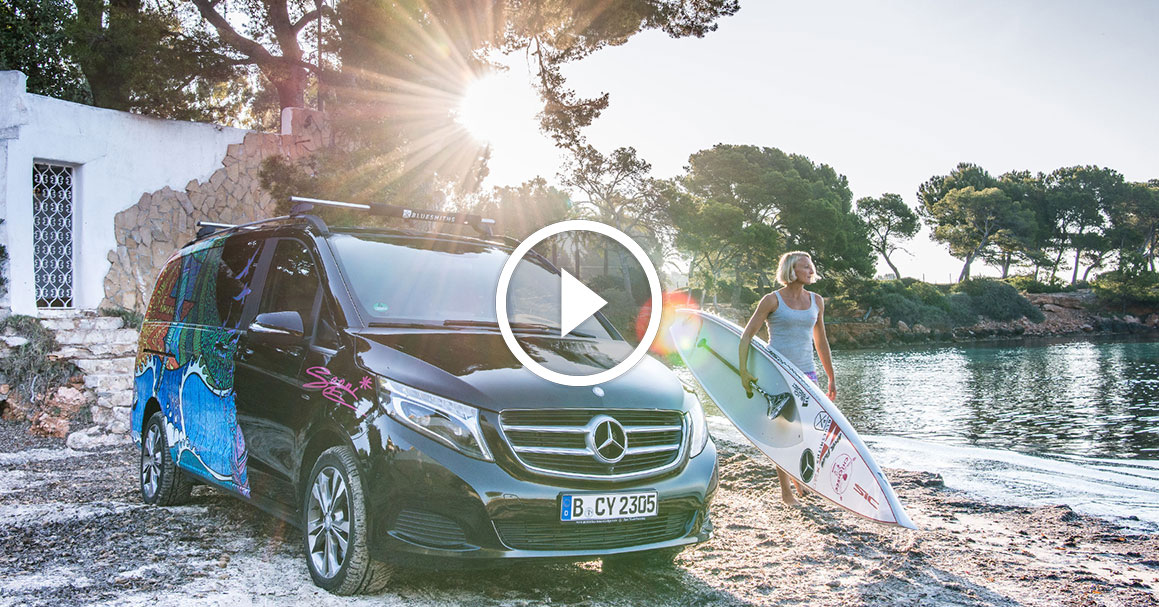 October 7, 2016
by Christopher Parker (@wheresbossman)
Sonni Hönscheid: Champion Paddler, Artist and Mercedes Benz Ambassador
Sonni Hönscheid needs no introduction. The German powerhouse proved she's one of the strongest paddlers in the world this year, claiming a record third-straight Molokai 2 Oahu crown along with back-to-back EuroTour titles.
However most people in the paddling community still don't know Sonnni all that well. She's quiet, humble and not too fussed about making a fuss.
So perhaps it'll surprise you to know that apart from being the undisputed Queen of both Molokai and Europe, Sonni is also a very talented artist, with her creative work having been featured on boards, cars and in solo gallery exhibitions.
Sonni is also the daughter of windsurfing legend Jürgen Hönscheid, meaning she grew up on the beaches of Maui and the Canary Islands along with her two sisters and helps explain her natural affinity with the ocean.
Oh and she just happens to be a brand ambassador for the motoring giant Mercedes Benz as well…
https://www.instagram.com/p/BGNUq5tzcH6/
At a time when the SUP industry is hitting something of a ceiling in terms of supporting athletes, it's great to see a brand as big and influential as Mercedes supporting the sport. Apart from working with Sonni, the German automaker is also the title sponsor of the annual SUP World Cup in Scharbeutz, Germany, which is scheduled for June 30th-July 2nd in 2017 and should be one of the biggest events in Europe.
I've had the pleasure of traveling with Sonni in Europe the past couple of years, so I can say from experience that she's one of the nicest paddlers you'll meet both on and off the water. She's an asset to both our sport and the Mercedes brand.
Watch the film up top and enjoy.
Below: Sonni with her father, Jürgen, and her artistic creations
https://www.instagram.com/p/BHQPaV4hCWx/