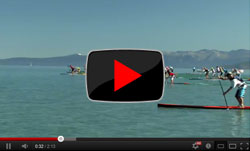 August 29, 2012
by Christopher Parker (@wheresbossman)
[VIDEO] Looking Back And Looking Ahead: "Race The Lake Of The Sky" Will Return In 2013
By all accounts, the 2012 Race The Lake of the Sky was an awesome stand up paddle event. Good racing, good weather, good people. I'm sure it'll go down as one of the top SUP races of 2012 for many of the paddlers who made the trip to Lake Tahoe at the end of June.
But if you missed out on the fun, don't worry; the Race The Lake of the Sky 2013 has just been announced. The SUP race returns to Lake Tahoe on 29th & 30th June, 2013. It's already locked in our 2013 SUP Race schedule (yep, our calendar is filling up 12+ months in advance these days), so mark the date.
To get you in the mood, check out a great clip from this year's Race The Lake of the Sky.
This footage makes me want to go paddle in Lake Tahoe. Right now. Good times!