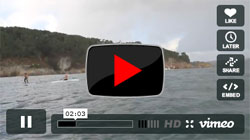 [VIDEO] French SUP Race Championships – Distance Race
The "Championnats de France SUP Race" aka the French National SUP Titles were held last weekend in Crozon on the West Coast, with great conditions for almost all the races. Check out this clip from the 12'6″ Distance Race, which was won by Eric Terrien and Faustine Meret. Nice backdrop huh?
Hopefully we'll see an edit from the epic Beach Race sometime soon as well. That particular race was held in solid surf that caused plenty of carnage, so if you haven't seen 'em already, go check out the French SUP Championships Beach Race photo gallery after you're done with the video below.