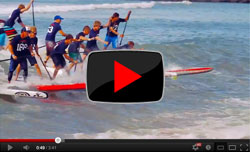 [VIDEO] Awesome Edit From The Battle of the Paddle
Check out this Battle of the Paddle edit from Riviera Paddlesurf, featuring an interview with the King of the BoP Danny Ching.
The crew at Riviera always put out slick videos and this is another great one, so watch the full clip below. We also posted a stack more 2012 Battle of the Paddle videos the other day, so if you can't get enough of the BoP then go check those out when you're done here.