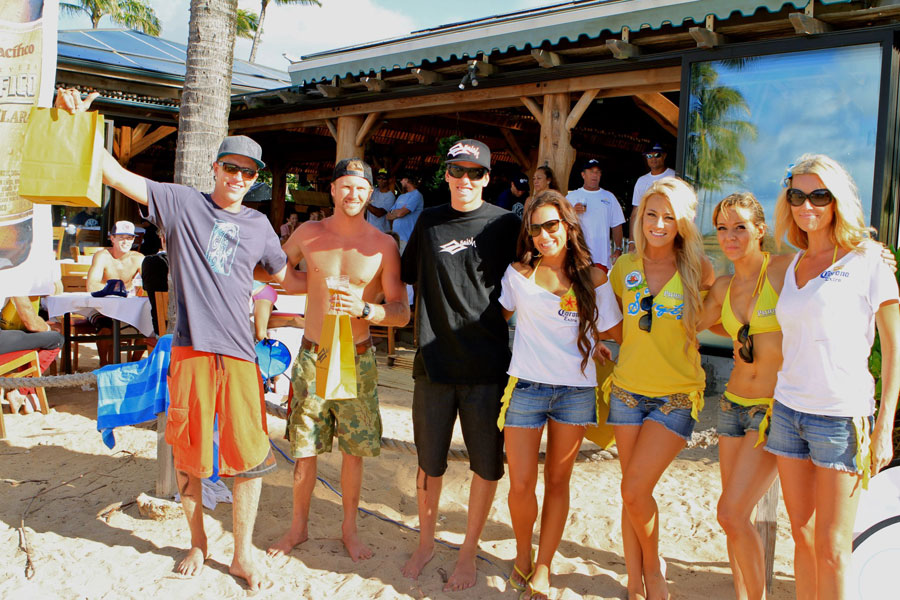 August 12, 2012
by Christopher Parker (@wheresbossman)
[RESULTS] Stand Up World Series' Turtle Bay Summer SUP Challenge
Results are in from the latest Stand Up World Series event, the Turtle Bay Summer SUP Challenge on Oahu's North Shore.
As we've come to expect, Connor Baxter dominated the entire weekend, with the young Maui charger taking out both the Long Distance and Knockout Sprint races to comfortably claim the overall victory.
Meanwhile Andrew Logreco and Kody Kerbox battled it out for the runner-up position, with the result coming down to a tie-breaker "Sprint-Off". The two paddlers were level on points after the Distance and Sprint events, but it was Kerbox who won the tie-breaker and claimed 2nd place overall.
Annabel Anderson was again too dominant on the women's side, beating out Morgan Hoesterey for the win.
The Stand Up World Series continues next month with the Cocoa Beach Paddle Classic (8-9 September) before heading to California for the Huntington Beach Pro Grand Slam (6th-8th October).
*****
Stand Up World Series
Turtle Bay Summer SUP Challenge
MEN'S OVERALL STANDINGS
1st: Connor Baxter
2nd: Kody Kerbox
3rd: Andrew Logreco
4th: Mo Freitas
5th: Bart de Zwart
WOMEN'S OVERALL STANDINGS
1st: Annabel Anderson
2nd: Morgan Hoesterey
3rd: Halie Harrison
MEN'S LONG DISTANCE
1st: Connor BAXTER // 1:16:07
2nd: Andrew LOGRECO // 1:18:54
3rd: Kody KERBOX // 1:19:15
4th: Christian BRADLEY // 1:19:31
5th: Mo FREITAS // 1:19:51
6th: Bart DE ZWART // 1:20:45
7th: Slater TROUT // 1:21:53
8th: Noah GARFIELD // 1:22:51
9th: Jerry BESS // 1:22:57
10th: Tamarua COWAN // 1:23:57
11th: Scott MCPHAIL // 1:25:26
12th: Dean CHRISTENER // 1:26:16
13th: Ryan FOLEY // 1:27:26
14th: Belar DIAZ // 1:27:37
15th: Koliah JARDINE // 1:29:49
16th: Greg BEER // 1:30:01
17th: J STEPHENS // 1:30:40
18th: Michi SCHWEIGER // 1:30:49
19th: Cody HOF // 1:46:10
20th: Kaeo ABBEY // 1:49:52
21st: Logotaeao HILL // 1:57:44
22nd: AlanCHALOM // 2:02:10
WOMEN'S LONG DISTANCE
1st: Annabel ANDERSON // 1:23:00
2nd: Morgan HOESTEREY // 1:28:37
3rd: Halie HARRISON // 1:34:22
4th: Katie STEPHENS // 1:46:28
MEN'S KNOCKOUT SPRINTS
1st: Connor BAXTER
2nd: Kody KERBOX
3rd: Andrew LOGRECO
4th: Mo FREITAS
Full results coming soon… 
WOMEN'S KNOCKOUT SPRINTS
1st: Annabel ANDERSON
Full results coming soon…