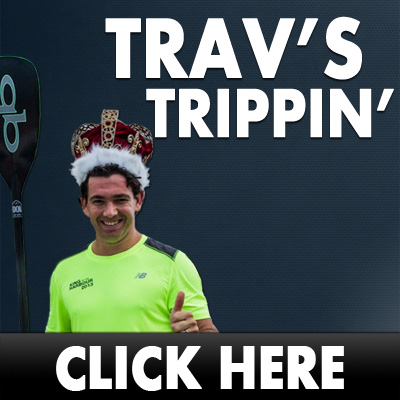 May 24, 2013
by Travis Grant
Trav's Trippin Episode #2: Downwind Time In Biarritz!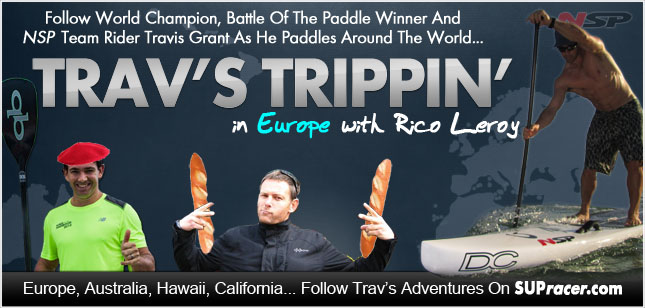 Boss Man's note: We're stoked to have one of the world's best paddlers, Travis Grant, sharing his global paddling adventures with us over the next few months on SUPracer.com. The World Champ has just landed in Europe for a few weeks of big races, so check out the latest instalment of Trav's Trippin' below…
Trav's Trippin' – Welcome To France!
Stoked to be in France for some new adventures! I arrived in Paris on Tuesday with my NSP go to man Alain Teurquetil and then we drove straight down to Biarritz to meet up with my NSP team mate Rico Leroy.
The trip didn't start super smoothly.. we had some mild delays at Sydney airport getting our bags on the plane. Alain was flying on Singapore and I was flying with Thai.
We'd planned to take one board each, so that I could travel with my 12'6 and 14′, but Singapore wanted nothing to do with it!
After some quick calls and a bit of wrangling, we managed to get Thai Airways to check-in both of 'em. First they took my 12'6 and then they agreed to carry my 14′ as well.
Stoked! Would have been tough racing against the world's best paddlers on a foot and a half shorter board!!
So we landed in Paris and headed down to Biarritz, where my NSP team mate and all around French paddling legend Rico Leroy joined us for the adventure.
Rico does it all – SUP, outrigger, tandem surfing, you name it. If it's fun and it's in the ocean, Rico probably does it!!
Weather was a bit chillier than I expected but I was super keen to get in the water and get paddling, so we met up with some of the local guys and spent a couple of days doing outrigger downwinders and getting our feet wet on the SUPs. Alain, Rico, me plus some of the local guys including Arthur Daniel and Vincent Verhoeven andd Martin Letourneur.
There's some amazing paddlers in France and seeing how new the sport of stand up is in this part of the world, it can only get better and better.
Everyone seems genuinely excited to learn from the international paddlers and improve their skills. Watch out, in a few years Europe could be taking over!
Today it's Friday and we're driving across the country to sainte maxime, over on the French Riviera (ooh la la!) for the big SUP Race Cup. I'll be racing against guys like Connor Baxter, Chase Kosterlitz, all of France's top guns and my mates from back home in Aus like Jacko, Jakey and Beau.
Should be fun, I'm sure Boss Man will keep you all updated over the weekend haha. I'll chat to ya again on Monday hopefully with a winning race recap!!
Cheers, Trav
---