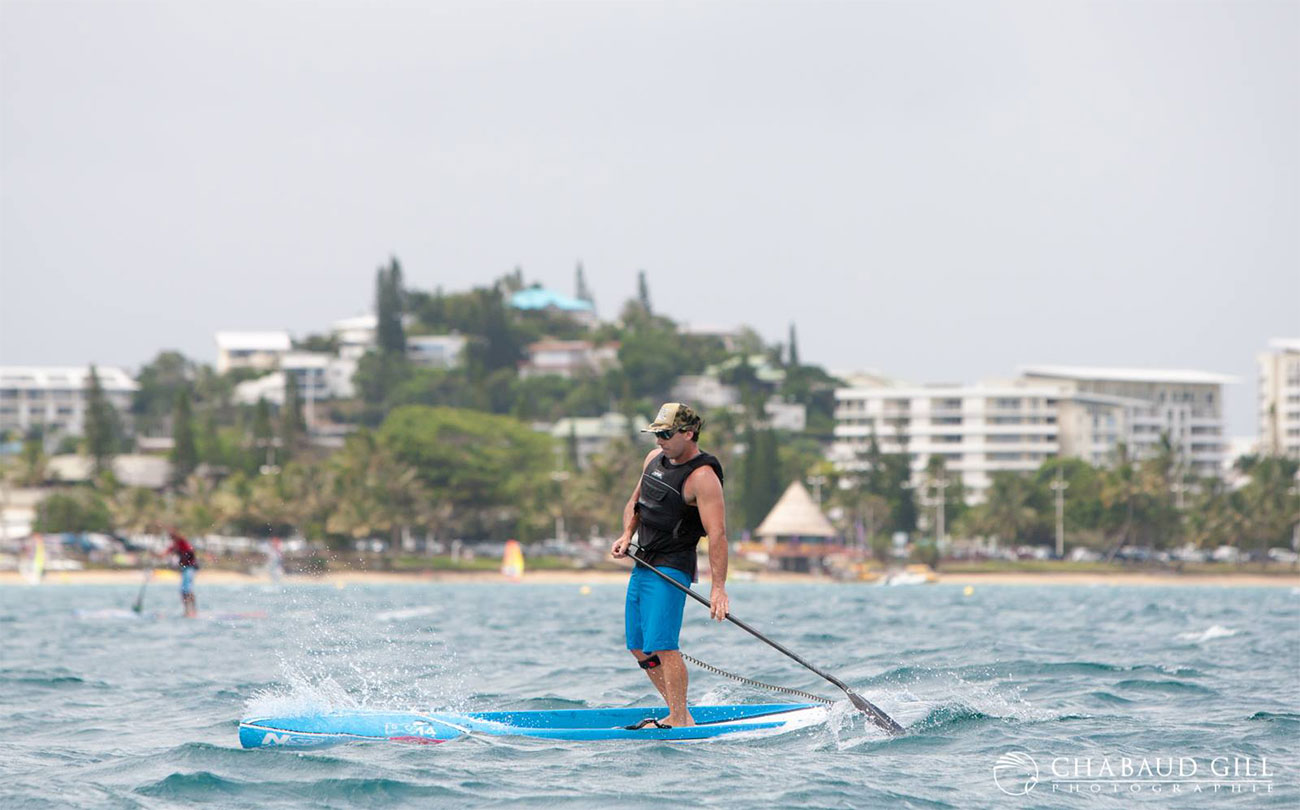 March 26, 2015
by Christopher Parker (@wheresbossman)
Travis Grant Topples Titouan Puyo At The NBS Race In New Caledonia

Travis Grant toppled Titouan Puyo at home in New Caledonia last weekend, taking out the Downwind/Beach Race double at the NBS Race.
These two guys are a couple of the world's premiere bump riders. While you may think "Connor" and "Kalama" when you think downwind supremos, Travis and Titou are both firmly on the top level as well. These guys have a sixth sense for reading the ocean, and if the wind is blowing and the bumps are running, you'll struggle to keep them in sight.
However the duo have never raced head-to-head until now.

Unfortunately we didn't get to see the head-to-head match-up that we'd been waiting for in Saturday's downwind race: Trav was on a 14 footer while Titou used his trusty 12'6. The Aussie crossed a minute and a half ahead of his local counterpart, though it's hard to tell how much of that advantage came from an extra foot and a half of foam under his feet.
(Another reason we need to do away with having two almost identical but totally separate board classes.)
Local dark horse Franck Muller was third, while future name-to-watch, Clement Colmas, was next over the line.
Trav backed up his downwind result by taking the Beach Race on Sunday, this time racing the same board class as Titou. Though Titouan's specialty is the downwinder, so we'll have to wait for another day before we see these two titans duke it out side by side.
The Noumea Board Shop Race, hosted by a local retailer of the same name, was a further showcase of New Cal's paddling paradise.
Results from the Downwinder are below and there are hundreds of pics on Facebook: Downwinder gallery | Beach Race gallery
| # | Name | Time | Class |
| --- | --- | --- | --- |
| 1 | Travis Grant | 00:52:25 | Men's 14' |
| 2 | Titouan Puyo | 00:54:00 | Men's 12'6 |
| 3 | Franck Muller | 00:55:19 | Men's 14' |
| 4 | Clement Colmas | 00:57:11 | Men's 12'6 |
| 5 | Arnaud Bouyé | 00:58:04 | Men's 12'6 |
| 6 | Jean Louis Colmas | 00:58:27 | Men's 14' |
| 7 | David Anewy | 00:58:40 | Men's 12'6 |
| 8 | Alexandre Rouys | 00:59:01 | Men's 14' |
| 9 | Bruno Masson | 00:59:20 | Men's 14' |
| 10 | Mario Tranier | 01:00:05 | Men's 14' |
| 11 | Axel Lux | 01:00:26 | Men's 14' |
| 12 | Erwan Bouvier | 01:00:34 | Men's 14' |
| 13 | Olivier Garioud | 01:01:41 | Men's 14' |
| 14 | Philippe Bui | 01:02:32 | Men's 12'6 |
| 15 | Fabrice Chaminade | 01:03:17 | Men's 14' |
| 16 | Yann Clavel | 01:03:37 | Men's 14' |
| 17 | Alain Turquetil | 01:03:51 | Men's 14' |
| 18 | Michel Hauata | 01:04:02 | Men's 12'6 |
| 19 | Benji Claveau | 01:04:07 | Men's 12'6 |
| 20 | Kaheva Mahiota | 01:05:32 | Men's 14' |
| 21 | Pehi Aniamioi | 01:05:37 | Men's 14' |
| 22 | Théau Gontard | 01:06:24 | Men's 12'6 |
| 23 | Grégory Taero | 01:06:30 | Men's 14' |
| 24 | Jérémie Mandin | 01:06:42 | Men's 12'6 |
| 25 | Renato Mercuri | 01:07:32 | Men's 14' |
| 26 | Lionel Radigue | 01:08:02 | Men's 14' |
| 27 | Jean-Philippe Chabal | 01:08:35 | Men's 12'6 |
| 28 | Téva Tapati | 01:08:39 | Men's 14' |
| 29 | Marie-Bénédicte Roger | 01:09:00 | Women's 14' |
| 30 | Miranda Tane Sanson | 01:09:00 | Women's 12'6 |
| 31 | Liam Golis-Tuyen | 01:09:01 | Men's 12'6 |
| 32 | Michel Pierre Sempere | 01:11:54 | Men's 14' |
| 33 | Vincent Berger | 01:12:52 | Men's 12'6 |
| 34 | Isabelle Faget | 01:12:53 | Women's 12'6 |
| 35 | Benoit Maritan | 01:14:39 | Men's 14' |
| 36 | Stéphane Amatredjo | 01:15:46 | Men's 14' |
| 37 | Nancy Tuyen | 01:15:46 | Women's 14' |
| 38 | Mickaël Cucchi | 01:16:52 | Men's 12'6 |
| 39 | Tepua Chabal | 01:18:05 | Women's 12'6 |
| 40 | Sonia Dumas | 01:18:58 | Women's 12'6 |
| 41 | Remy Guieba | 01:20:47 | Men's 14' |
| 42 | Frederic Durand | 01:22:11 | Men's 12'6 |
| 43 | Stephane Moussan | 01:25:47 | Men's 14' |
| 44 | Francoise Marmey | 01:26:22 | Women's 12'6 |
| 45 | Herve Scholash | 01:28:27 | Men's 12'6 |
| 46 | Gregoire Prigent | 01:29:53 | Men's 12'6 |
| 47 | Valerie Lignon | 01:35:30 | Women's 12'6 |
| 48 | Laure Canto | 01:35:43 | Women's 12'6 |
| 49 | Christine Mitride | 01:38:23 | Women's 12'6 |