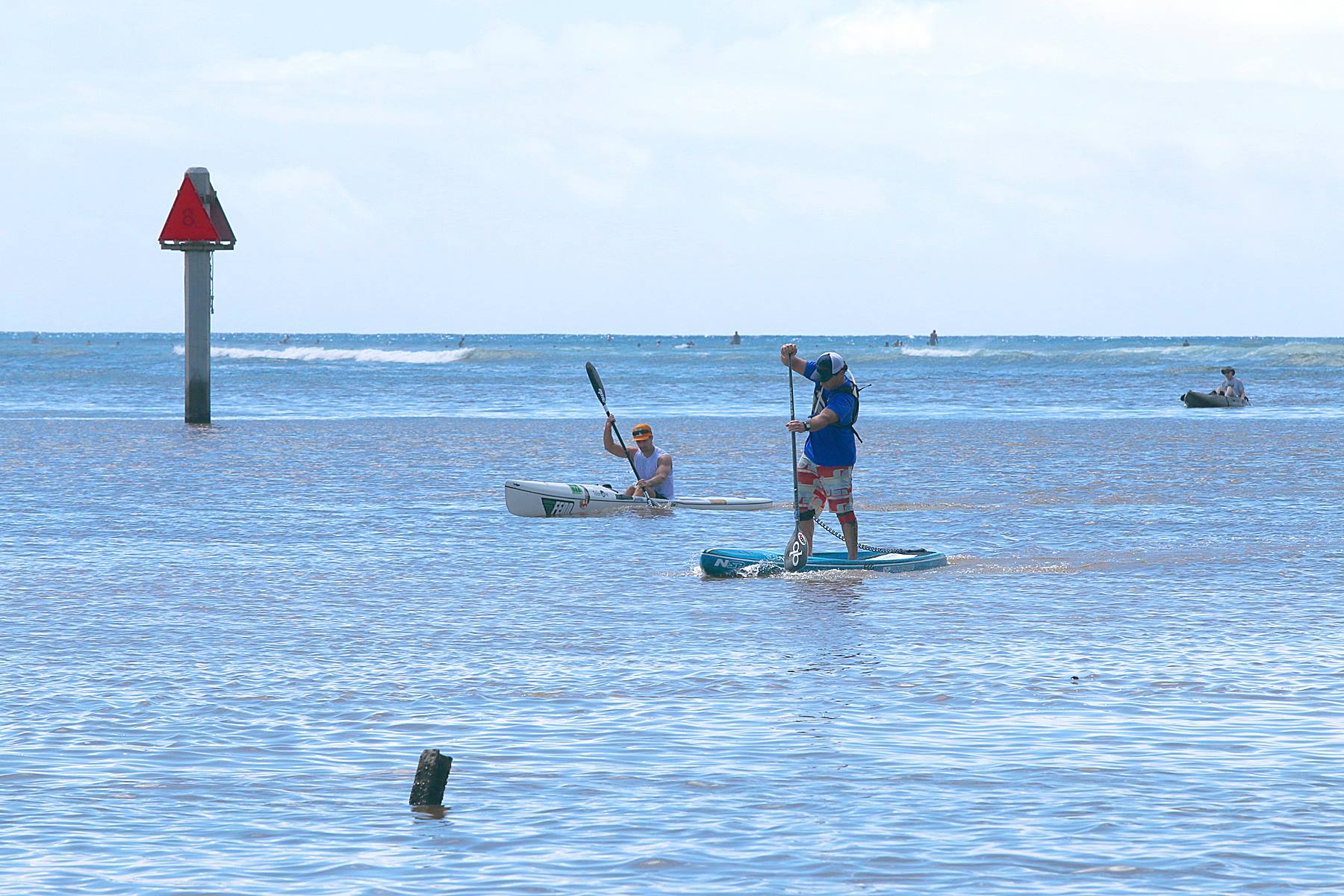 March 10, 2014
by Christopher Parker (@wheresbossman)
Travis Grant Returns From Injury With Victory On Oahu, Looks Set For Another Stellar Year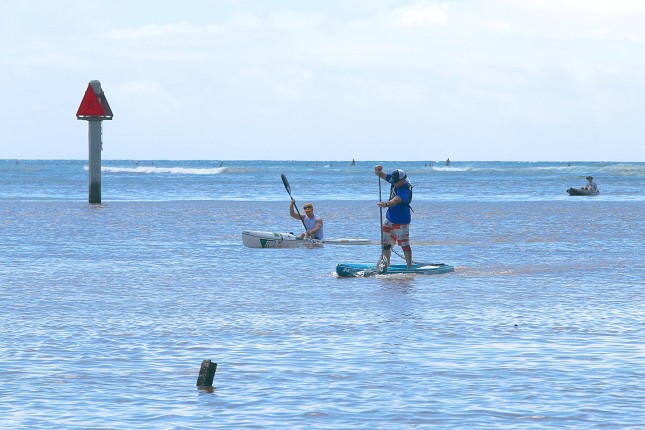 The reigning Molokai and BOP Distance Champ, Travis Grant, has returned to form with a solid win on the weekend, his first race on a SUP since having knee surgery three months ago. Travis took out stop #6 of the Oahu-based "Kanaka Ikaika" race series, finishing two minutes clear of young gun Mo Freitas and four minutes ahead of Kaeo Abbey.
Not only was this Trav's first race since coming back from injury, it was actually only the second time he's paddled standing up since November…
The Aussie (who now resides on Oahu) famously won the 2013 Battle of the Paddle Elite Distance race, despite dislocating his knee two weeks before the event. That injury eventually required surgery around Christmas time, which kept the humble star out of the water for several weeks. Travis has slowly returned to training on his outrigger, but his legs are still well below strength and he only hopped on a SUP for the first time last week.
Travis also won Kanaka Ikaika race #5. That victory was on an OC-1 not a SUP, however it's just one more sign that his return from injury is going to be swift.
So there you go. Travis Grant can't even walk properly yet he's still winning races. He's in ominous, early-season form and it'll now be very interesting to see how he fares at the bigger races coming up in the next couple of months, such as the Carolina Cup at the end of April (which is looking set to feature an all-star field). I think the NSP team rider is in for another stellar year…
We'll find out soon enough, but in the meantime you can see results from the weekend's race below.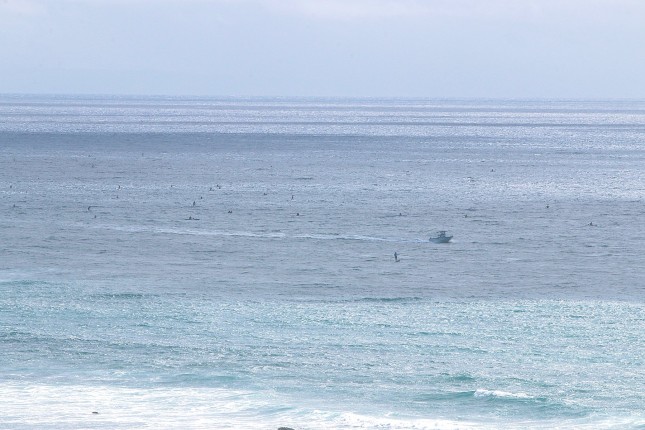 All photos © 'Ōiwi Ocean Gear (check out their race gallery of 200+ pics on Facebook).
*****
Kanaka Ikaika Race #6: Hawaii Kai – Magic Island
| # | Name | Time | Class | Class # |
| --- | --- | --- | --- | --- |
| 1 | Travis Grant | 1:30:52 | Men's 14' | 1 |
| 2 | Mo Freitas | 1:32:42 | Men's Unlimited | 1 |
| 3 | Kaeo Abbey | 1:35:07 | Men's 14' | 2 |
| 4 | Kai Chong | 1:36:45 | Men's 14' | 3 |
| 5 | Aaron Napoleon | 1:40:21 | Men's 14' | 4 |
| 6 | Jim Foti | 1:41:18 | Men's 14' | 5 |
| 7 | Robert Stehlik | 1:42:59 | Men's 14' | 6 |
| 8 | Kione Dahlin | 1:43:25 | Men's 14' | 7 |
| 9 | Matthew Sack | 1:44:08 | Men's 14' | 8 |
| 10 | James Martindale | 1:46:32 | Men's Unlimited | 2 |
| 11 | Rachel Bruntsch | 1:47:31 | Women's 14' | 1 |
| 12 | Jeff Chang | 1:49:30 | Men's 14' | 9 |
| 13 | Devin Moody | 1:51:26 | Men's 14' | 10 |
| 14 | Andrew Ching | 1:52:14 | Men's 12'6 | 1 |
| 15 | Tyson Rodrigues | 1:53:43 | Men's 12'6 | 2 |
| 16 | Alika Tom | 1:54:08 | Men's Unlimited | 3 |
| 17 | Kelsa Gabehart | 1:55:13 | Women's 14' | 2 |
| 18 | David Cordell | 1:56:02 | Men's 14' | 11 |
| 19 | Jennifer Fratzke | 1:56:31 | Women's 14' | 3 |
| 20 | Steve Reeves | 1:58:14 | Men's Unlimited | 4 |
| 21 | Sam Pa'e | 1:59:11 | Men's 14' | 12 |
| 22 | Cory La Rieu | 1:59:51 | Men's 14' | 13 |
| 23 | William Enoka | 2:05:41 | Men's Unlimited | 5 |
| 24 | Albert Verdadero | 2:07:37 | Men's 12'6 | 3 |
| 25 | Rachel Fujita | 2:16:10 | Women's 14' | 4 |
| 26 | Herbie Titcomb | 2:16:33 | Men's 14' | 14 |
| 27 | Lyman Ashikawa | 2:17:53 | Men's 12'6 | 4 |
| 28 | Geno Antonio | 2:25:30 | Men's 12'6 | 5 |
| 29 | Jane McKee | 2:26:42 | Women's 14' | 5 |
| 30 | Paul Jansen | 2:27:19 | Men's 14' | 15 |
| 31 | Mark Miller | 2:42:36 | Men's 14' | 16 |
| 32 | Ronny German | 2:59:05 | Men's 14' | 17 |