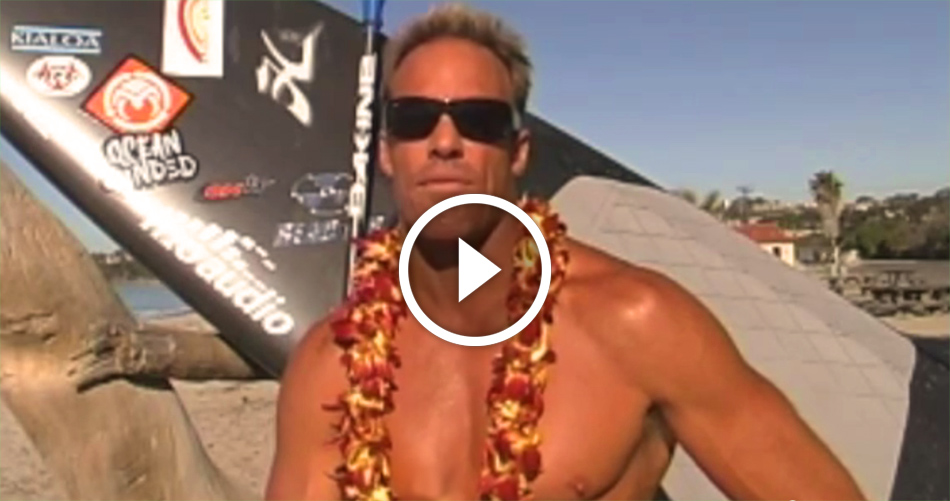 January 8, 2015
by Christopher Parker (@wheresbossman)
Throwback: To When Nobody Knew What A Race Board Should Look Like (And Chuck Was The Terminator…)
In the world according to Instagram, Thursday is a day of reflection. It's when we go memory-lane tripping and look back on some of our fondest times.
Throwback Thursday is basically just an excuse to post cool pics and vids from ages ago (plus fill a hole on a slow news day…). And what could be cooler than Chuck Patterson sporting a pair of Terminator-style sunnies as he races his way to a $10,000 prize in the first ever Battle of the Paddle?!
This is some of the earliest SUP racing footage known to man, because it's taken at the first ever really big, serious stand up paddling event. This is the 2008 Battle of the Padddle California, the race that more or less created the sport as we know it today. Apparently this was back before anyone really knew what a SUP race board was supposed to look like (there are some very oldschool designs in there…).
So watch above and enjoy a little Throwback Thursday, Battle of the Paddle edition.
And for the history buffs, here's how the Top 10 looked six and a half years ago:
1st: Chuck Patterson (1:12:06)
2nd: Thibert Lussiaa (1:13:48)
3nd: Aaron Napolean (1:15:34)
4th: Kyle Mochizuki (1:16:50)
5th: Jimmy Terrell (1:18:40)
6th: Bryce Saeman (1:19:53)
7th: Rob Pelkey (1:20:03)
8th: Guy Pere (1:20:07)
9th: Dan Gavere (1:20:11)
10th: Brandon Denos (1:20:36)
Plus the women's podium:
1st: Jenny Kalmbach (1:28:40)
2nd: Candice Appleby (1:35:16)
3rd: Morgan Hoesterey (1:40:50)
Oh and here's another clip of that historic day via one of my favourite SUP film makers, Chris Aguilar, who is ever so happy whenever I dig up his raw early work 😉
Then finally there's this little gem from one of SoCal's stalwart SUP brands, Riviera Paddlesurf: