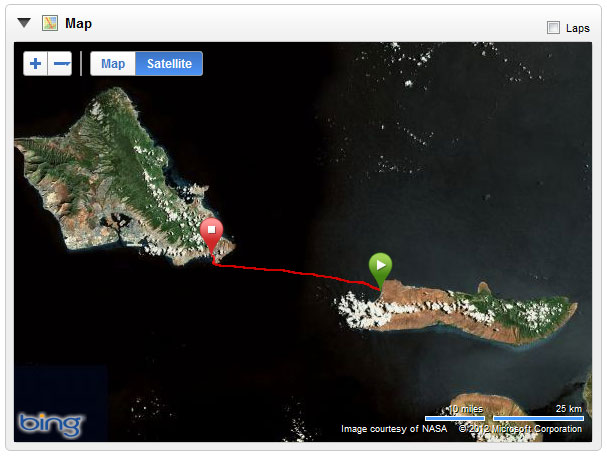 August 5, 2012
by Christopher Parker (@wheresbossman)
This Is What A Molokai Crossing Looks Like
This is what the Molokai to Oahu race looks like from above. The map below is taken from the Garmin Connect data of Aussie paddler Terrene Black, who scored a very impressive third place in the 32 mile race last weekend.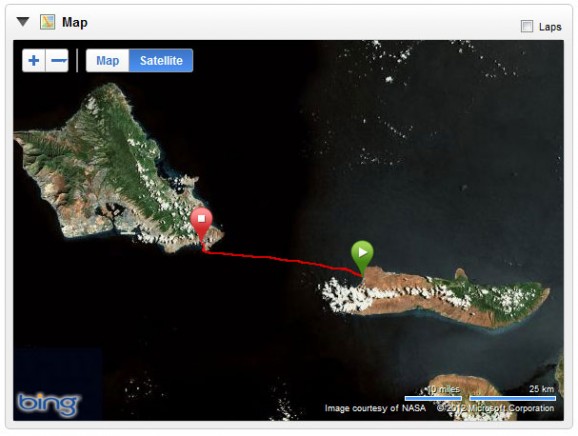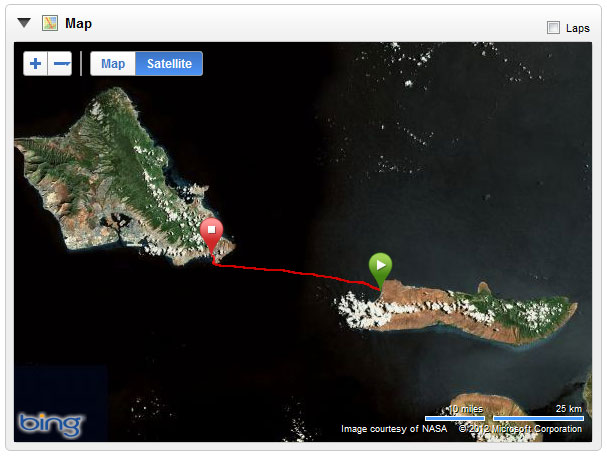 Here's her speed chart, with each spike probably corresponding to Terrene catching bumps and swells.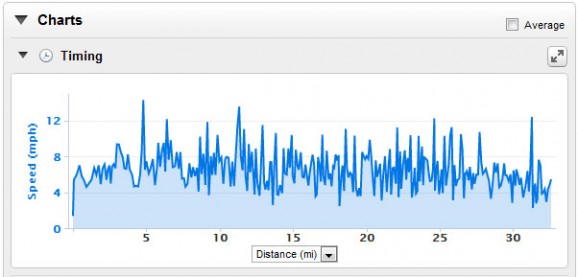 Finally, take a look at Terrene's race recap and get an insight into just how tough this event is:
It was such a relief to finally start this race. The months, weeks and days leading up to this race were the most anxious. Organising flights, accomodation, a support boat, board transportation, food and hydration. Its such a relief when your paddling out to the start, because it means everything is done, and you can now rely on your training to get you home.

There was no pressure at the start, I planned to just head out easy, get in to my zone and pass the km's away. About 2kms in to it, the fun began. Watching people ahead zig zagging back and forth is sure to get you excited. I love downwinding. It requires all your focus on reading the ocean. You forget about paddling and racing, your just chasing those bumps. Having a support boat next to you makes it even easier. You don't have to worry about looking up and trying to work out where the hell your going.

This day was particularly overcast and all you could see of Oahu was cloud. I couldn't really discern it untill 3/4 of the way across and even then I still didn't know which headland I was aiming for. Half way across the boys yelled out to let me know. I checked my Garmin and I was so happy with the time I was making. My goal was to average 10km's an hour which is roughly 6 mins a km. I knew the end was going to be slow, so everytime I paddled under 6 mins I was stoked. It meant I would have time left over for the end.

For the first half we had good wind. Towards the end when your body is letting you know its had enough the wind really backed off. There were still bumps to catch but it was hard work to get in to them. The water also started to get rough. A combination of the deep water and also the backwash rebounding off the headlands. This is where my training at home paid off. We spent hours upon hours paddling around similar headlands at home. Its not enjoyable but the more you do it, the more you start to make sense of it. There are still bumps to catch so you have to remain focused.