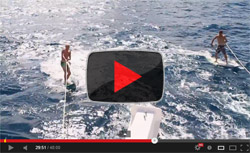 WATCH: The Starboard Movie (Yes, The Entire Thing)
See what the lucky young things from Team Starboard get up to on the road, as the likes of Connor Baxter, Annabel Anderson, Zane Schweitzer, Justin Holland and co travel the world competing in SUP racing and SUP surfing events from Brazil to Hawaii to Dubai and a few other places in between.
The Starboard Movie (aka "The Starboard Project 2013") is a full length SUP video featuring some of the world's best paddlers in some of the world's best locations. The Project was created by the Waterman League (the organisers of the SUP World Tour/World Series). Because it's 2013 and not, you know, the dark ages, Starboard and the Waterman League decided to release the entire video online for free.
The video has actually been lurking on YouTube for a couple of months but we only just heard after a bunch of real-world premieres were announced in the past couple of weeks. So grab a drink and watch the entire "Starboard Project 2013" clip below. Yes, it's basically a 48 minute-long advertisement for Starboard, but it's got so much cool footage in there that we really don't care what the point of it is, it's simply just fun to watch…