April 3, 2023
by Christopher Parker (@wheresbossman)
The coldest race on earth
Jim Terrell from Quickblade has a saying about technique: Imagine you're paddling through concrete so you plant your blade in the water and pull your feet up towards it. Well maybe Jimmy should do a clinic in Quebec, because the wintery waters of Eastern Canada look a lot like cement.
Quebec's famed ice canoe racing has returned to the icy waters of St. Lawrence River over the past couple of months. Possibly the most fascinating type of paddle race I've ever come across, "ice canoeing" is equal parts novelty show and epic physical challenge. Teams of five must push their wooden boats across hundreds of metres of ice before reaching and paddling across "open water" that looks more like a 7-Eleven slushie.
The entire spectacle is batshit crazy and that's why I love it.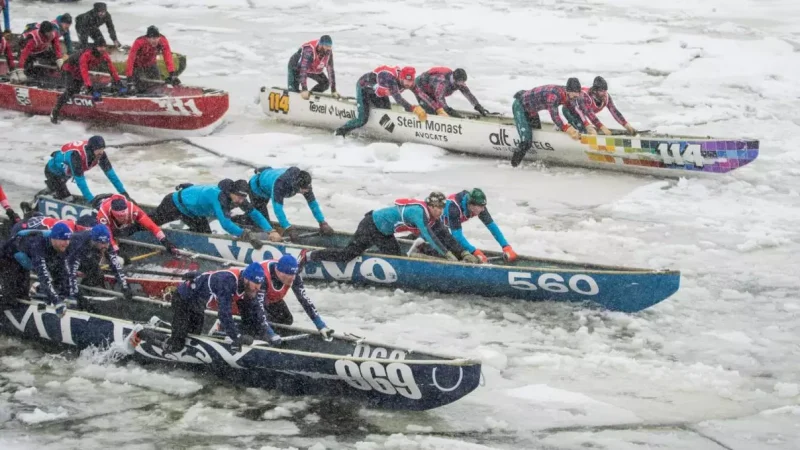 While it may seem a little odd, this "sport" is actually steeped in history. The practice dates back to the 1600s as a legitimate means of transport.
According to Wikipedia, ice canoeing even has its own federation (of course) with the 'ACCGQ' or Association des Coureurs en Canot à Glace du Québec sanctioning half a dozen events each winter. The main event seems to be held during Québec's Winter Carnival in February.
Traditionally made from wood, elite teams now use fibreglass canoes. Each boat is around 100-110kg and lengths vary from 20-28ft. Spike shoes are worn to help push across the ice, while the canoes are rowed/paddled by a team of four with a steerer-captain sitting at the back.
Watch the drone shots below for context of just how far they have to push the damn things.
And here's a summary from a few years back of what looked to be a particularly brutal winter…
Amazing! Another one for the bucket list.
photo credit: Fred Photo via quebec-cite.com