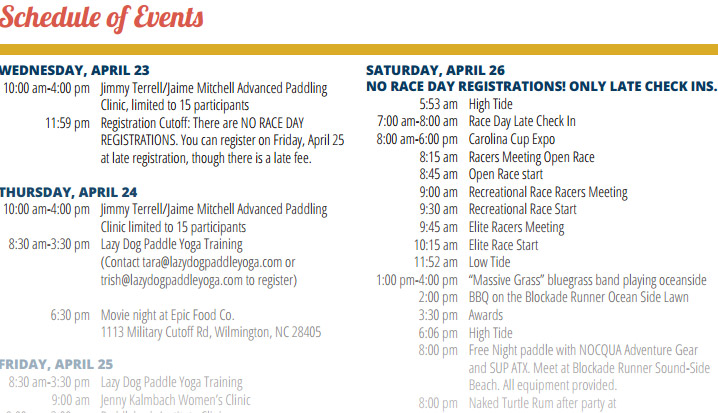 April 23, 2014
by Christopher Parker (@wheresbossman)
What Do The Carolina Cup And Coachella Have In Common?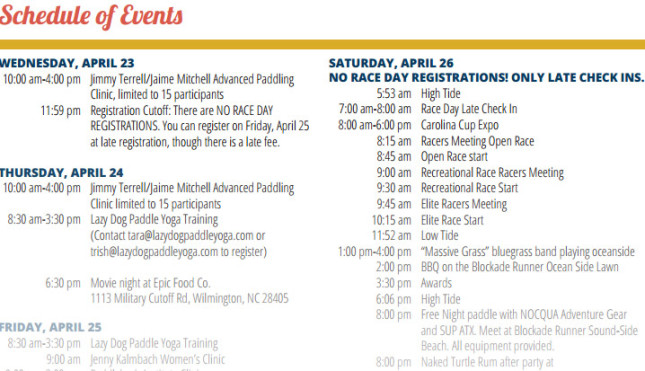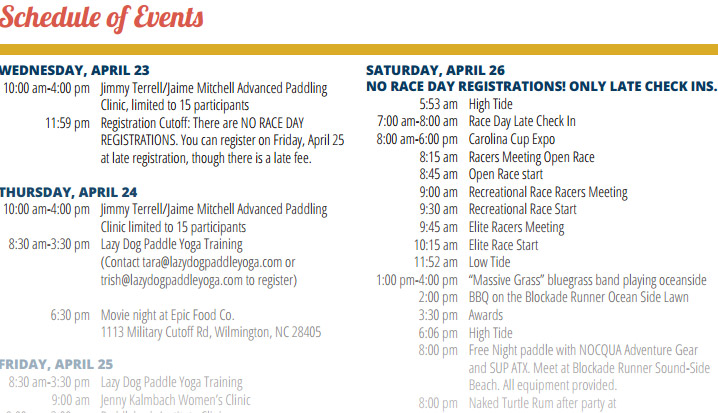 One thing that's become very clear since I arrived in Wrightsville Beach a couple days ago: There is an insane amount of organisation going into this event.
The Carolina Cup is not a race, it's not even an event: It's a five-day stand up paddling festival.
Seriously, check out the Carolina Cup event flyer – it looks less like a SUP race and more like a Coachella festival guide.
Demos, expos, movie nights, clinics (oh there's clinics…), autograph signings, SUP yoga sessions, pre-parties, after-parties, night paddles, live music… There might even be time for a couple of actual races in there.
Jamie Mitchell and Jim Terrell are on the Blockade Runner stage from 10am Wednesday/Thursday. Chris Aguilar takes to the Epic Food Co. stage on Thursday night. Jenny Kalmbach gets things going on the main stage Friday morning, Dan Gavere takes over after lunch, while Dave Kalama is the main entertainment on Friday night.
And then of course we have the headline act: The 12.5 mile Graveyard Elite Race at 10:15am on Saturday, which looks like it'll be the single most competitive SUP race of the year (outside of the Super Bowl of course).
In short: There's an insane amount of organisation going into this event. And so far the organisers, who include John Beausang, James Bain, Mark Schmidt and the girl-who-won't-be-getting-much-sleep-this-week, Katie from Distressed Mullet, seem to be doing a very fine job.
---
Carolina Cup Full Event Coverage All Week Long: