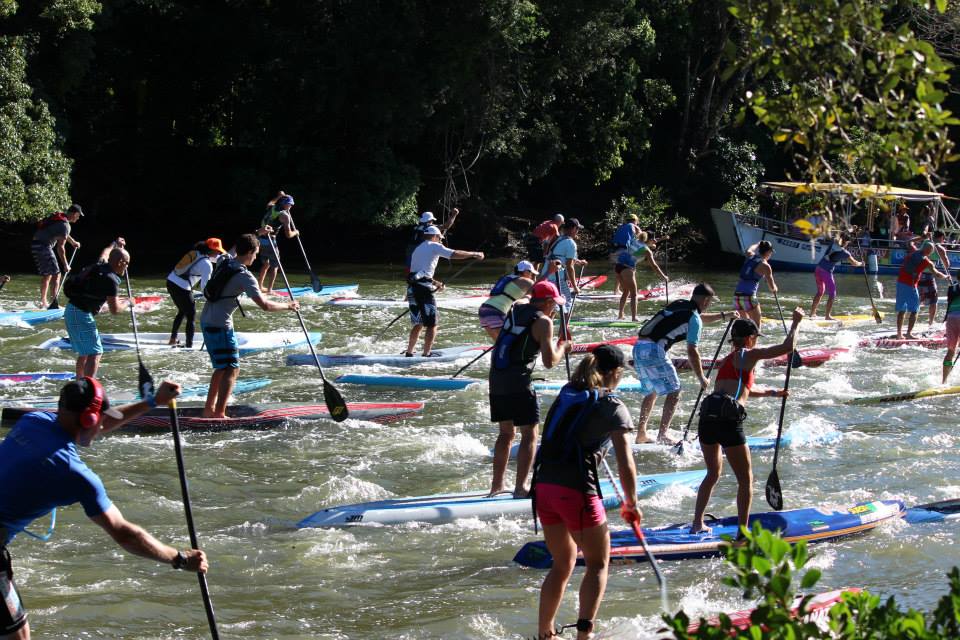 May 28, 2014
by Christopher Parker (@wheresbossman)
1,201 Paddlers Took Part In A Race In Australia On The Weekend…

So there was this race in Australia on the weekend with 1,201 paddlers in it. One thousand two hundred and one paddlers.
Though before you get the record books out, one minor detail: They weren't all standing up… The 1,201 paddlers were on everything from SUPs to prones to kayaks to inflatable mattresses. There was even a small viking ship spotted at one point. But no matter what each person was paddling, this seemed like a pretty awesome event. Plus there was still around 150 paddlers on stand ups, which would be bordering on a record for a SUP race in Oz anyway.
The Mullum2Bruns Paddle is held on the Brunswick River between Mullumbimby and Brunswick Heads, in the far north of New South Wales and not far from the stand up paddling mecca of the Gold Coast. History tells us the race originated in the early 80s as a local fundraiser but has since has grown into an absolutely massive event.
However it's not really a race…

The Mullum2Bruns paddle is not so much a competition as it is a party on the water.
Sure, there are winners, but most of the paddlers take to the river in fancy dress (there were a lot of hulu skirts spotted this year) and care more about having fun than going fast. Paddlers that complete the shorter fun race stay out on the course, mixing it with the finishers from the 12km race in what is quite a sight to behold at the finish line.
Everyone that took part, or even just watched from the river bank, seemed pretty stoked with the event. There was even a "Best In Show" type award for the most elaborately decorated craft. These guys were the runner-up this year:

Seems like a pretty epic race. The globetrotting Fanatic duo of Paul and Angie Jackson were there and just posted 150+ pics of the action up on Facebook to give you a better idea of how it looked.
I wasn't there in person (Brunswick is a long way from Europe), but a wise man (Alain Teurquetil – the guy who designs Travis Grant's boards) summed it up like this when I chatted with him today:
"This race is simply amazing, you have to talk about it…

We're scratching our heads trying to grow the sport, organising all these exotic races with big prize money and everything. And then you have this. Which is apparently exactly what we need to get people involved in racing for the first time. No prize money, not even correct classification at the end, yet everybody is happy and wants to come back next year because it's so much fun. It attracts everybody from international pros to complete beginners…

They key for me is having all the recreational paddlers (who weren't being timed, just doing the distance at their own pace) starting whenever they wanted before the serious paddlers set off. That meant the fast guys and girls were constantly passing people all the way from the start to the finish. On all types of craft. It didn't matter what they were paddling or how fast or slow they were going, everyone was being encouraged by everyone else that was out there just paddling and having fun. It was quite amazing…

I think this kind of event really encourages people to get into the sport. My wife did the fun race a couple of years ago and this year she was encouraged to jump into the 12km race. Now she's paddling all the time getting right into it."
Oh and just for the record: Young gun Trevor Tunnington was the quickest of the guys while Karla Gilbert won the women's race.