June 18, 2014
by Christopher Parker (@wheresbossman)
The Biggest Weekend Of The Year? (Or: We're Gonna Have Live Coverage Of The Payette River Games And The Lost Mills)
Saturday, June 21 is the Summer Solstice. The longest day of the year. Quite fitting then, given that this weekend will probably be the biggest two days of the year for the SUP racing world.
Between Idaho and Germany, we're about to witness two massive races that will feature nearly 100% of the world's best paddlers.
Right now we're camped out here in Cascade, Idaho (where the days are freakishly long) for the start of the Payette River Games, which runs from Friday to Sunday. Across three days we'll see the likes of Travis Grant, Kai Lenny, Jamie Mitchell, Candice Appleby, Slater Trout, Gillian Gibree, Dan Gavere, Mike Tavares and many more try to balance their way down the river and through the rapids of Kelly's Whitewater Park.
The event has an all-star lineup and a record-setting prize purse of $50,000. And from what we've seen in the practice runs the past few days, Payette is also going to produce some carnage photos that'll rival the Battle of the Paddle (it's been rather humbling to see the ocean guys coming to grips with the rapids).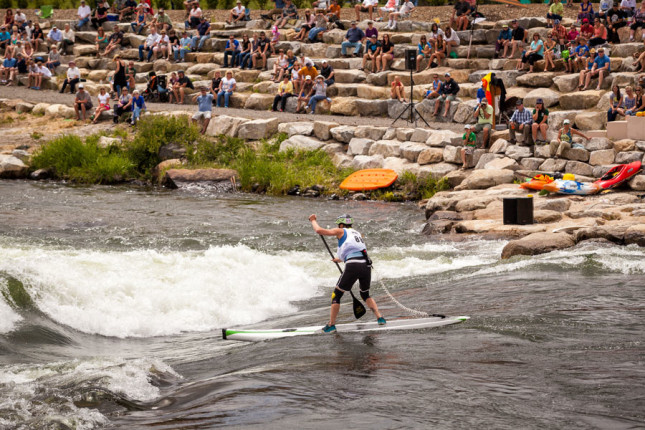 So far the PRGs also appears to be an exceptionally well organised event, especially considering that 777 competitors have pre-registered for the various events on offer this weekend (Payette is much more than just a SUP race – it's a downright festival). Although river SUP has been around for years, I get the feeling the PRGs are going to help make it a more mainstream part of stand up paddling.
But while much of our focus has been on Idaho, on Saturday in Germany we're set for one of the single most elite races of the year: The Lost Mills.
It's Week #6 of the Euro Tour. It's stop #3 of the Champions Tour and it's probably going to have the most competitive lineup of talent ever seen at a race outside the States.
The Lost Mills has grown into Europe's premiere SUP race in recent years, however this year it's on a whole 'nother level…
Danny Ching makes his European debut. Georges Cronsteadt wants to go one better than he did in Carolina. Eric Terrien has a title to defend. Meanwhile guys such as Connor Baxter, Chase Kosterlitz, Casper Steinfath, Titouan Puyo, Jake Jensen, Beau O'Brian, Leo Nika, Vini Martins and plenty of other serious talent will be looking to steal the glory.
And that's just the men's race. In the women's we'll see a duke out between the likes of Sonni Hönscheid, Lina Augaitis and Angie Jackson, all three of whom have been in spectacular form this year.
In short, it's an incredibly stacked field and it's going to be a very hard race. Just making the top 20 (let alone the top 10) will be a huge mission in this one.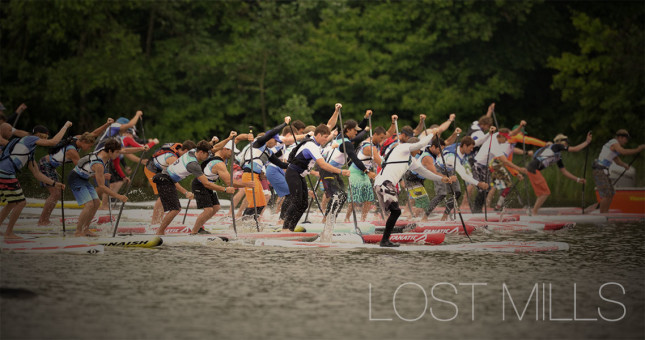 If you wanna know how it all unfolds, we'll be bringing you live updates from the Lost Mills on Saturday. The 18km flat water race starts at 2.30pm German time and our guy on the lead boat will be phoning in regular updates and pics (2.30pm Central European Time = 5.30am California, 8.30am East Coast USA and 10.30pm East Coast Australia).
So if you wanna know whether Danny, Georges, Connor, Eric or any of the other dozen big names are the one to claim the win, you'll hear it first here on SUPracer.com.
Literally minutes after the Lost Mills race finishes, we'll be switching over to the main event: The full HD live webcast of the Payette River Games, which will be starting at 9am local time (8am cali, 11am East Coast) and running all day Saturday and Sunday.
I saw the webcast setup down at Kelly's Whitewater Park yesterday and I can tell you now it's going to be a pretty slick show. The PRGs organisers clearly don't know how to do things by halves…
All weekend long you can sit back and watch as the big names try to master the whitewater in search of glory, bragging rights and the massive $10k winner's cheque (which is on offer for both the men and women). It's going to be a very entertaining show.
So there you go. The longest day of the year and, with apologies to the Battle, perhaps 2014's biggest weekend of racing.
Live updates from the Lost Mills / Euro Tour / Champions Tour in Germany, early Saturday morning.
Full HD webcast from the Payette River Games and its record prize purse in Idaho, all weekend long.
Enjoy.