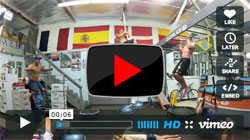 [VIDEO] Fun With Ropes…
Here's a fun, easy little training session you can try out with your mates whenever you're not on the water. Pretty simple: Grab a few of your paddling mates, some ropes, monkey bars, balance balls, and a bunch of GoPros. Throw in a random rock playlist and you're set. Fun times. Just don't do anything stupid like try and keep the pace up for 45 minutes straight… Yes, it hurt.
Featuring Fanatic team riders Paul & Angie Jackson, Steve Walker, the Mad Scientist Jim Terrell, and then some random guy in a blue SUPracer cap. Big thanks to Quickblade Paddles for letting us commandeer their training centre for the arvo!