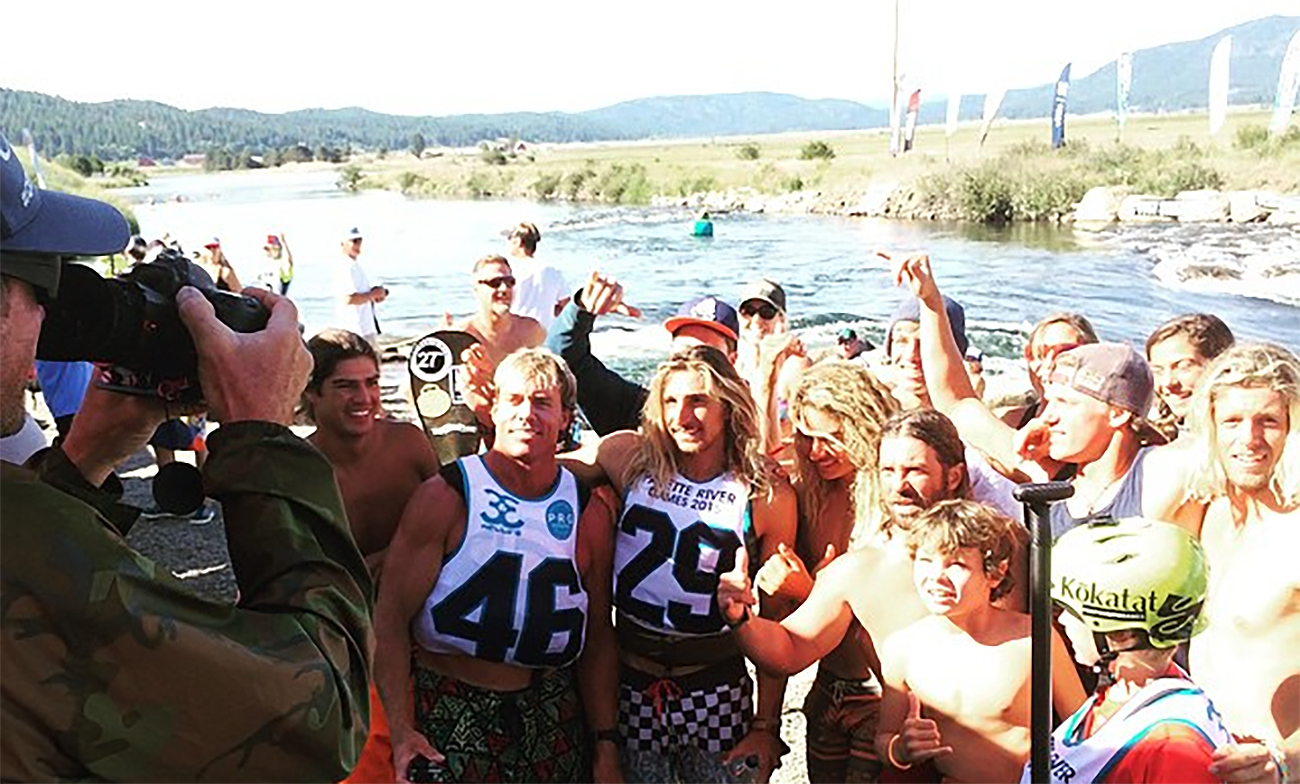 June 25, 2015
by Christopher Parker (@wheresbossman)
On Gratitude… (aka "Everyone Loves The Payette River Games")
Stand up paddle racing is a strange sport sometimes. We're so young and immature, and growing at such a pace, that we often fail to see what's right in front of us. In a mad dash to reach the future before it's ready, we lose sight of what's really important.
Debate and disagreement can be healthy, even vital parts of our sport, however we should never forget what really matters most: Gratitude and positivity. In the world of stand up paddling, especially on the elite side of the sport, I believe we often forget to say thank you to the ones who deserve to hear it most.
That's why it was so refreshing to see so much gratitude flowing in the wake of last weekend's Payette River Games. So encouraging to see all the "Thank you!" and "Can't wait to come back next year" posts on Instagram.
The Payette River Games crew went above and beyond this year. PRG15 was an amazing event. The paddlers had fun and were extremely well looked after, whether it be the free food, massages, the hot tub, Dan Gavere's fun series of buoy course changes, the athletes village, the sideshow events like axe throwing and beach flags, the weather, the insanely large prize money (that was all paid in cash at the awards). The paddlers were almost spoiled. They were spoiled. The fans enjoyed it too: This is one of the most entertaining SUP races you could ever watch. And even if you couldn't make it to Idaho, you'll be able to witness the spectacle on CBS Sports next month complete with guest commentary from Dave Kalama.
The Payette River Games truly is an amazing event, one that we're very lucky to have in our sport. So I want to say thank you to the organising team, to the volunteers, to the sponsors, and to the paddlers that made it a rewarding event. Thank you for giving our sport such an awesome gift.
Though when you really think about it, it should come as no surprise that the PRGs are so beloved. Not just because it's a great race, not just because the paddlers are treated with so much respect and generosity from the organisers, but because everything about the event comes from a good place.
All proceeds from the Payette River Games help fund its host venue, the non-profit Kelly's Whitewater Park. Kelly's is named in honour of Kelly Brennan, the late sister of PRGs co-founder Kristina Pickard (who helps run the event along with her husband Mark). It's a beautiful venue in a beautiful part of the world. The Park is open year round to the public, free of charge. It hosts an academy that gives free paddling camps to underprivileged kids. It has revitalised a small town that was on the brink after its timber mill closed down. Symbolically, Kelly's Whitewater Park sits on the site of that old timber yard – you can still see logs cut logs on the bottom of the river as you paddle up and down the course.
It's a great event and it's no huge surprise that everyone was so stoked with it, but it's still so energising to see these all these paddlers, young and old, show their gratitude.
Below is a small selection of those virtual thank you letters, written by the paddlers that competed at this year's PRGs. Try and soak in their attitude and spirit, and then say "thank you" the next time you race somewhere. Whether it's a grand event like the PRGs or just your local beach race, always remember to show gratitude and positivity.
---
"Thank you Payette River Games so much for an outstanding event! Probably the funnest I've ever been to! The place it is at is unreal! …Thank you to everyone for making the event so much fun! I can't wait to get back!!!"
– Giorgio Gomez (@giorgiogomez)
---
"Thanks to everyone that made the event possible and to the amazing announcers. The Payette River Games was such an amazing experience I can't wait to be back next year!"
– Noa Hopper (@noahopper)
---
"What a great weekend at the Payette River Games racing with these amazing women! … Huge mahalo to Mark & Kristina Pickard for their amazing generosity in hosting such a world class event! The athletes were spoiled with organic healthy meals, massage therapists, a jacuzzi on site and more!! Thank you Dan Gavere for all your hard work in pushing the future of this sport! Mahalo Cascade Idaho for the awesome hospitality! Until next time Aloha!
– Mariko Strickland Lum (@marikoko11)
---
"Big mahalo to @payetterivergames for all the Aloha and such a great event!"
– Zane Schweitzer (@zaniac1)
---
"Already looking forward to #PRG16!!!"
– Fiona Wylde (@fiona_wylde)
---
"Had an epic time up in cascade for the @payetterivergames ! Massive thanks to Mark for putting on an awesome event and really looking after all the athletes. Already looking forward to next year."
– Toby Cracknell (@toby_cracknell)
---
"It's been an fun week here in Idaho. Thank to Mark and Dan for putting on such an outstanding event… Looking forward to next year's event!"
– Noa Ginella (@noa_g)
---
"Thank you Mark & Kristina Pickard for your generosity and vision in pushing the sport of SUP."
– Chuck Patterson (@chuckpatterson)
---
"The Payette River Games were a full success. Super fun, challenging and exiting. Wasn't able to defend my title but had a really good time and can't wait to be back."
– 2014 PRGs champion Fernando Stalla (@fernandostalla)
---
"Definitely one of the most fun events I've been to!!"
– Sage Donnelly (@sagekayak)
---
"With the Payette River Games over for another year the river still flows as the sun sets in the mountains on my last day in Cascade, thanks to Mark and Kristina for your amazing hospitality and all the athletes that made the trip and this event so special, I already can't wait for next year."
– Kelly Margetts (@kmargetts22)
---
"For sure coming back to this amazing event."
– 2015 PRGs champion Mo Freitas (@momosurfs)
---
"Payette River Games.. What can I say.. Most exciting, fun, and challenging competition I've ever done? Maybe… One thing is for sure and that is that it was a hell of time."
– Sean Poynter (@seanpoynter)
---
"Can't believe the week I just had at the Payette River Games!! It was so much freakin' fun!
– April Zilg (@aprilzilg)
---
"Thanks to Mark and Kristina and dan for putting on and running a great event. Also thanks to the volunteers and all the friendly Casacde folk. See ya next year."
– Shakira Westdorp (@shakirawestdorp)
---
But perhaps the best post of all came from Masayuki "Yacu" Takahata, a great competitor from Japan (he finished 8th overall against a stacked field) who brought more smiles and positivity to the event than anyone…
"It was much more than just a RACE. There was passion, there was enthusiasm, there was encouragement, there was inspiration of life, there was love and everything was connected with the mind of sharing.
Thanks Kelly, for all the love and gifts that you gave us. Thanks Cascade for being nice and let us be your family. Thanks to all the people worked as volunteer to support us having good times. Thanks for all the staffs and competitors for having such high level moment of creation in the competition.
Especially thanks to Mr. and Mrs. Pickard for having such a great event with so much enthusiasm. I can't count how many times I have cried inspired by all you people.
I have got so many gifts from Kelly's. Now I have to think about how to give it back. As taking and caring people into the nature is only thing I can do, I will continue my mission. But I think I can have more love into it. Thank you Kelly Brennan, for telling us what the value of life is, with your real love."
– Yacu (@yacustyle)
---