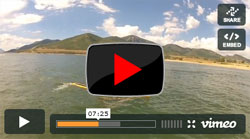 August 24, 2012
by Christopher Parker (@wheresbossman)
[VIDEO] Quickblade's Mitchell, Terrell, And Kosterlitz Hit Utah (And Some Awful Golf Shots)
Check out Team Quickblade's roadtrip to Utah, hosted by Jamie Mitchell and starring Jim Terrell and Chase Kosterlitz.
The adventure features a stop at the H2O Overdrive Summer Series SUP Race (where JM finished 2nd behind Danny Ching and in front of a dozen of the world's best), a bit of SUP carnage on the river and some absolutely dreadful golf swings (don't give up the paddling just yet boys!).
There's some footage from the H2O Elite Race @ the 7:30 mark, then check out the carnage from the River SUP Race @ 8:30. Very cool to see what the Stand Up Paddle pros get up to behind the scenes.