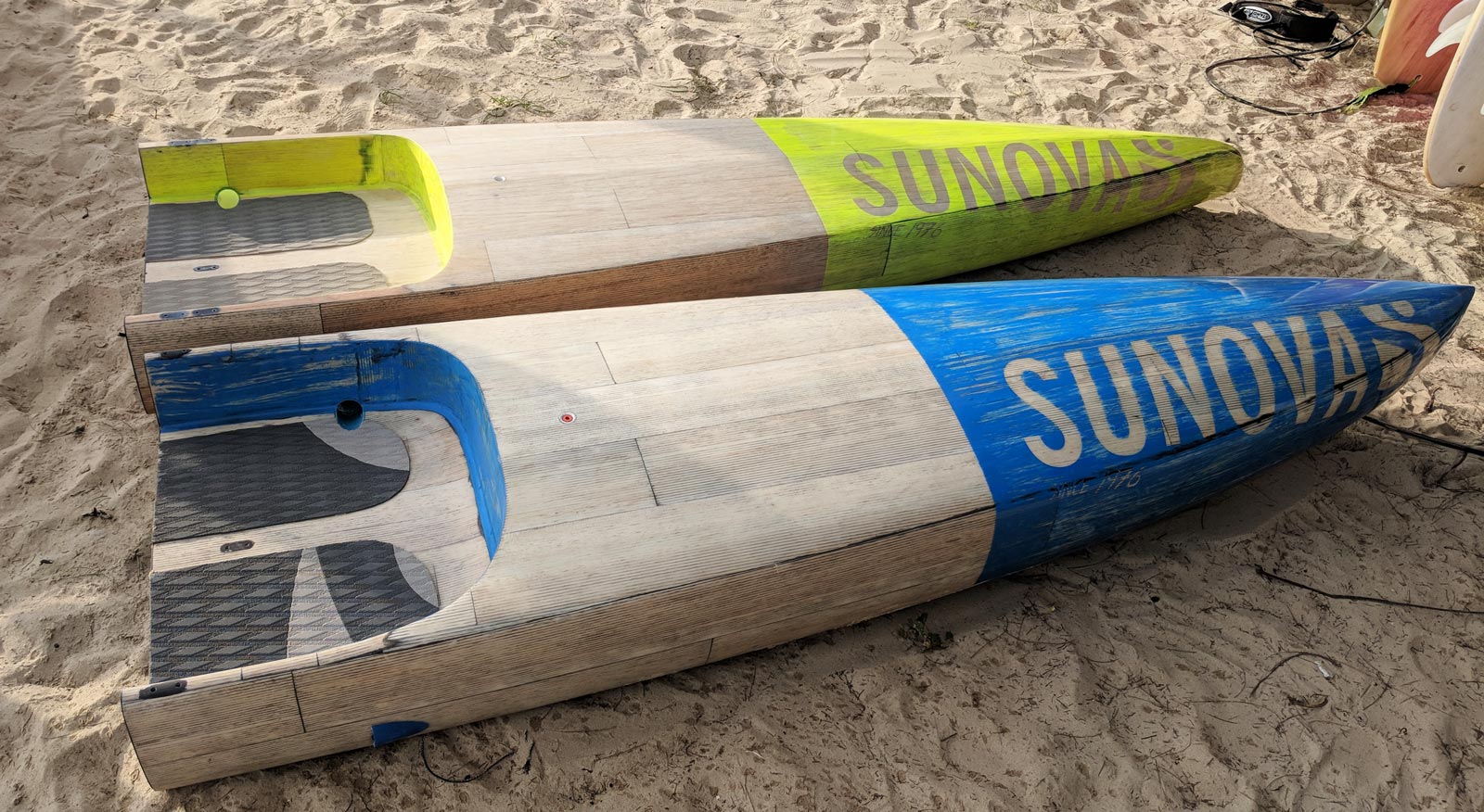 May 8, 2018
by Christopher Parker (@wheresbossman)
Game Changer? First Look at Sunova's Two-Piece Race Boards
We've just returned from a week in the south of Thailand where we enjoyed plenty of sun, a few waves and a few too many cocktails at the annual Sunova dealers meeting.
We also got a glimpse at the possible future of race board design.
Sunova doesn't just make good-performing (and good-looking) boards, they also know how to have fun. This wasn't your average dealer meeting, with most of the time spent at the beach or in the water making new friends, catching up with old ones and testing all the new toys.
But there was one toy that stood out from the rest…
Not sure if I'm really supposed to post this, but considering there were dozens of phones in the air during the big reveal I figure why not.
Sunova has just revealed a two-piece race board. One that actually works.
Suddenly, the awkward 14-footer is now a simple, modular, seven-foot design. Goodbye airline headaches.
The two-piece setup is simple yet brilliant. I won't go into the specifics (I believe there are patents involved) but it's essentially a regular 14 foot race board cut in half then screwed together in a way that makes it both water-tight and rigid.
The result? A two-piece race board that feels like a one-piece.
Is it a game changer? Maybe, but it's hard to tell at this stage. It all depends whether or not paddlers really need the convenience of a 7-foot race board.
Either way, I'm pretty sure Sunova is going to sell a few of these boards. The novelty value alone is worth a look, and when you discover it actually works it's a whole 'nother proposition.
The obvious benefit is ease of travel. Instead of playing "check-in roulette" at the airport (most airlines say they won't take anything over nine feet, so you're never guaranteed of getting a 14 footer on the plane), you're pretty much guaranteed to get 2x seven foot boards on any plane anywhere in the world.
But above all else: This thing actually works.
While testing has been limited, the Sunova two-piece has already had some good results. The prototypes were secretly used at the Air France Paddle Festival in Tahiti and the Carolina Cup. Manatea Bopp du Pont took 5th place on a two-piece in Tahiti; the dark horse was the second-best performing Tahitian of the race, so the board was clearly working.
And by the sounds of it, the Sunova crew is heading to Zamami, Japan with three (or is it six?) of these race boards for the next stop of The Paddle League World Tour.
I did some brief testing myself in Thailand, and while I only had a few minutes to get the feel for it, paddling the Sunova two-piece reminded me of my favourite travel accessory: the Quickblade travel paddle (a three-piece that works virtually as good as a one-piece). Or in other words: I was pleasantly surprised by how good it felt.
You can definitely feel a little flex at the joint on this board – the connection is right under your feet – but considering it's still largely in the prototype stages, I was seriously impressed by how well Sunova's novel new creation performs.
It's also worth noting the two-piece method extends beyond Sunova's race board range and into their SUP surfboards and traditional longboards, i.e. a 10 foot all rounder suddenly becomes an easy-to-manage pairing of five foot halves.
Time will tell whether this is a new design fad or the greatest innovation in race board design, but either way my hat goes off to the Sunova crew for pushing the boundaries and thinking outside the box.
Look for the Sunova two-piece race boards to hit stores within the coming months …and save the photos below just in case this post gets deleted in the next 24 hours 😅
Worth noting: these photos show two noses; we weren't able to get a clean shot of a nose & tail combo. The Sunova guys were kind of protective of their new baby…